Camino Spiritual Pilgrimage

Path to Self-Discovery and Joy
Sep 6 – 26, 2022 with Sitabai and Nandadevi
Oct 4 – 24, 2022 with Sitabai and Dora
with Sitabai, Dora and Nandadevi

Pilgrimage Overview: The Essence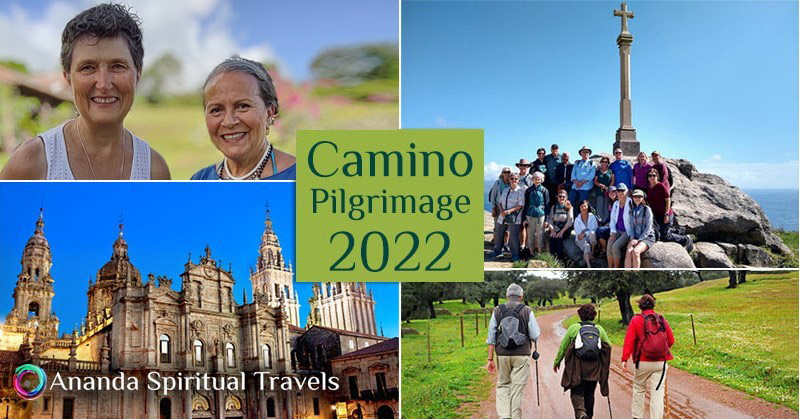 There is a beginning, middle, and end of each pilgrimage for every pilgrim. We have carefully created a pilgrimage experience that allows the time, provides sublime settings and experiences, and generously offers leadership support, so that each guest can find their own rhythm and attunement to Spirit and new friendships with other guests.
Our first three days provide early, shared experiences in Madrid, Avila, and Ponferrada during which guests can get to know one another. In Avila, a UNESCO World Heritage site, we come into the mystical spirit of St. Teresa of Avila through visits to her monastery home and the Cathedral dedicated to her. Here we will have our first group orientation and sharing circle as we prepare to begin our time walking together on the Camino. Our stop in Ponferrada allows us to see a Knights Templar castle of world-renown.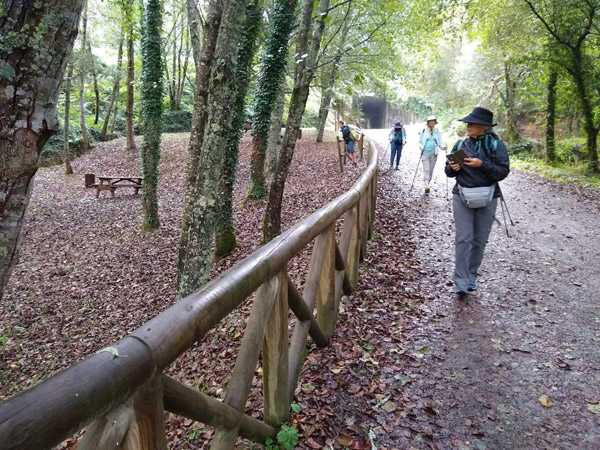 Our 11 days of contiguous walking are planned in stages that each guest will find uplifting and achievable. One of our pilgrimage hosts will always walk with whoever is our last walking guest, taking the time needed to complete the days walk. As a guideline, we feel that people should be able to walk 8 miles in under 5 hours, and should be able to walk 5 to 8 miles per day for 10 straight days. We spend some of each walking day in silence. We sometimes walk together, or alone, sometimes with people we meet along The Way. We encourage positive conversation that will uplift the whole group and add positive energy to the Camino route.
Final days of reflection: Our pilgrimage provides 5 post-walking days during which each guest can have the time to reflect on their Camino experience. The group will enjoy beautiful beaches and cozy casas during our last days at the seaside. There will be time and places for journal writing, taking photos, meditation alone or with the group, shopping, and moments of expressing our gratitude to one another and to the Divine.
The Three Sections of this pilgrimage: Before walking the Camino, on The Way, the Galician seaside:
Before the Camino: Madrid, Avila, and Ponferrada
We begin in Madrid with a fun evening tapas dining experience, followed by a day in Ávila with the inspirations of St. Teresa of Ávila and the World Unesco walled city of Ávila, and then on our way to the Camino trail we stop at Ponferrada to visit the best preserved Knights Templar Castle on the well-traveled Camino Frances Route. Later on this day we arrive in the Sarria area to begin our Camino walk the following morning.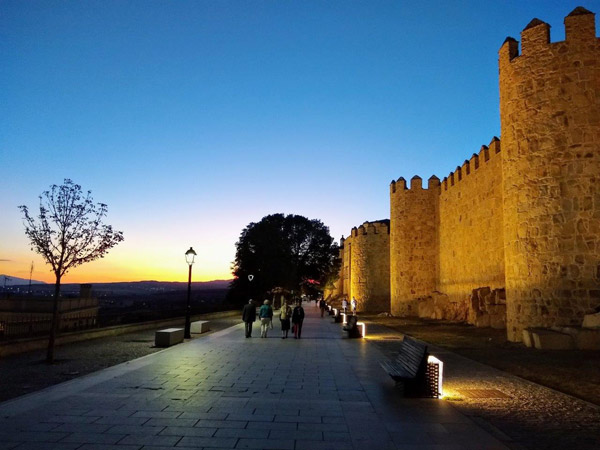 The Camino Portion of the Trip: 11 walking days
Mileage: The walking portion of our pilgrimage, mostly through ancient and beautiful Galician farmland, has pleasant cross-country distances of 5-9 miles (8-14 km) per day. We will walk 108 kilometers together, starting from Sarria to Santiago de Compostela.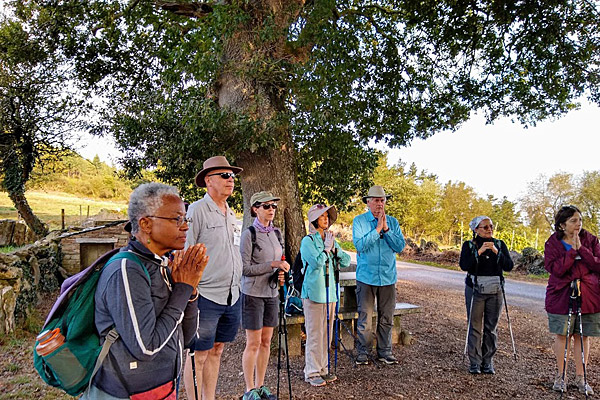 The Daily Flow:
Each day we provide daily meditation, breakfast, an inspiring daily orientation, walking maps & tips, and evening dinners together at lovely accommodations. As some walkers will have a faster pace than others, and we want everyone to walk at their own pace, our pilgrimage group stays in touch with one another by a fun mobile phone app. By walking together, enjoying each other's company at meals, sharing photos and helpful comments on the mobile app, our pilgrim group becomes a moving family, bonding in many enjoyable and supportive ways.
The countryside is beautiful Spanish Galician farmland of endless delight. We stay in incredible old-world countryside lodgings. The casas and pazos are very warm and welcoming, delivering an amazing experience of old-world Spain.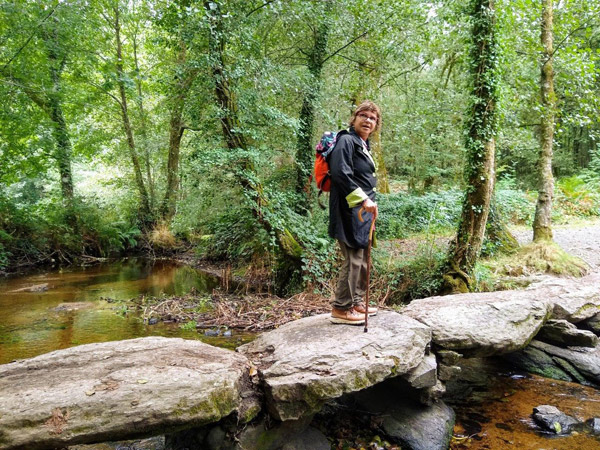 "The rural Spanish countryside was a major aspect of the pilgrimage for me, and the opportunity to rest in lovely places and dine on homemade food further contributed to having a deeply unique and restorative experience."
The Galician Seaside Experience:

Day trips to the true end of the Camino, beautiful accommodations, fun in the sun!
The official end of the Camino de Santiago - traveling by bus, we will carry the high energies of our experiences on the Camino and our time in holy Santiago de Compostela, and we will start to travel to the west coast to experience more of ancient Galicia. Here, in two separate and sublime locations (Muxía and Finisterre) we will find the 0.0 markers formally declaring the end of our remarkable journey.
Bronze Age civilization: We will visit Dombate Dolmen (3500 BC). The Dombate Dolmen is the Neolithic era monument cataloged as a 'collective corridor tomb' and is considered the 'megalithic cathedral' in Galicia.
Muxia is known as a power center of Celtic spirituality. Here we can climb the little mountain with the stone cross with views to the sea and the bay, overlooking the town. Pilgrims can throw into the ocean a stone or another item they've carried along the way, giving it to the sea as a symbol of the completion of the journey. Offer up all the limitations you have grown through on this journey. This is where it is believed that the Virgin Mary arrived in a stone boat, then appeared to Saint James and encouraged him to continue to share the teachings of Christ in the Galicia region. This is the 0.0 km marker for one section of the Camino ending at "The End of the World."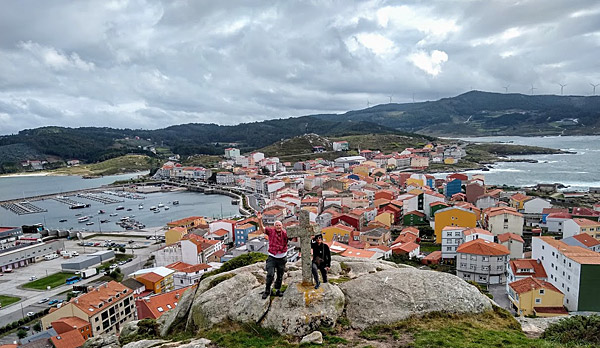 Meditate on the rocks overlooking the ocean at the Finisterre Lighthouse, offering up gratitude and joy for the blessings and grace received along the Way, as well as all personal challenges into the endless sea at the "End of the World."
Finisterre - The End of the World: 'Finis Terre' literally means, "end of earth." For thousands of years, pilgrims have walked here to offer themselves to the ocean waves for cleansing and renewal.
Arriving in Finisterra we will walk on the exquisitely beautiful Langosteria Beach, a mile-long beach that ancient pilgrims reached by their walking pilgrimage after many months from all over Europe. Walking our final steps along the beach we will take time to reflect just as pilgrims over the millennium have done on attaining our own purity at the water's edge.
After the beach we will walk through the charming fishing village of Finisterre, and continue the final walk to the Lighthouse at the farthest western point. The 0.0 mile marker near the Finisterra Lighthouse is considered to be the primary end of the Camino. Here pilgrims offer prayer and meditation, joy and gratitude, on the completion of the pilgrim's journey.

Accommodations & Dining: Authentic & uplifting Spanish hospitality and cuisine
Ananda Spiritual Travels staff have thoroughly planned all our accommodations and dining experiences to create a restorative, nutritious, and delicious pilgrimage experience for our Camino guests.
Accommodations:

We provide 20 nights of accommodations with this pilgrimage. Sitabai has personally stayed in each accommodation we have selected and she has worked closely with owners and their staff to prepare rooms and services for your enjoyment. All accommodations have been reserved long in advance in nice to very-nice accommodations, including rural casas (smaller traditional homes), and some amazingly beautiful pazos ("palaces" or "country manors" built centuries ago). We do not stay in Albergue bunkbed rooms.
Dining:
Our pilgrimage leader, Sitabai, has worked closely with restaurant chefs and country hotel staff to pre-plan a variety of enjoyable dining experiences filled with nutrition and energy. All breakfasts and dinners are included, and 3 lunches at special locations are included.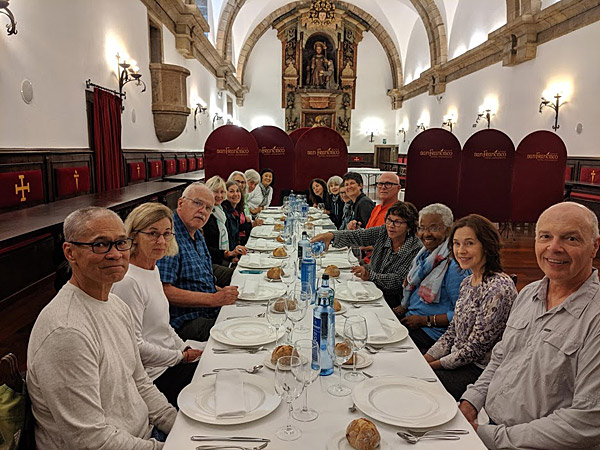 Breakfast: Begin each day with a hearty breakfast, typically buffet style. Enjoy a warm café con leche or hot tea, fresh fruit, a variety of breads and cereals, warm potato torte, and a variety of condiments.
Lunch: Three lunches are included in the pilgrimage and the other lunches are found along the walking path, which is very much part of the fun!
Dinner: We will eat an evening Pilgrim Dinner most evenings if circumstances allow. Many of the delicious meals are prepared specifically for our group with advanced planning by the pilgrimage leaders. Dinners are often home-prepared by the casa in which we stay using traditional family recipes. Many meals are sumptuously prepared by world-class cooks. Some typical menu items might include fresh warm soup, homemade bread, copious platters of grilled vegetables, Spanish paella (traditional rice and vegetables), garden-fresh salads, and specialty recipes. Vegetarian meals are always offered, and where possible we will also offer a choice between vegetarian and non-vegetarian entrees.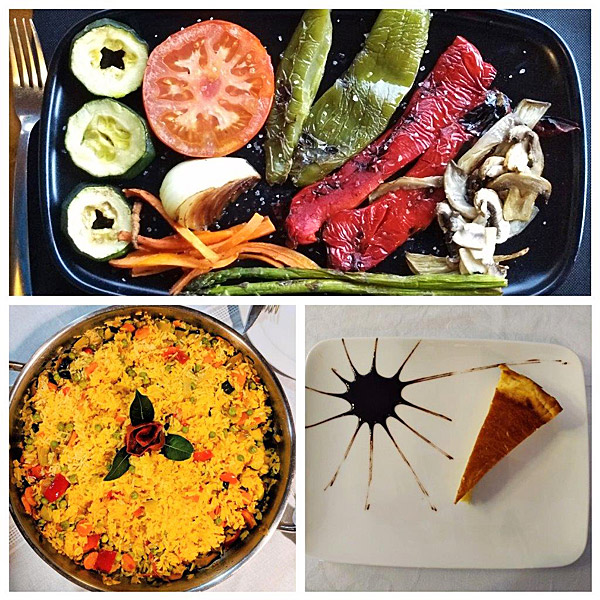 We know you will enjoy the fresh Galician food during our pilgrimage.

Sitabai Betts, Camino Pilgrimage Leader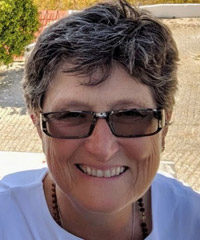 I am available to Skype or do a live face-time (Zoom or Google) with you to answer any questions you may have about this amazing Camino de Santiago Pilgrimage in Spain in 2022. Please complete the form below and I'll be in touch to arrange a time to connect. I look forward to meeting you!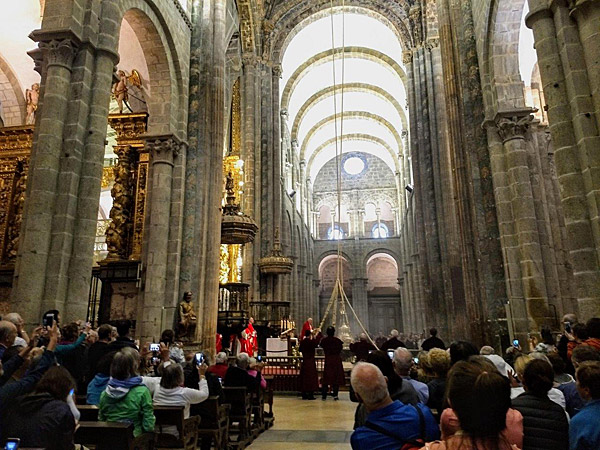 CONNECT
14618 Tyler Foote Rd
Nevada City, California 95959
Toll free 800-346-5350
Outside US 530-478-7518
SUBSCRIBE
Receive uplifting emails with inspirational content and news about our retreat programs, travels, and trainings.