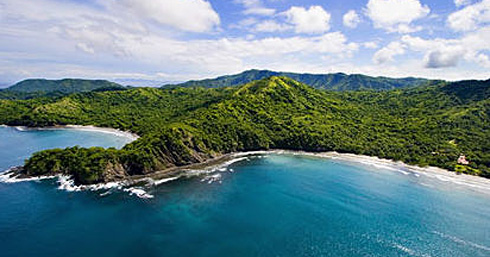 Costa Rica Ananda Yoga Vacation Retreat

Come join Ananda Travels for a relaxing, healing retreat on the blue waters of Costa Rica's beautiful Pacific Coast.
Nayaswamis Gyandev and Diksha will lead your retreat.
Gyandev is Director of Ananda Yoga, one of the founders of Yoga Alliance and is the author of Spiritual Yoga: Awakening to Higher Awareness. He has been teaching Yoga, Meditation, and Yoga Philosophy for over 30 years.
Diksha is Director of the Meditation Teacher training at the Ananda School of Yoga and Meditation, has authored three books on vegetarian cooking, and leads Ayurveda healing retreats in India.
Each day will include sessions of Ananda Yoga® practice. You will explore and experience many aspects of yoga, including the chakras, pranayama, healing, and meditation. For these sessions, the resort is offering us their brand-new facility overlooking the beach: a shaded, open-sided structure built especially for yoga practice.
This area is famed for sunshine, water sports, eco-adventures, soothing relaxation, and incredible natural beauty.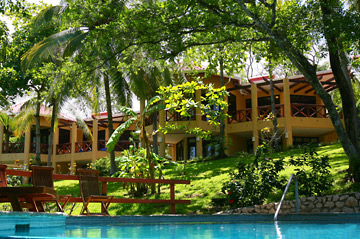 You'll also have plenty of time to explore on your own the beauty of nature in Costa Rica, including many of the eco-adventures for which Costa Rica is famous.
Evenings will feature quiet gatherings for relaxed discussion. On one evening, Gyandev will enchant us with his delightful telling of classic stories from India.
Additional Options
Swimming (pool or ocean)
Snorkeling
Private counseling with Nayaswami Diksha or Nayaswami Gyandev
Private instruction in yoga postures or meditation
Hiking* (the best trails entail a very small fee)
Eco-tours to national parks, river rafting, zip line, and more*
Massage*
Horseback riding*
Ocean kayaking*
Boogie boarding*
Scuba diving*
Catamaran sailing tours*
* denotes extra cost
Accommodations
Your accommodations are modern and comfortable. You can choose from three options: Deluxe Room, Standard Room with Ocean View, and Standard Room with Garden View. Each room has a ceiling fan, air conditioner, small refrigerator, and patio area.
Deluxe Rooms are the largest of your three options; they are more elegant, and each has one king-sized bed. They are also closer to the swimming pool. Please reserve a double occupancy deluxe room only if you are coming with your own roommate, as the two of you will share the king-sized bed.
Standard Rooms have two queen-sized beds. Ocean View rooms are closer to the ocean than are Garden View rooms, although the difference in distance is minor.
All rooms open toward—and are close to—the ocean. Ocean view rooms have a relatively clear view of the ocean; other rooms have a partially (in some cases, mostly) obscured view of the ocean.
| | |
| --- | --- |
| | |
| Deluxe Room | Standard Room |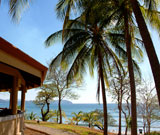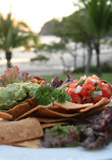 Meals
You'll enjoy three delicious vegetarian meals daily (non-vegetarian lunch and dinner options available), served on the covered, open-air patio overlooking the ocean and swimming pool. Lunches and dinners offer a variety of traditional Costa Rican cuisine as well as international dishes. Natural juices are available. The resort has graciously agreed to work with us to accommodate dietary restrictions as much as possible.
Weather
As you can see from the photos, you'll be in a tropical seaside environment. You can expect daily high temperatures to be in the 80's, with nighttime lows around 70. Humidity is usually not high: around 70%. There could be some rain, but don't expect much of it. And our beach is on a shallow cove, so the ocean is always calm at the beach.
Transportation
You will fly into the Liberia, Costa Rica airport. There is shuttle service between the airport and our resort, which is a little over an hour away. The shuttle can carry up to 5 riders, and the total cost is about $80. We will arrange a shuttle trip for you if you wish, and when possible, group riders to minimize your cost.
Costs
Costs below are per person, and they include:
Accommodations
3 vegetarian meals per day (from dinner on

Sunday, Nov. 26

through breakfast on

Sunday, Dec. 3

—meals are provided only at our host resort). Non-vegetarian lunch and dinner options are available at no extra cost.
Sessions of yoga and meditation (both group and private)
Other classes offered by Gyandev and Diksha
Not included: air and ground transportation, extra-cost activities (see above), foods or services other than what are included in our package, and tips.
Before Oct 1, 2017
Oct 1, 2017 or after
Occupancy:
Single
D

ou

bl

e

Single
D

ou

bl

e

Standard room, garden view
1525
1125
1650
1225
Standard room, ocean view

1865

1295

2025

1425
Deluxe room
1865
1295
2025
1425
Please note:
If you are part of a group of 3 or 4 friends, all of whom would like to share the same standard room (2 queen beds), your per-person rate will be lower; please contact us if you are interested.
For all rooms, if you register for double occupancy, but the mix of participants is such that you don't end up with a roommate, you will need to pay the single occupancy price. At this time, ocean view rooms are available only for double occupancy.
Retreat Leaders
Nayaswamis Gyandev and Diksha are long-time teachers and ministers at Ananda, as well as experienced leaders of retreats at home and abroad. Diksha directs Ananda's Meditation Teacher Training program. Gyandev directs Ananda Yoga and Ananda Yoga Teacher Training. Both lead workshops on a wide range of topics in the spiritual life. They have led two previous Ananda Yoga Vacations in Costa Rica at the above facility.
Ananda Yoga Vacation in
Costa Rica
A $300 deposit is required. The balance is due October 1, 2017
Reserve online now. Please call 1-800-346-5350 or 530-478-7518 if you have any questions.