Take a relaxing, spiritualized healing retreat on the blue waters of Costa Rica's beautiful Pacific Coast.
Reconnect, Relax and Renew your acquaintance with your divine self!
Explore the beauty of nature and eco-adventures
Practice the deeper aspects of yoga and meditation on the beach
Enjoy informal gatherings with stories, interesting discussions
Swim in the pool and ocean, snorkel, hike, zip line, or kayak
Relax, have a massage, chat with other like-minded new friends
Each day will include sessions of Ananda Yoga® practice. You will explore and experience many aspects of yoga, including the chakras, pranayama, healing, and meditation. For these sessions, the resort is offering us their brand-new facility overlooking the beach: a shaded, open-sided structure built especially for yoga practice.
This area is famed for sunshine, water sports, eco-adventures, soothing relaxation, and incredible natural beauty.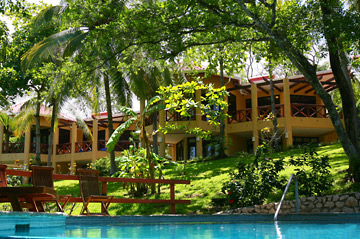 You'll also have plenty of time to explore on your own the beauty of nature in Costa Rica, including many of the eco-adventures for which Costa Rica is famous.
Evenings will feature quiet gatherings for relaxed discussion.
Additional Options
Swimming (pool or ocean)
Snorkeling
Private spiritual counseling
Other classes offered by Melody and Annapurna
Private instruction in yoga postures or meditation
Hiking* (the best trails entail a very small fee)
Eco-tours to national parks, river rafting, zip line, and more*
Massage*
Horseback riding*
Ocean kayaking*
Boogie boarding*
Scuba diving*
Catamaran sailing tours*
* denotes extra cost
Accommodations
Your accommodations are modern and comfortable. You can choose from three options: Deluxe Room, Standard Room with Ocean View, and Standard Room with Garden View. Each room has a ceiling fan, air conditioner, small refrigerator, and patio area.
Deluxe Rooms are the largest of your three options; they are more elegant, and each has one king-sized bed. They are also closer to the swimming pool. Please reserve a double occupancy deluxe room only if you are coming with your own roommate, as the two of you will share the king-sized bed.
Standard Rooms have two queen-sized beds. Ocean View rooms are closer to the ocean than are Garden View rooms, although the difference in distance is minor.
All rooms open toward—and are close to—the ocean. Ocean view rooms have a relatively clear view of the ocean; other rooms have a partially (in some cases, mostly) obscured view of the ocean.
| | |
| --- | --- |
| | |
| Deluxe Room | Standard Room |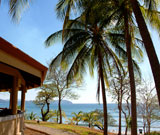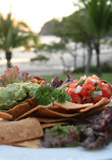 Meals
You'll enjoy three delicious vegetarian meals daily (non-vegetarian lunch and dinner options available), served on the covered, open-air patio overlooking the ocean and swimming pool. Lunches and dinners offer a variety of traditional Costa Rican cuisine as well as international dishes. Natural juices are available. The resort has graciously agreed to work with us to accommodate dietary restrictions as much as possible.
Weather
As you can see from the photos, you'll be in a tropical seaside environment. You can expect daily high temperatures to be in the 80's, with nighttime lows around 70. Humidity is usually not high: around 70%. There could be some rain, but don't expect much of it. And our beach is on a shallow cove, so the ocean is always calm at the beach.
Transportation
You will fly into the Liberia, Costa Rica airport. There is shuttle service between the airport and our resort, which is a little over an hour away. The shuttle can carry up to 5 riders, and the total cost is about $80. We will arrange a shuttle trip for you if you wish, and when possible, group riders to minimize your cost.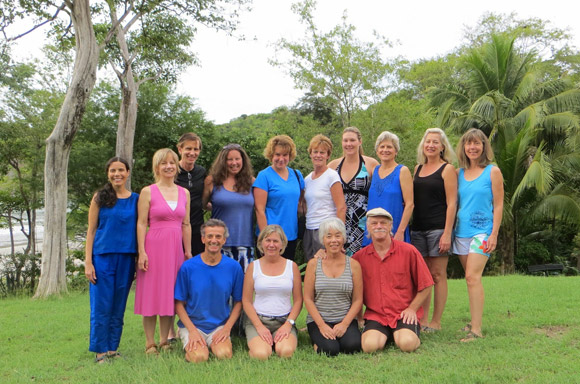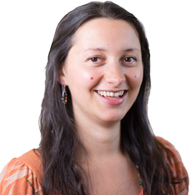 I am available to Zoom with you to answer your questions and share more about this amazing Costa Rica Ananda Yoga Vacation Retreat. Fill out the form below and I'll get in touch

Receive monthly news and inspiration.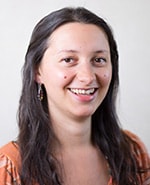 Director of Ananda Yoga® Teacher Training, Director of Restorative Yoga Teacher Training, Level 2 Ananda Yoga Teacher, E-RYT 500, C-IAYT, Certified Ananda Yoga Therapist, Ananda Meditation® Teacher
Melody is an extraordinary yoga teacher, who conveys her great knowledge of yoga asanas—from physical mechanics to spiritual upliftment—with a blend of graciousness, authority, and fun. One of Melody's greatest strengths is the purity of her transmission of Yoga. She has very little egotism to block the clear flow of inspiration she shares. Her inner life is committed and deep, and she's able to help students experience that depth in their yoga practice.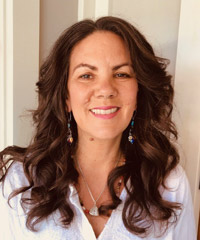 Ananda Yoga® Instructor, E-RYT 200, Ananda Meditation® Teacher
Annapurna DeLyle graduated from Ananda Institute of Living Yoga, in Bothell, Washington, and has been teaching yoga since 2007. She has been a student of Ayurveda since 1990, and continues her education with Kerala Ayurveda School in Wellness Counseling.
See all programs, articles, and full bio of Annapurna DeLyle.
Costs
Costs below are per person, and they include:
Accommodations
3 vegetarian meals per day (from dinner on

Sunday, Nov. 29

through breakfast on

Sunday, Dec. 6

—meals are provided only at our host resort). Non-vegetarian lunch and dinner options are available at no extra cost.
Sessions of yoga and meditation (both group and private)
Not included: air and ground transportation, extra-cost activities (see above), foods or services other than what are included in our package, and tips.
Occupancy:
Single
D

ou

bl

e

Standard room, garden view
1749
1299
Standard room, ocean view
2085
1499
Deluxe room
2085
1599
Please note:
If you are part of a group of 3 or 4 friends, all of whom would like to share the same standard room (2 queen beds), your per-person rate will be lower; please contact us if you are interested.
For all rooms, if you register for double occupancy, but the mix of participants is such that you don't end up with a roommate, you will need to pay the single occupancy price. At this time, ocean view rooms are available only for double occupancy.
Payment in full is required by August 25, 2020.
We will charge your card on that day if you have reserved a spot on this trip.
Be sure to get travel insurance.
If it happens this trip is cancelled due to Coronavirus, all monies will be refunded.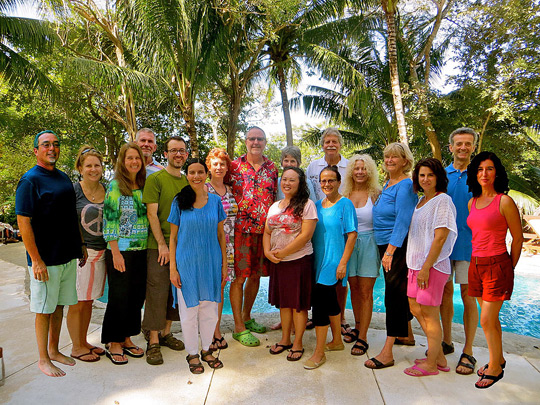 What Guests are Saying
There was just the right balance of sadana and personal time. I had a wonderfully uplifted and relaxed time.
— Carol S., Co
My overall experience was great! The resort was a perfect choice for conducting yoga classes as well as an exceptional environment for meditation. The food was excellent offering a great vegan menu and the rooms were perfect as well. I was very satisfied and would sign up again.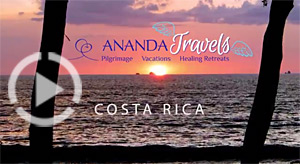 Watch guest experiences from previous
Costa Rica Ananda Yoga Vacations
I have never been exposed to yoga or meditation. I enjoyed learning about both and how I might incorporate them into my life. The trip was well organized and very enjoyable.
— Rob C., N. Carolina
Mantradevi is one of the most amazing, loving, beautiful souls I have ever been lucky enough to know. She is a light of humanity: humble, gentle, strong, wise, supportive and inspirational. I truly feel that she has helped me start on a path of living from a higher self.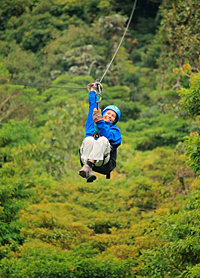 Read about a previous Ananda Yoga Vacation in Costa Rica
—VP, California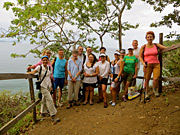 Melody has a vast level of yoga knowledge and experience. She is one of the most congenial teachers I have ever known, and I always felt very comfortable and relaxed in her classes.
—Pete J., Portland, OR
"Melody's clear instructions and deep understanding of Yogic philosophy and principles make her an incredible teacher. Her calmness, kindness, and genuine desire to take her students to their next level was inspiring to witness and experience.
—Rachel E., Nevada City, CA
"From the moment you meet her, Annapurna radiates a joy and warmth that can truly be felt. I had the pleasure of interacting with Annapurna as her student in a course at The Expanding Light. Her instructions are always clear and precise. She is artistic and concise with her words. I always enjoy morning sadhana sessions with Annapurna because she is simple and authentic, and I feel deeply calm and at ease after each sadhana with her. The element of her teaching style that I admire most is the grace with which she leads the class to always strive to go beyond the physical body and connect with the higher part of your being through the breath." --Bharath


"Restorative yoga with Annapurna was more healing than I could have ever imagined. Annapurna's warm and nurturing presence in Restorative yoga class inspired me to get certified in Restorative so I could facilitate the divine healing that was gifted to me. After her Restorative Chakra class, I woke up seeing ultraviolet light. It was a truly unique experience that felt like it restored my chakras to their fullest potential." --Christine I.