Ananda Village Pilgrimage

Joy, Holiness, Giving Gratitude, Satsang
Leader: Nayaswami Krishnadas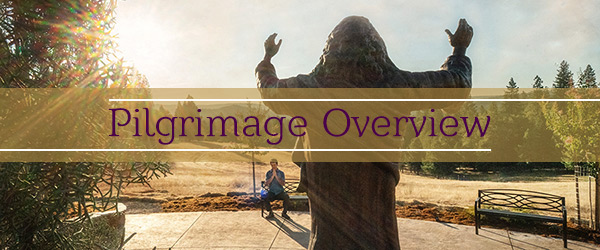 We invite you on an extraordinary pilgrimage experience at Ananda Village in California. Founded in 1969, Ananda Village is a World Brotherhood Community that expresses the vision of Paramhansa Yogananda had of people living together in harmony, living for the Self-realization of knowing God. This Thanksgiving you can deepen your love for God and give gratitude to the Divine during your visit at all of our village temples, holy shrines, exquisite gardens, one of a kind statues each a part of our dedication to Paramhansa Yogananda and the gurus in the Ananda lineage.
Connect with the farsighted dynamism of Swami Kriyananda, founder of Ananda, and his astonishing manifestation of creating an intentional spiritual community as envisioned by Paramhansa Yogananda. Extensive time will be spent at each shrine, including talks by community guides, and time for meditation and reflection. Enjoy chanting, Ananda holy ceremonies, walking in nature, holding rare relics of Paramhansa Yogananda and the Ananda line of Masters, and connecting with Ananda community residents and Spiritual Directors.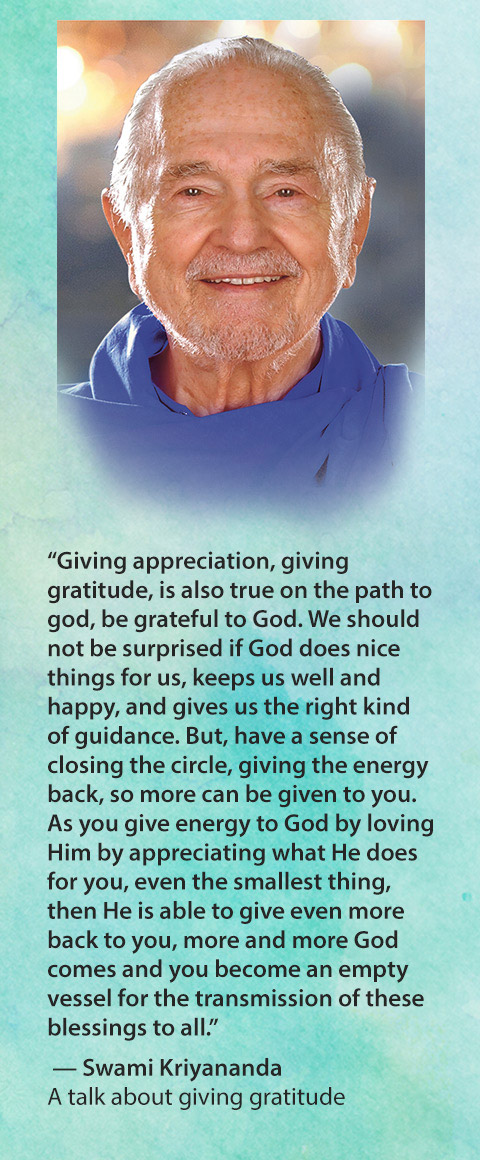 Pilgrimage Qualities:

JOY
A deeply joyful pilgrimage guided by disciples of Paramhansa Yogananda,
residents of Ananda Village.

HOLINESS
The holy blessings of shrines dedicated to Paramhansa Yogananda, Krishna, Shiva, Divine Mother, and the Moksha Mandir of Swami Kriyananda

GIVING GRATITUDE
The pilgrimage will provide you extensive and varied experiences to open your heart to gratitude for the Divine: A Superconscious Attunement Ceremony, two weekend Sunday services, a Kirtan, Purification Ceremony, and uplifting spiritual entertainment.

SATSANG
Join fellow truth seekers, from many paths, to dive deep into the blessing of Divine friendship, old and new. Have meals with retreat staff, Ananda Ministers, Spiritual Travel hosts, and village residents. Meet Nayaswami Jyotish and Nayaswami Devi, Spiritual Directors of Ananda Worldwide for a question and answer visit with afternoon tea at the Crystal Hermitage.
An extraordinary pilgrimage at Thanksgiving time, to give gratitude back to God, to open your heart to the Divine, to be blessed by the royal spiritual lineage of Paramhansa Yogananda.

Holy Temples and Shrines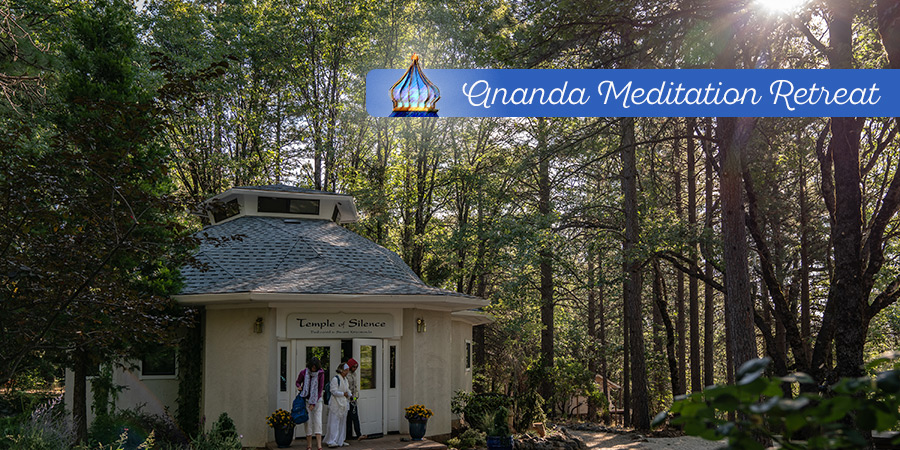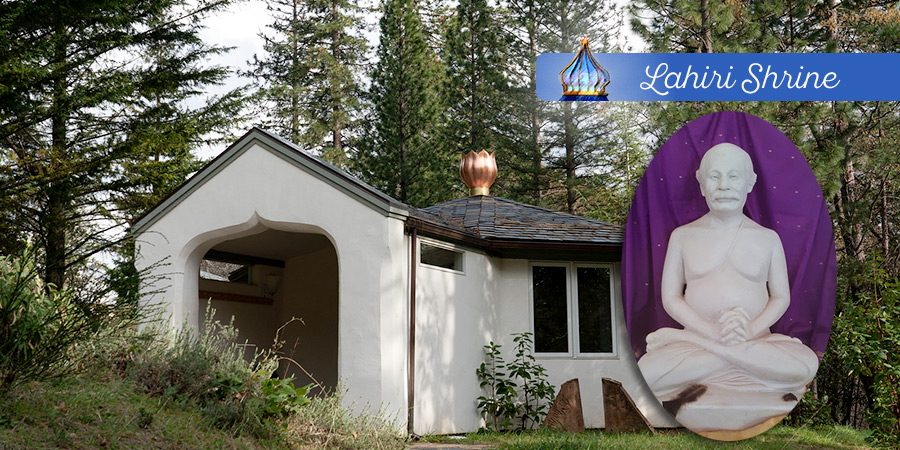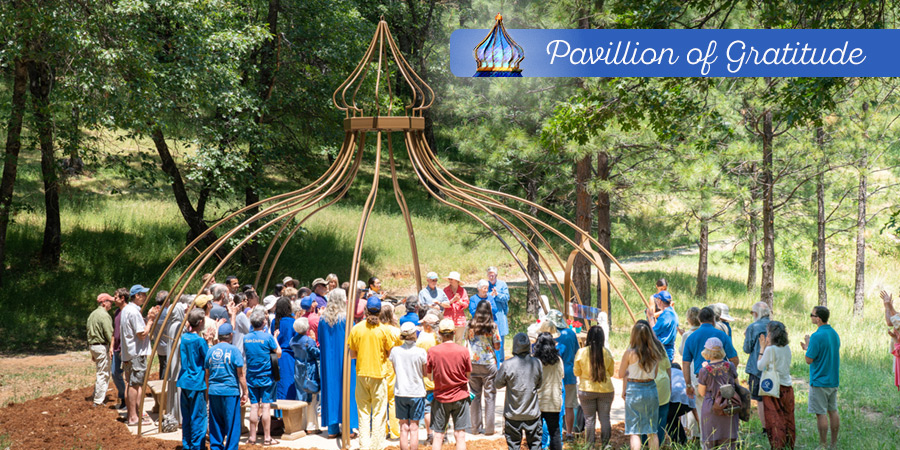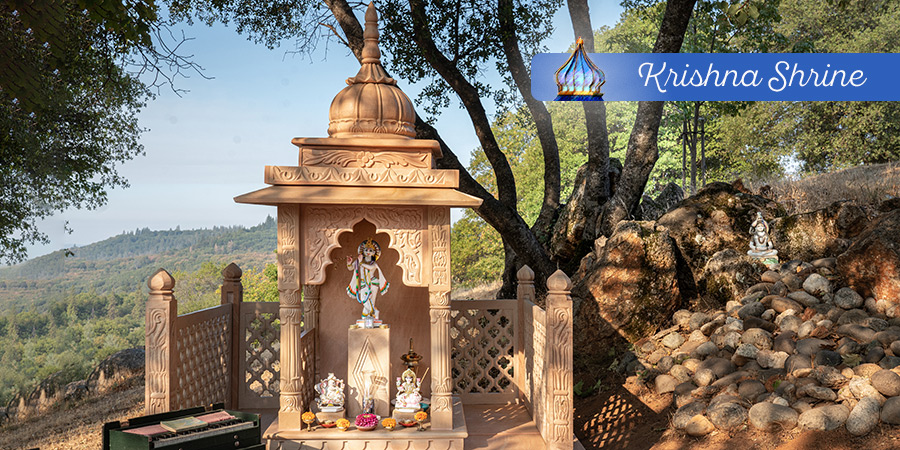 Pilgrimage Itinerary
Day 1: Arrival
Arrive at Expanding Light Retreat at Ananda Village, Nevada City, California. 2 hours from Sacramento Airport.
Afternoon guided sadhana, dinner, evening gathering in the Temple of Light with orientation for the week.
Day 2: Visit to Crystal Hermitage + Afternoon visit to the Temple of Light
Morning sadhana before breakfast.
Today we will have our first of two long visits to the Crystal Hermitage, gardens, home, and Moksha Mandir of Nayaswami Kriyananda, founder of Ananda. Enjoy seeing holy relics of our Masters in the Shrine of the Masters; walk through gardens, visit the Chapel; enter into Dome room and continue to Swamiji's apartment Swamiji's apartment and meditation room. We'll end our time at the Hermitage with a meditation in the Moksha Mandir. Enjoy a pilgrim's lunch at the retreat with table hosts from the Village community.
Afternoon: Enjoy an experiential visit at the Temple of Light: A time to attune to the unique ray of holy energy which is infused in the Temple of Light through the Divine vision, spiritual architecture and community building process; be with the rare murti's from India; learn about Yogananda's concept of world brotherhood as you explore the lovely individual alcoves devoted to religions of the world; hear about how we decorate the altar and approach flower arranging.
Day 3: A day of inward reflection, Sunday Services
Two morning options: Kriyabans can visit the Temple of Light for morning meditation; guests who would like a full guided Sadhana can attend the one at the retreat.
Breakfast in retreat dining room. We begin breakfast in silence, and then we share a guided affirmation for you to take with you into the day. Then silence is broken, or you can stay in silence.
Sunday Services: Purification Ceremony and Festival of Light
Sunday Brunch at Retreat – many community residents often attend Sunday brunch
Sunday afternoon ideas:
show full itinerary
Day 4
An extensive visit to the Ananda Meditation Retreat, about 30 minutes from Ananda Village.
Morning: a hosted meditation at the Temple of Joy: Open with Energization Exercises outside in Temple of Leaves, then chanting and program in Temple of Joy
Enjoy a hearty brunch at Meditation Retreat dining room with short talk by staff about the history of the garden and the role of the retreat in current day.
A casual walk through the gardens, stopping at individual shrines, visiting Swamiji's dome if possible, time in Babaji's Cave and the special Divine Mother altar in the round cob building. Peek into some open cabin accommodations.
Early afternoon return to Expanding Light campus. Free time chai and snacks available in dining room until afternoon sadhana begins.
Dinner at the retreat.
Evening...
Day 5
Usual morning sadhana and breakfast times
Today will start with a reflective morning and afternoon visits to the Lahiri Mahasaya Shrine, our Pavilion of Gratitude, and time enjoying Lotus Lake. Will include meditations and gratitude ceremony.
Lunch at retreat with Ananda Ministers at tables to connect with pilgrims.
Return to Lahiri Mandir. Presentation by special host about Lahiri's life, a guided meditation, and short ceremony to express our gratitude for Lahiri's inspiring life as a householder saint who brought Kriya Yoga meditation to the contemporary world.
Afternoon sadhana or time in Temple of Light, with early and light dinner at the retreat.
Evening: Spiritual Attunement Ceremony, with a special 'gratitude' focus;
Day 6
Morning sadhana and breakfast
A Seva, 'service', morning in the kitchen and dining room, joining our Karma Yogi program and staff, to help with Thanksgiving meal preparations
Lunch in dining room
Afternoon visiting three holy shrines dedicated to Yogananda, Shiva, and Krishna. Accompanied by Ananda musicians for a strolling Kirtan, chanting as we go to each shrine.
Afternoon sadhana options
At dinner village residents who have been on a pilgrimage, or lived in another Ananda community will join us. After dinner, we will have an in inspiring slide show presentations about the India, Spain, Holy Land, and Camino pilgrimages.
Day 7
Thursday, Thanksgiving Day
Focus: A special day with the community to celebrate all we are grateful for.
Special morning meditation program and talk, live in the Temple of Light, with Nayaswami Jyotish and Nayaswami Devi, Spiritual Diretors of Ananda Worldwide.
Light mid-morning Brunch – free time until Thanksgiving Dinner. Walk in nature, reflective writing, enjoy more silence in Temple of Light.
Late afternoon Thanksgiving Dinner at Expanding Light Retreat with many community residents. After dinner some special, fun entertainment in Teaching Temple at the retreat.
Day 8
Focus: Morning time for visit to a shrine of choice with afternoon satsang with Jyotish and Devi. Afternoon tea will be served in Hermitage dining room. End of day meditation in Moksha Mandir (replaces sadhana at retreat)
A very special Thanksgiving Satsang + Tea Social: Be blessed by this time to be in the Hermitage Dome with Nayaswami Jyotish and Nayaswami Devi, the Spiritual Directors of Ananda Worldwide. A short talk and lots of time for questions, answers and dialog about gratitude. Time for them to share and time for questions from pilgrims.
3:15 – 4:45 Tea Social in Hermitage dining room
Late afternoon pilgrims will gather in the Moksha Mandir for chanting and short meditation
A nourishing but light dinner at the retreat, with quiet time afterward.
Day 9
This will be our final full day of pilgrimage with final visits to Crystal Hermitage and the Ananda Meditation Retreat. Visit to the Crystal Hermitage will include a very rare opportunity to touch and be with the holy relics in the Shrine of the Masters.
Ananda Meditation Retreat final visit
Final afternoon sadhana
Dinner in dining room
circle and Purification Ceremony – led by Krishna Das
Go with Love!

Photo Gallery


About Pilgrimage Host: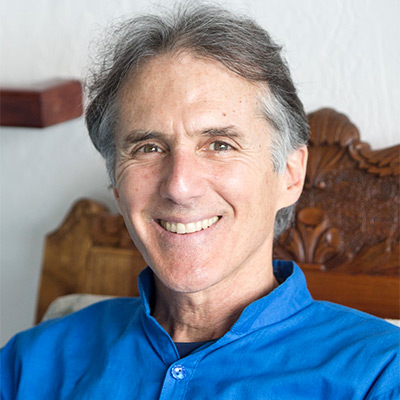 Nayaswami Krishnadas
Nayaswami Krishnadas is spiritual travel host for our India and Spain Pilgrimages, the Yogananda Pilgrimage in California, and the Ananda Village Pilgrimage. He is longtime teacher and Ananda Minister, and has helped establish Ananda communities in Seattle, Portland, Dallas, and Los Angeles. In addition to leading four spiritual pilgrimages, Krishna Das is Manager of Guest Groups at The Expanding Light Retreat, and joyfully directs the Ananda Sevaka Order.

or e-mail or call us at 1-800-346-5350
Costs (PILVILLAGE)
Costs are on a per person basis.
Tent
RV
Standard
Shared
Standard
Private
Deluxe
Shared
Deluxe
Private
$1260
$1647
$2250
$2088
$2916
Prices are all-inclusive and cover accommodations, meals, classes or activities, and course materials.
Ananda Village Pilgrimage starts the afternoon of the first date listed and ends with lunch on the last date. It's ideal to arrive before 4 pm, if you are able to. That way, you can join in the afternoon session of guided yoga postures and meditation, which begins at 4:45. Dinner is at 6:30. The first real gathering of your group is after dinner. Please see:
You can add extra personal retreat days before and/or after your program. Check availability and costs for the days and accommodations that you require.
Ananda Village Pilgrimage starts the afternoon of the first date listed. It's ideal to arrive before 4 pm, if you are able to. That way, you can join in the afternoon session of yoga and meditation, which begins at 4:45 pm. Dinner is at 6:30. The first real gathering of your group is at 7:30 pm. If you need to arrive here after 5 pm, that's fine, but it helps us if you let us know at 800-346-5350. We can also put aside a dinner for you if you need to arrive after 7 pm. The program ends with lunch on the last date. Please see our Daily Schedule.
See Transportation and Directions whether you are coming by plane, car, bus or train. Our Frequent Questions page answers many of the questions you might have about How to Go on Retreat.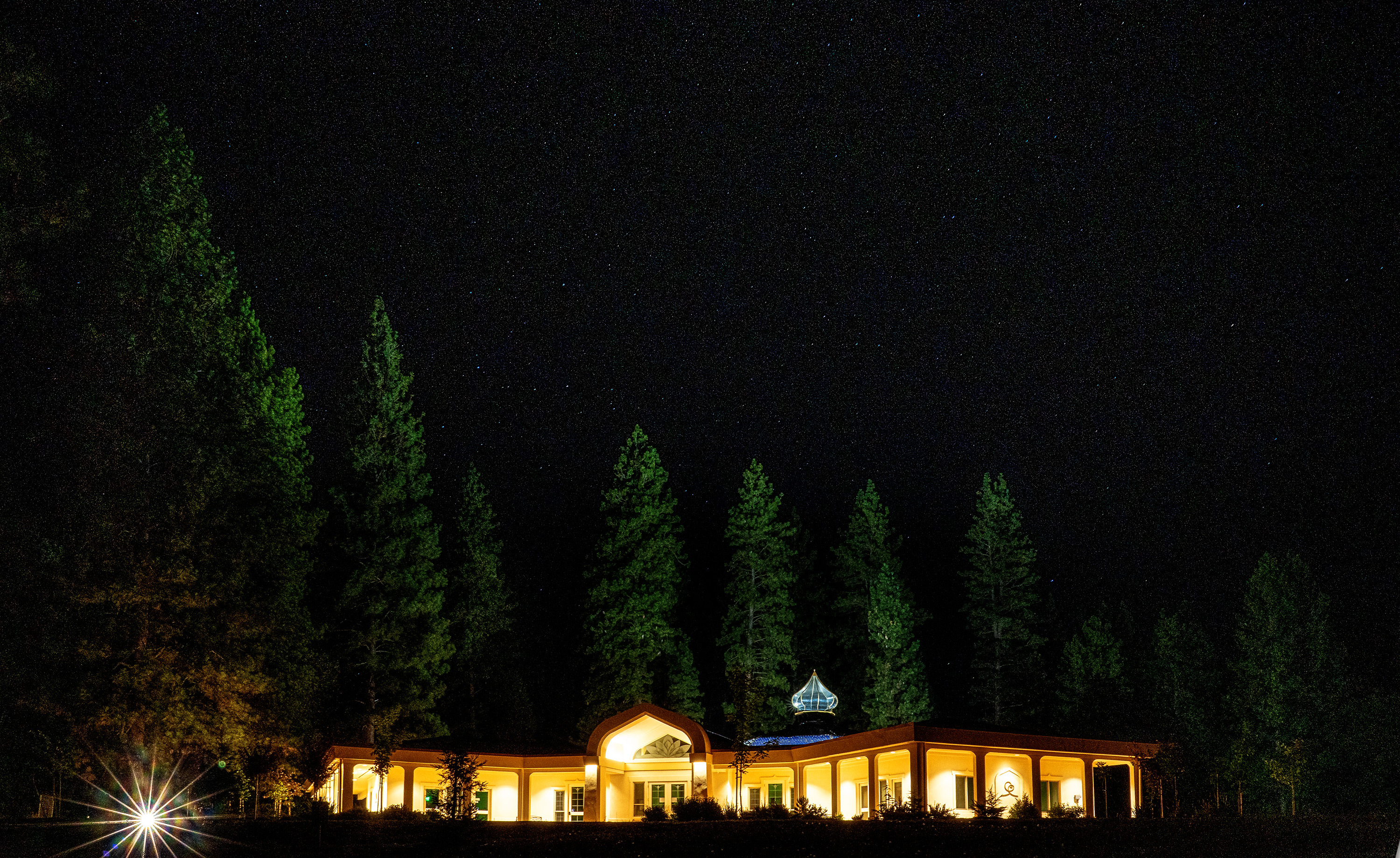 Life is a pilgrimage...travel with us, visit our retreat in California, join our online community
Helping you to connect with your highest Self - sharing the teachings of Paramhansa Yogananda