Fingerprints: Discover Your Life's Purpose

2-day weekend
There are no dates currently scheduled.
Are you interested in knowing the purpose of your incarnation? This information can be found in your fingerprints.
Each of us brings to this life particular talents and weaknesses, or areas we want to avoid. Fingerprints show you the patterns that have been tormenting you, areas where you keep getting to the same place and can't figure out how to take the next step. Learning to meet this challenge is often the very purpose of your incarnation.
This dynamic and highly interactive program opens you to operating at a more expansive level. It combines the wisdom of the ancient Vedas, your soul's purpose (as read in your fingerprints), and current research on the brain. In it you will learn:
The avenue of growth you signed up for in this lifetime;
How to break through patterns that hold you back;
How to create the magnetism to attract what you need;
A clear direction that will lead to increased happiness;
The art of making successful decisions along the way.
You can take this program in a 5-day format, which will go into the above subjects in great depth. You can also enjoy a 2-day weekend, which will cover these subjects more briefly.
The information on reading life patterns in the fingerprints was discovered by Santoshi's teacher, and she has continued to build on his discoveries through her own teaching and consultations.
Santoshi Nancy Kendall has taught this program to rave reviews in the Bay Area for many years. Her own career has ranged from schoolteacher to real estate broker. In addition, she has studied the art of interpreting fingerprint patterns and has been working with clients in this field for over 20 years.
Led by Santoshi Nancy Kendall.
More details about your reservation for Fingerprints: Discover Your Life's Purpose

Receive monthly news and inspiration.
Come a Day Early
Relax, Take a Walk,
Get a Massage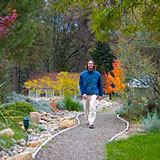 Stay an Extra Day, Relax,
Absorb Your Experience