Dates
Tent
RV
Standard
Shared
Standard
Private
Deluxe
Shared
Deluxe
Private
$256
$322
$454
$414
$596
Teachers
More Information
In this retreat you will experience upliftment of heart, mind, body, and spirit.
You will learn in detail through practical experiential activities:
How to vitalize the body and mind with life force
The art and science of super relaxation
Powerful techniques for developing inner calmness
How to create balance in daily life
How to reconnect mind, body, and heart
Present moment awareness through Ananda Yoga®
postures and affirmations
Powerful pranayama techniques for increasing health and vitality
Techniques to reduce stress and anxiety
How to awaken inner joy through meditation
Your retreat will be led by Brahmachari Jitendra, a gifted yoga instructor with a warm and engaging manner. A certified Ananda Yoga® and Meditation Teacher, Jitendra's depth of experience makes him a very popular instructor and retreat leader.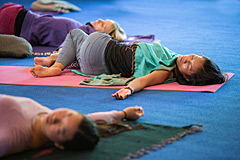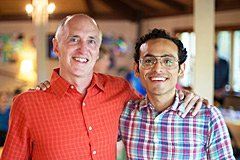 "Keep your expectations of life positive. Strive to live with unceasing happiness . . .Gain strength to rise above distraction by sipping frequently the nectar of inner peace, given you lovingly by angel hands as you grow silently toward Self-realization" - Paramhansa Yogananda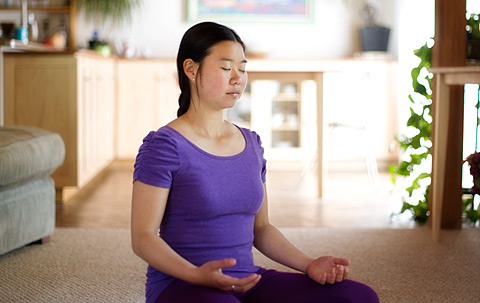 For more information, please send us a Question or Comment:

Receive monthly news and inspiration.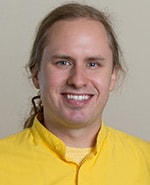 Ananda Meditation and Ananda Yoga Instructor
Jitendra Guindon is a certified Ananda Yoga and Meditation Teacher with Yoga Alliance. He serves as the assistant director of Online with Ananda, home of Ananda's Virtual community, online courses, and live broadcasts. Through Online with Ananda, he shares the ancient teachings of yoga as brought by Paramhansa Yogananda and acts as a spiritual counselor to hundreds of truth seekers around the world.

or e-mail or call us at 1-800-346-5350
Costs (YREW)
Costs are on a per person basis.
Tent
RV
Standard
Shared
Standard
Private
Deluxe
Shared
Deluxe
Private
$256
$322
$454
$414
$596
Prices are all-inclusive and cover accommodations, meals, classes or activities, and course materials.
Restore with Ananda Yoga® Retreat starts the afternoon of the first date listed and ends with lunch on the last date. Please see:
You can add extra personal retreat days before and/or after your program. Check availability and costs for the days and accommodations that you require.
Restore with Ananda Yoga® Retreat starts the afternoon of the first date listed. It's ideal to arrive before 4 pm, if you are able to. That way, you can join in the afternoon session of yoga and meditation, which begins at 4:45 pm. Dinner is at 6:30. The first real gathering of your group is at 7:30 pm. If you need to arrive here after 5 pm, that's fine, but it helps us if you let us know at 800-346-5350. We can also put aside a dinner for you if you need to arrive after 7 pm. The program ends with lunch on the last date. Please see our Daily Schedule.
See Transportation and Directions whether you are coming by plane, car, bus or train. Our Frequent Questions page answers many of the questions you might have about How to Go on Retreat.
RELATED PROGRAMS