Relax, Rejuvenate and Restore!

Fill Your Body and Mind with Joy
with Dayavati
Do you need to take a little time out? Are you feeling a bit stressed or tired? It's amazing what one weekend of practicing Yoga asanas, meditation and good food can do for you!
Ananda Yoga® postures will release tension in your body.
Meditation practices will quiet your mind and give you peace.
Personal attention from experienced and loving, long-time Ananda yoga teacher, Dayavati, will help you find solutions to keeping more relaxed and living a balanced life.
Delicious vegetarian food, joyful people to be around, and beautiful, peaceful nature surroundings will leave you feeling Relaxed, Rejuvenated and Restored!

When tension goes, relaxation and joy take its place!

In this weekend retreat you will:
Begin to build your own personal yoga routine for releasing tension and becoming relaxed on a daily basis
Learn how to bring energy into your body at will
Practice simple meditation techniques to calm your mind
Do Pranayama (breathing techniques)
Develop a routine personalized to your body
Delve into the art and science of Yoga!
Whether you are new to the concepts of Yoga or have practiced for years, this weekend will enhance your life, giving you inspiration and techniques to make you calmer, happier and feeling peace within.


Yoga is an art as well as a science. It is a science, because it offers practical methods for controlling body and mind, thereby making deep meditation possible. And it is an art, for unless it is practiced intuitively and sensitively it will yield only superficial results. — Paramhansa Yogananda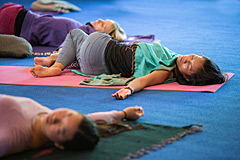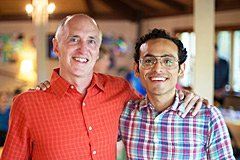 "Keep your expectations of life positive. Strive to live with unceasing happiness . . .Gain strength to rise above distraction by sipping frequently the nectar of inner peace, given you lovingly by angel hands as you grow silently toward Self-realization" - Paramhansa Yogananda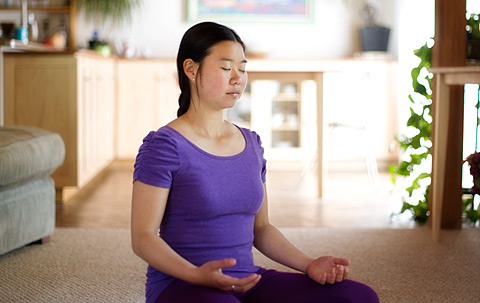 For more information, please send us a Question or Comment:

Receive monthly news and inspiration.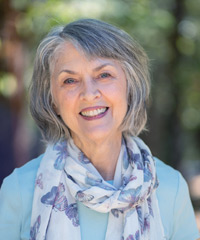 Ananda Yoga® Instructor (RYT 200) and Certified Ananda Yoga Therapist
Dayavati Barsic, Ananda Yoga® Instructor (RYT 200) and Certified Ananda Yoga Therapist, is a well-loved teacher, known for her expertise and gentle manner. The mother of 5 wonderful children, and 6 grandchildren, she has taught yoga for more than 30 years.

or e-mail or call us at 1-800-346-5350
Costs (YREW)
Costs are on a per person basis.
Tent
RV
Standard
Shared
Standard
Private
Deluxe
Shared
Deluxe
Private
$332
$418
$552
$516
$700
Prices are all-inclusive and cover accommodations, meals, classes or activities, and course materials.
Relax, Rejuvenate and Restore! starts the afternoon of the first date listed and ends with lunch on the last date listed. Check-in is anytime between 1:30 p.m. and 4:30 p.m. at our Front Desk. Your room will be available by 3:00 p.m. Dinner is at 6:30. The first gathering of your group is after dinner.
Please see:
You can add extra personal retreat days before and/or after your program. Check availability and costs for the days and accommodations that you require.
Relax, Rejuvenate and Restore! starts the afternoon of the first date listed. It's ideal to arrive before 4 pm, if you are able to. That way, you can join in the afternoon session of yoga and meditation, which begins at 4:45 pm. Dinner is at 6:30. The first real gathering of your group is at 7:30 pm. If you need to arrive here after 5 pm, that's fine, but it helps us if you let us know at 800-346-5350. We can also put aside a dinner for you if you need to arrive after 7 pm. The program ends with lunch on the last date. Please see our Daily Schedule.
See Transportation and Directions whether you are coming by plane, car, bus or train. Our Frequent Questions page answers many of the questions you might have about How to Go on Retreat.