Immerse Yourself in Nature's Beauty
In April, Nature puts on a glorious show at Crystal Hermitage. 15,000 tulips fill myriad terraces, wending down the hill toward the Yuba River, hundreds of feet below. There are 108 different varieties, in dozens of colors and color combinations. Blossoming cherry and dogwood trees, wisteria, and other beautiful plants join the dazzling array of color, shapes, and fragrances to entrance and delight you.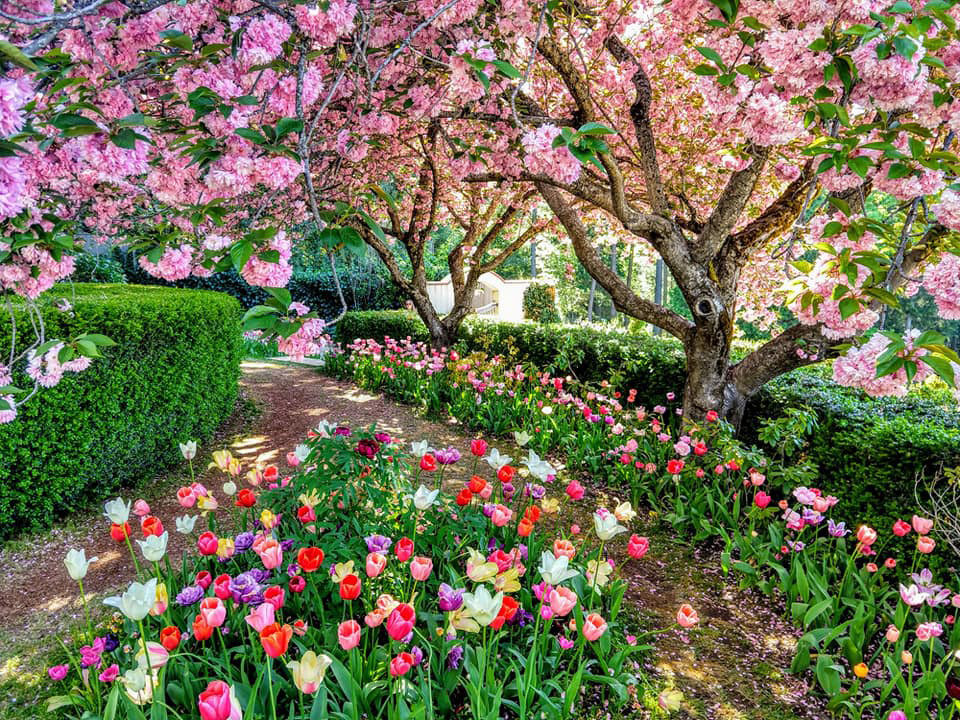 Relax, Rejuvenate, Re-inspire Your Life
These weekend retreats will largely take place at the Crystal Hermitage, the heart of Ananda Village. The healing, nurturing energy of thousands of flowers, everywhere you look, exceeds the imagination of what can happen inside of you during a weekend immersed in this bountiful beauty. Add an inspired program of experiential exercises, discussions, a lovely meal at the Crystal Hermitage, and you will return home with a new lease on life.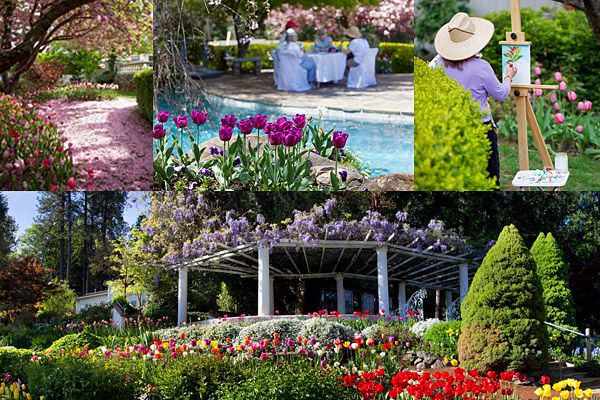 Activities Offered for Your Enjoyment and Upliftment:
A guided garden tour by a knowledgeable Crystal Hermitage gardener
A special talk about the history and inspiration behind the gardens
A class on a meditation technique that will help focus and quiet your mind
Ananda Yoga® sessions to relax your body and relieve stress
A private group meal at the beautiful Crystal Hermitage
On the April 22-24th weekend, an inspiring and entertaining musical performance
10% discount at the Shrine of the Masters boutique
Your choice of a free Crystal Hermitage book:

The Spirit of Gardening –by Nancy Mair, Crystal Hermitage Master Gardener
Space, Light, and Harmony –by Swami Kriyananda, Ananda's founder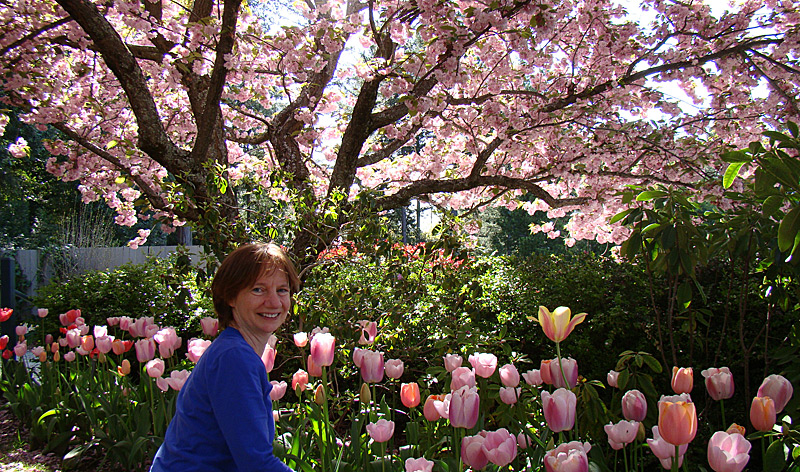 Receive the Blessings of Earth, Sun, and Flower Energies
Open a stronger connection with your higher self, renewing body, mind, and soul. You can wander amid the flowers and plants, take photos, chat with newfound friends, or sit and enjoy the spectacular views of the Yuba River canyon. The special healing vibrations of Crystal Hermitage, combined with the radiant color show, will rejuvenate your spirit. The high vibration and profound harmony will uplift and fill your heart with joy.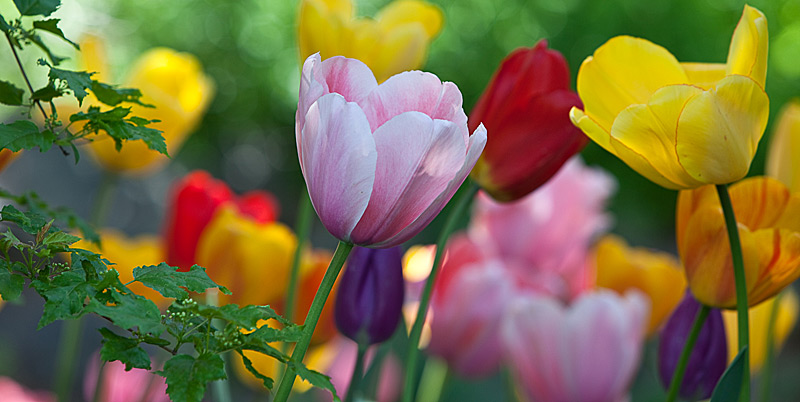 What do the flowers of Crystal Hermitage say to their admirers?
They speak of a beauty and love that is beyond this world, of a peace and harmony that is an intrinsic part of our soul. —Devi Novak, spiritual co-director, Ananda
This is an ideal weekend to share with a friend or relative. Yoga postures, meditation, and wonderful vegetarian food are staples of an Expanding Light visit.
Tulip Origins
Tulips originated in Central Asia, then became popular in Turkey, playing a significant role in their art and culture, and becoming their national flower. The tulip's name comes from the Persian word for turban, as in full bloom they have a turban-like shape.
Introduced to Europe in the 16th century, the popularity of this lovely blossom grew quickly, particularly in the Netherlands. Considered a luxury, widespread demand for tulips became so great that the price of a single bulb soared to great heights, putting into motion a 17th century "tulip mania." As the value of tulips increased, people began trading their land and savings to acquire bulbs. At one point tulip bulbs were even used as money. Eventually, as more people were selling bulbs than buying, the tulip market crashed.

Tulips are now grown throughout the world, and tulip festivals are celebrated in many countries. People still identify cultivated varieties as "Dutch tulips."
In the Language of Flowers, Tulips Symbolize Perfect Love
Because tulips are one of the first flowers to bloom in the spring, they can symbolize rebirth. Victorians often associated tulips with charity.
Other symbolic meanings:
Red tulips: true love
Purple tulips royalty
Blue tulips: tranquility and peace
Dark blue for truth
Yellow tulips: cheerfulness and hope
Pink tulips: happiness, confidence, affection, and caring
White tulips: purity, worthiness, forgiveness, honor, and holiness
Orange tulips: joyfulness
Variegated tulips represent beautiful eyes
A tulip wedding bouquet represents elegance and grace
Enchanting in their simple, clear and color-drenched beauty, tulips are one of the world's most beloved flowers.
Rejuvenate, Relax, and Restore
It's easy to slow down, enjoy, and reconnect with yourself at The Expanding Light Retreat. Why? Because it's:
beautiful and comfortable
quiet and tranquil, with a stillness that makes it easy to meditate
out in nature, with woods, deer, birds and myriad wildlife
on land made sacred by 50 years of meditation and spiritual activities
filled with happy people
And…the food is delicious and healthy. You will return home uplifted, inspired and energized.
For more information, please send us a Question or Comment:

Receive monthly news and inspiration.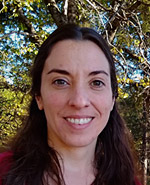 Spiritual Travel Host and Certified Ananda Meditation Teacher
Nandadevi Traymar has been a long-term practitioner and teacher of both Hatha Yoga and meditation in her home country, Argentina. She has served at the Expanding Light Retreat in California for nearly two years working with people of all ages and walks of life in the Karma Yoga Program, supporting them in their efforts to strengthen their spiritual lives. Nandadevi is a native Spanish-speaker who has enjoyed taking walking pilgrimage in Argentina.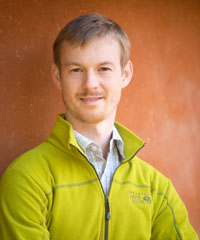 Inspirational teacher and retreat leader
International Director, Sharing Nature Worldwide
Gardener, Crystal Hermitage Gardens at Ananda Village
Sundara (Greg) Traymar is the International Director of Sharing Nature Worldwide and has been personally trained by world renowned author Joseph Bharat Cornell. Sundara is a gifted and inspiring teacher and wins friends wherever he travels. He has spent the last 12 years traveling the world, helping others deepen their love for nature.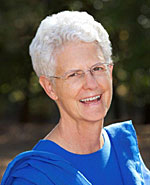 Inspirational teacher and retreat leader, Ananda Meditation Teacher, Ananda Minister and Spiritual Counselor
Nayaswami Mukti has been creating and leading a variety of inspirational retreats at The Expanding Light Retreat for the past many years. The themes and facets of her retreat programs reflect her own long-term and deep exploration to let every aspect of her life flow from a deep Kriya Yoga meditation practice. Her life has been one of uplifting service ranging from her full-time career as a speech therapist, to being a key member of the Ananda Music Ministry and to her out-reach to Ananda Meditation groups.
See all programs, articles, and full bio of Nayaswami Mukti.
No dates scheduled for Special Tulip Retreat Weekend at this time.
Prices are all-inclusive and cover accommodations, meals, classes or activities, and course materials.
Special Tulip Retreat Weekend starts the afternoon of the first date listed and ends with lunch on the last date listed. Check-in is anytime between 1:30 p.m. and 4:30 p.m. at our Front Desk. Your room will be available by 3:00 p.m. Dinner is at 6:30. The first gathering of your group is after dinner.
Please see:
You can add extra personal retreat days before and/or after your program. Check availability and costs for the days and accommodations that you require.
Special Tulip Retreat Weekend starts the afternoon of the first date listed. It's ideal to arrive before 4 pm, if you are able to. That way, you can join in the afternoon session of yoga and meditation, which begins at 4:45 pm. Dinner is at 6:30. The first real gathering of your group is at 7:30 pm. If you need to arrive here after 5 pm, that's fine, but it helps us if you let us know at 800-346-5350. We can also put aside a dinner for you if you need to arrive after 7 pm. The program ends with lunch on the last date. Please see our Daily Schedule.
See Transportation and Directions whether you are coming by plane, car, bus or train. Our Frequent Questions page answers many of the questions you might have about How to Go on Retreat.