Springtime at Ananda: A Women's Retreat

Rejuvenate and Connect to the Heart of Creation
Not scheduled at this time.
with Nayaswami Mantradevi
Unplug, and re-connect with Spirit. Attune yourself to the source of inspiration within. Harness the creative energies of Spring to re-energize your spiritual life. Return home with a higher vibration, harmony within, and joy in your heart.
In April, Nature puts on a glorious show at Crystal Hermitage. 15,000 tulips fill myriad terraces, wending down the hill toward the Yuba River, hundreds of feet below. There are 108 different varieties, in dozens of colors and color combinations. Blossoming cherry and dogwood trees, wisteria, and other beautiful plants join the dazzling array of color, shapes, and fragrances to entrance and delight you.
Re-inspire Your Life
During your weekend, the morning focus will be on applying "practical spirituality" to your life. Through guided experiential exercises, discussion, and sharing of fresh inspiration you will:
Learn new ideas and techniques to manifest outer harmony and inner balance
Empower a project, a relationship, or goal with new creative fire
Open a stronger connection with your higher self
Increase your capacity to be a channel for wisdom and healing
Return to your own natural rhythms
Nurture Your Mind, Body, Heart, and Soul
Practice a meditation technique that will help focus and quiet your mind
Relax: heal your body and relieve stress with Ananda Yoga®
Receive the blessings of earth, sun, and flower energies
We'll spend Saturday afternoon in the Crystal Hermitage gardens, renewing body, mind, and soul. You can wander amid the flowers and plants, enjoy tea and maple scones, take photos, chat with newfound friends, or sit and enjoy the spectacular views of the Yuba River canyon. The special healing vibrations of Crystal Hermitage, combined with the radiant color show, will rejuvenate your spirit. The high vibration and profound harmony will uplift and fill your heart with joy.
What do the flowers of Crystal Hermitage say to their admirers? They speak of a beauty and love that is beyond this world, of a peace and harmony that is an intrinsic part of our soul. —Devi Novak, spiritual co-director, Ananda
This retreat is led by Mantradevi. What she says about it: "Something magical happens when women gather together with a spiritual focus. The natural receptivity of the feminine heart quickly brings about a feeling of closeness to the Divine, and to each other. This type of retreat is definitely on my 'favorites list' to lead."
Tulip Origins
Tulips originated in Central Asia, then became popular in Turkey, playing a significant role in their art and culture, and becoming their national flower. The tulip's name comes from the Persian word for turban, as in full bloom they have a turban-like shape.
Introduced to Europe in the 16th century, the popularity of this lovely blossom grew quickly, particularly in the Netherlands. Considered a luxury, widespread demand for tulips became so great that the price of a single bulb soared to great heights, putting into motion a 17th century "tulip mania." As the value of tulips increased, people began trading their land and savings to acquire bulbs. At one point tulip bulbs were even used as money. Eventually, as more people were selling bulbs than buying, the tulip market crashed.
Tulips are now grown throughout the world, and tulip festivals are celebrated in many countries. People still identify cultivated varieties as "Dutch tulips."
In the Language of Flowers, Tulips Symbolize Perfect Love
Because tulips are one of the first flowers to bloom in the spring, they can symbolize rebirth. Victorians often associated tulips with charity.
Other symbolic meanings:
Red tulips: true love
Purple tulips royalty
Blue tulips: tranquility and peace
Dark blue for truth
Yellow tulips: cheerfulness and hope
Pink tulips: happiness, confidence, affection, and caring
White tulips: purity, worthiness, forgiveness, honor, and holiness
Orange tulips: joyfulness
Variegated tulips represent beautiful eyes
A tulip wedding bouquet represents elegance and grace
Enchanting in their simple, clear and color-drenched beauty, tulips are one of the world's most beloved flowers.
Rejuvenate, Relax, and Restore
It's easy to slow down, enjoy, and reconnect with yourself at The Expanding Light Retreat. Why? Because it's:
beautiful and comfortable
quiet and tranquil, with a stillness that makes it easy to meditate
out in nature, with woods, deer, birds and myriad wildlife
on land made sacred by 50 years of meditation and spiritual activities
filled with happy people
And…the food is delicious and healthy. You will return home uplifted, inspired and energized.
For more information, please send us a Question or Comment:

Receive monthly news and inspiration.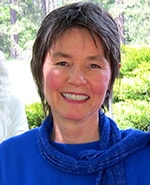 Personal Transformation Retreat Teacher, Spiritual Pilgrimage Leader, Ananda Minister and Counselor, Raja and Ananda Yoga® Teacher.
Nayaswami Mantradevi teaches with insight, clarity and joy, gained from over 35 years of meditating and sharing yoga philosophy. Her concern for others is one of her key qualities, and she has the innate ability to communicate and apply spiritual principles to real life situations. Her classes are creative and experiential, with humor and discussions keeping them lively and interactive.
See all programs, articles, and full bio of Nayaswami Mantradevi.
No dates scheduled for Springtime at Ananda: A Women's Retreat at this time.
Prices are all-inclusive and cover accommodations, meals, classes or activities, and course materials.
Springtime at Ananda: A Women's Retreat starts the afternoon of the first date listed and ends with lunch on the last date. It's ideal to arrive before 4 pm, if you are able to. That way, you can join in the afternoon session of guided yoga postures and meditation, which begins at 4:45. Dinner is at 6:30. The first real gathering of your group is after dinner. Please see:
You can add extra personal retreat days before and/or after your program. Check availability and costs for the days and accommodations that you require.
Springtime at Ananda: A Women's Retreat starts the afternoon of the first date listed. It's ideal to arrive before 4 pm, if you are able to. That way, you can join in the afternoon session of yoga and meditation, which begins at 4:45 pm. Dinner is at 6:30. The first real gathering of your group is at 7:30 pm. If you need to arrive here after 5 pm, that's fine, but it helps us if you let us know at 800-346-5350. We can also put aside a dinner for you if you need to arrive after 7 pm. The program ends with lunch on the last date. Please see our Daily Schedule.
See Transportation and Directions whether you are coming by plane, car, bus or train. Our Frequent Questions page answers many of the questions you might have about How to Go on Retreat.