Yogananda's City of Angels:

Visiting the holy shrines of Sri Yogananda in Los Angeles + Encinitas
with Nayaswami Krishnadas
This program can not be reserved online. To reserve, please e-mail or call us at 1-800-346-5350

Sign up for the stay connected list to receive notifications as details become available.

This spiritual adventure of pilgrimage will create uplifting memories that will stay with you and inspire you for years to come. Visit the many Southern California shrines sanctified by Paramhansa Yogananda in his lifetime. Every day will give opportunities to meditate and tune into his life, and the vibrations that exist in every place blessed by his presence. Visiting and meditating in these sacred places allow saintly vibrations to penetrate our hearts and souls, thus changing us on deep levels.
In Los Angeles we will visit the places that the Master lived and spiritually served people:
Mount Washington, with its sweeping views and powerful vibrations, houses the monastery and headquarters of the organization that Paramhansa Yogananda founded. Visit the rooms that Sri Yogananda lived in, meditate in the chapel where he held many ceremonies and long meditations, and tour the history filled grounds.
Enjoy a morning at the magnificent and beautiful Lake Shrine in Pacific Palisades. Paramhansa Yogananda said that he meditated at these places, consciously imbuing into them with powerful spiritual vibrations of peace, bliss, and divine love.
The Biltmore Hotel, where Sri Yogananda left his body in 1952, is an interesting place to visit. The exact spot where The Last Smile photograph was taken, moments before His Mahasamadhi, has been preserved for all to tune into. Partake in a delicious dinner in the hotel's excellent restaurant.
Paramhansa Yogananda's body, believed to be incorrupt, is interred at Forest Lawn Mortuary. This beautifully appointed marble building allows for a unique experience. Chanting and meditation will help you feel the deep vibrations that surround his body.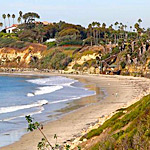 Some relaxing time at a Santa Monica beach and a satsang at the Ananda Los Angeles Center will be part of the trip, along with delicious meals in some favorite restaurants.
In Encinitas, tour the splendid grounds of Paramhansa Yogananda's seaside hermitage, and visit his personal rooms where he lived and penned his renowned classic, Autobiography of a Yogi.
Beneath the Encinitas hermitage bluff, you can relax
on beautiful Swami's Beach. You'll explore the charming town of Encinitas. A kirtan in the beautiful, hand carved Ananda Encinitas Temple of Joy, hosted by Casey Hughes, will take you deeper into Spirit.
Optionally, and as space permits, you may choose to join us for a guided group seclusion retreat for two nights at our Ananda Desert Retreat in Twenty-Nine Palms, CA. This lovely setting (home to Joshua Tree National Park, and where Yogananda himself secluded) is a sanctuary for spiritual retreat, meditation, and introspection. Together we will dive deep in the still, peaceful vibrations of the beautiful desert.
Experienced Pilgrimage Tour Leaders:
Nayaswamis Krishnadas and Mantradevi have led this inspiring pilgrimage many times. They were the founding leaders of Ananda Los Angeles. They know and love the shrines of Yogananda (and know the best places to eat, too!). As long-time disciples and teachers, they can help set the tone and interpret some of what you encounter. They are very warm and approachable, knowledgeable, and dedicated to giving you the best possible trip. You will feel well taken of, loved, and befriended.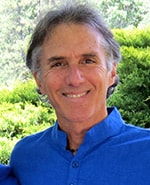 Spiritual Travel Host, Meditation Teacher, Director of Guest Services, Ananda Minister and Counselor
What is a nayaswami?
An exceptionally knowledgeable and gifted meditation teacher, Nayaswami Krishnadas shares his passion for meditation with dynamic enthusiasm. Over the last three decades he has taught thousands of people, from all over the world, how to meditate.
See all programs, articles, and full bio of Nayaswami Krishnadas.
This program can not be reserved online. To reserve, please e-mail or call us at 1-800-346-5350
Costs (PILLOSANG)
Costs are on a per person basis.
Please call to get prices
Prices are all-inclusive and cover accommodations, meals, classes or activities, and course materials.
Yogananda's City of Angels: starts the afternoon of the first date listed and ends with lunch on the last date. It's ideal to arrive before 4 pm, if you are able to. That way, you can join in the afternoon session of guided yoga postures and meditation, which begins at 4:45. Dinner is at 6:30. The first real gathering of your group is after dinner. Please see: