An Easter Retreat

A Retreat for Spiritual Renewal
Paramhansa Yogananda expressed with crystal clarity the deeper meaning of Jesus' life and teachings. During this uplifting weekend, you will be thrilled to gain a deeper understanding of the Bible and its non-denominational, practical wisdom for your spiritual journey.
Your weekend will include:
A magnificent concert of Swami Kriyananda's Oratorio on the life of Jesus
A Saturday morning class on Jesus' teachings with Nayaswami Krishnadas
An afternoon in Crystal Hermitage gardens, which attracted 8,000 visitors last April, to rejoice in the color, beauty, and joy of thousands of tulips
Quiet meditation time in Swami Kriyananda's private apartment and the Moksha Mandir
Ananda community's Sunday Service, led by Nayaswamis Jyotish and Devi, Ananda's spiritual directors
This will be a weekend to open your heart, uplift your consciousness, and give a boost to your spiritual life.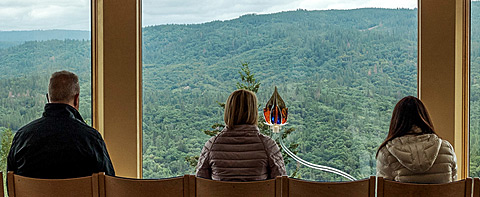 More details about your reservation for An Easter Retreat

or e-mail or call us at 1-800-346-5350
Costs (EAS)
Costs are on a per person basis.
Tent
RV
Standard
Shared
Standard
Private
Deluxe
Shared
Deluxe
Private
$252
$318
$450
$410
$592
Prices are all-inclusive and cover accommodations, meals, classes or activities, and course materials.
An Easter Retreat starts the afternoon of the first date listed and ends with lunch on the last date. Please see: