Deeper into the Sutras Online
with Nayaswami Gyandev and Nayaswami Diksha

The Essence of the Yoga Sutras
Patanjali's Yoga Sutras are a stirring cry to us to transcend all religious differences. Their basic message is, "Here are methods that can be tested and proved. You can know what God is from personal experience."
Patanjali brings to mankind more than a fresh breath of truth: he brings the wind of a new reality, redolent with fresh drafts of hope—hope not only for a better, but for a perfect future!
— from Demystifying Patanjali, by Swami Kriyananda
Be a channel of higher consciousness for those in need
Experience the very essence of Yoga with Ananda's unique approach to the Yoga Sutras. You'll go beyond philosophy to understand more deeply how to access the higher realms of consciousness—and begin to do it. Paramhansa Yogananda's action-oriented teachings will give you the practical tools to get there.
This course is an empowering blend of step-by-step methods, deep insights, clear direction, and support from both faculty and classmates.
You will learn how to:
Move toward a direct experienceof the highest states of awareness: Samadhi, Oneness, Divine Union.
Get beyond the kleshas: the five causes of suffering and spiritual stagnation.
Unlock the subtle keys of successful living—and successful spiritual striving—within Ashtanga Yoga, the Eightfold Path.
Overcome the nine obstructing distractionsand traps that plague the mind and hold you back.
Experience directly the truths of Patanjali through meditation and pranayama (energy-control) techniques taught by Paramhansa Yogananda and Swami Kriyananda.
Understand the subtler dimensions of "feeling" — some impede your progress, some help you, and some are blissful beyond words.
Integrate the essence of Yoga into your daily life in ways that are profound and powerful, yet down-to-earth and practical.
Take your practice of meditationto a deeper-than-ever level.
Develop the attitudes — some will be familiar, some might not—that are essential for success in the spiritual life.
Share with othersthe practical gems of wisdom from the Yoga Sutras.
People talk about calming the mind in order to meditate. Although that's true, it's not the main thing. It's the heart that needs to be calmed in order to meditate. It's the desires of the heart that agitate the mind.
— Swami Kriyananda
Course activities
You can engage in course activities at times that are convenient for you, although you need to keep up with all coursework on a week-by-week basis. Each week includes:
Video, audio, and reading assignments, that give you a variety of perspectives on important topics in the art and science of Yoga.
How to apply the Sutras' principles and techniques effectively in your meditations and in your daily life.
A "live" webinar each Saturday morning (Pacific time). with presented material as well as discussion and Q&A. The webinars will be recorded for the benefit of those who cannot attend.
Class discussions(written, not "live"") that explore more deeply how to apply the course material in your life, and in the lives of yoga or meditation students who seek your guidance.
Review exercises that highlight—and help you absorb—the central points of the week's lessons.
Guided sadhanas (sessions of spiritual practices) that will bring Patanjali's wisdom to life through your own inner experience.
Please note: While Deeper into the Yoga Sutras is open to everyone and no prior experience with the Yoga Sutras is required, it is primarily directed toward Ananda Yoga® and Ananda Meditation® teachers, and Ananda Yoga® therapist trainees.
For the general audience, a differently structured, less intensive, as well as less expensive online course The Yoga Sutras of Patanjali will be launched early in 2022 by the same instructors.
Ananda Yoga and Ananda Meditation teachers, and Ananda Yoga therapist trainees, who seek Level 2 teacher certification, will have some coursework as part of Deeper into the Yoga Sutras in which only they participate:
Practice teaching material from the Yoga Sutras (via Zoom).
For Ananda Yoga® teachers: Special weekly workshops on Ananda Yoga asanas.
For Ananda Yoga® therapists: Discussing how to use the principles of the Yoga Sutras with their clients.
For these reasons, course tuition is higher for Ananda Yoga teachers and therapist trainees.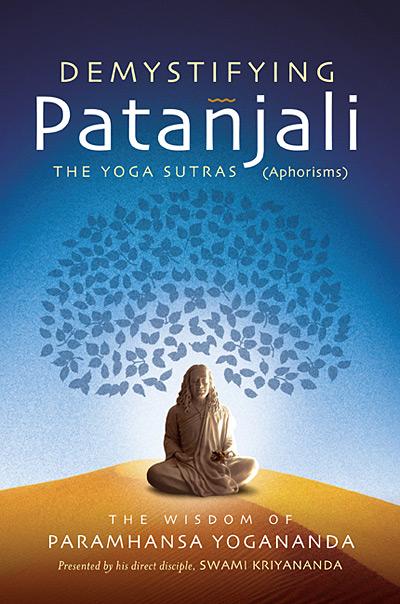 Your main textbook is Demystifying Patanjali, by Swami Kriyananda, who is Ananda's founder and a close, direct disciple of Paramhansa Yogananda. You'll also receive special articles, audios, and videos by Paramhansa Yogananda, Swami Kriyananda, and other Ananda teachers.
Demystifying Patanjali is highly readable: clear, concise, practical, and deep—unlike the many dry and overly intellectual commentaries on the Yoga Sutras. It will give you new insights into the universal truths that underlie all spiritual traditions, and how to experience them through the nonsectarian tools of Yoga.
We recommend that you buy Demystifying Patanjalibefore the course begins (the book is not included in the course tuition), and read as much of it in advance as time allows. With this link, you'll receive a 30% discount on your preferred version: ebook or paperback.
Patanjali, (the author of the Yoga Sutras) was an enlightened master, writing from a state of realization as well as practical knowledge. Far more than mere philosophical speculation, the Sutras come from revealed knowledge and serve as a road map for those who would explore the realm of Self-realization.
— from How to Meditate, by Nayaswami Jyotish
Meet Your Instructors
Nayaswami Gyandev
A dedicated meditator since 1974, Gyandev is known for his clarity of presentation, deep insights, high energy, kindness, and humor. He has taught meditation for more than 35 years to people from all walks of life. Swami Kriyananda asked Gyandev to write the forward for his book, Demystifying Patajanli.
Gyandev is a Certified Online Instructor, and director and a senior faculty member of the Ananda School of Yoga & Meditation in Northern California. He is also director of Ananda Yoga worldwide and co-director of the Ananda Meditation Teacher Training programs. From his base at The Expanding Light Retreat, he also teaches across the U.S., and in India and Europe.
Gyandev is a Kriyacharya (teacher of Kriya Yoga), co-founder of Yoga Alliance, and an E-RYT 500. He is the author of three books (including Spiritual Yoga: Awakening to Higher Awareness) and numerous audio and video products.
Nayaswami Diksha
Diksha is a senior faculty member of the Ananda School of Yoga & Meditation in Northern California. She directs the Ananda Spiritual Counseling Training and co-directs the Ananda Meditation Teacher Training programs.
Diksha has been meditating for more than 30 years, and training meditation teachers for more than 20 years. A powerful and dynamic woman of great warmth and humor, she is gifted in both intelligence and intuition. She has shared yogic teachings across the U.S., and in Canada and Europe.
A native Israeli who moved to the U.S. in 1990, Diksha brings a broad background to her teaching—from physical wellness to Ayurveda to profound spiritual understanding. Above all, she awakens in her students their own inner wisdom and the will to make positive changes in their lives.
FAQs
Q: What are the prerequisites for this course?

A: Anyone can participate. Some specialized activities, however, are only for graduates of Ananda Yoga Teacher Training, Bridge to Ananda Yoga, and Ananda Meditation Teacher Training.
Q: Does everyone have to complete all the assignments?

A: Those who are not seeking an Ananda certification need not complete any of the assignments if they don't wish to—although doing so could certainly benefit them. However, those who do seek certification as Level 2 Ananda Meditation Teacher or a Level 2 Ananda Yoga Teacher need to complete all assignments in a timely manner.
Q: Is the course self-paced, or does everyone move through the course together?

A: Everyone moves through the course together, week by week. This makes for quality interactions with classmates and builds a dynamic learning community that you'll enjoy immensely. However, those who are not seeking an Ananda certification can participate totally at their own pace, if and when they wish to participate, until the course website closes one month after the course concludes.
Q: Are there specific times when I will need to be online for, say, a webinar?

A: All coursework can be done at times that are convenient for you. It's ideal to attend the weekly "live" webinars (usually on Saturday mornings, Pacific time), but they are recorded for those who cannot attend.
Q: How much schedule flexibility do I need to have?
A: You will be free to do your coursework at whatever times of day suit your schedule. Those seeking an Ananda certification must participate on multiple days each week (often just 15 minutes), plus they will need to make time to meet with classmates for practice teaching. Everyone else is free to participate as they wish.
Q: Will I get to interact with other students and instructors in the course?
A: Yes, you'll have lots of interactionn—in discussion forums, Q&A forums, and the webinars. Plentiful interaction is a best practice in online learning, and this course is based in best practices. You'll love being part of the supportive learning community that forms.
Q: I want to get a head start. Is there a way I can begin the coursework early?
A: Yes, and we recommend it! Buy your textbook (Demystifying Patanjali, by Swami Kriyananda) early, and read as much of it as you can before the course begins. Pre-course reading is not required, but you'll be happy that you did it.
Q: I am concerned about some of the technological elements of the course: I've never done an online training, or used Zoom, or made a video of myself and posted it online.
A: The course web page is easy to use and intuitive, plus it offers "how to" instructions to help you. You can also attend a special "tech help" webinar early in the course. Making videos is required only for those seeking an Ananda certification, and these days, everyone knows someone who can help them make and upload videos to the web. If you think you will need such help, we recommend that you find a helper/tutor prior to the course.
Q: Will I need to have a paid Zoom account?
A: Anyone who does not seek an Ananda certification needs only a free Zoom account. Those seeking certification will be required to video-record certain Zoom-based teaching assignments, which they can do with a computer and a free Zoom Basic account. With a mobile device, one can record only to the Zoom cloud, which requires a paid Zoom account ($15/month) for about one month of the course.
Gain insights that will help you in every area of life
6-week Online Course
Your textbook, Demystifying Patanjali, is not included in the course fees. We recommend that you buy the book well before the course begins, and read it.
Dates: October 06 to November 17, 2021