Online Spiritual Counseling Training

5-Week Online Training Course
Not scheduled at this time.
with Nayaswami Diksha

Online Spiritual Counseling Training
hosted by Online with Ananda
Be a channel of higher consciousness for those in need
Join Nayaswami Diksha for this one of a kind course exploring the art of Spiritual Counseling. Spiritual counseling is different from psychological counseling. It's about counseling others from a space of uplifted consciousness in order to help them find deep, personal understanding and direction.
This training will enhance your interpersonal skills as you learn to listen actively, respond with clarity, and open the doorway for superconscious understanding and solutions. You'll explore spiritual skills and effective communication principles that will help you guide others to find their own solutions. Nursing CEU 28 hours.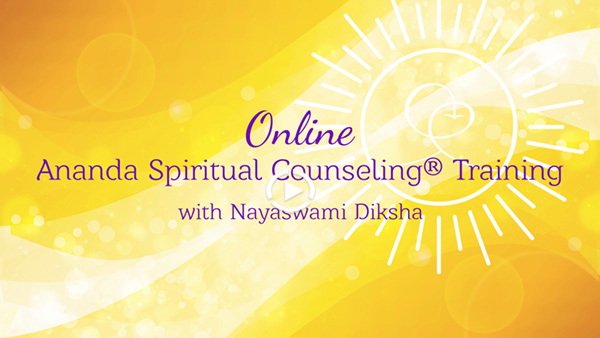 Best practices in online learning
At Ananda, we have been offering quality training for decades. Now we bring this same dedication online, as we embrace the very best practices of online learning. You'll enjoy a user-friendly online environment that offers plentiful interaction within a highly engaged learning community, including:
Specialized exercises and introspective practices to deepen your understanding of how to effectively counsel others
Lively discussion forums filled with support, insights, and inspiration
"Live" webinars covering a wide spectrum of topics with periods of Q&A
Practice counseling sessions with fellow students and instructor feedback
Instructional videos covering all aspects of spiritual counseling
This course is based on the teachings of Paramhansa Yogananda.
Swami Kriyananda, his close, direct disciple, counseled thousands of people over more than 60 years, always on the basis of Yogananda's guidance and teachings. From those years of experience, he developed the approach to counseling that serves as the framework for this course.
You'll learn how to:
Cultivate and recognize true intuition
Listen to and assess your own intuition
Connect to someone's higher self from your higher self
Recognize subconscious, conscious, and superconscious thinking in yourself & others
Find solutions & not be overwhelmed by problems
Help others gain clarity on life's challenges and open to new possibilities
Avoid the temptation to try and "fix" someone
Ask questions that will open doorways for others
Find solutions to your own challenges