Ananda Meditation Teacher Training

Nursing CEU Eligible: 46 hours

Ananda has been training teachers for almost 40 years. We don't just teach meditation—we live it, and so will you. You'll love the uplifting energy and profound peace of Ananda Village in Northern California, one of the worlds' most respected spiritual communities.
You'll learn and discuss:
What meditation is and what it is not;
How to get comfortable for a silent, sitting meditation;
Using the breath to calm the body and mind;
Concentration techniques to overcome mental restlessness;
How to use affirmations, visualization, and walking meditations;
How to open the heart and develop your feeling nature;
Music as an aid to meditation;
Effective presentation skills and how to overcome stage fright;
Becoming a truly dynamic teacher;
How to organize and market your classes.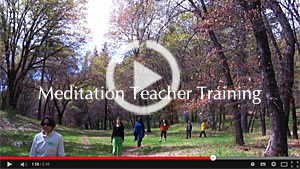 Become A
Meditation Teacher
Ananda Meditation helps one become calm, develop concentration, get a balanced perspective on life, and cultivate unshakeable happiness and spiritual magnetism. The spectrum of techniques we share during the training are based on the highest ancient yogic practices of India.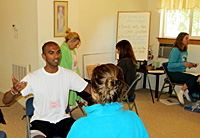 Students practice and teach extensively during the training, with ample guidance and feed back from instructors. Our curriculum prepares you to teach meditation skills to anyone.
From in-person training to post-graduate support, we help you in every way to become the teacher you truly want to be.
In addition to inspiring classes offered by some of Ananda's finest and most experienced meditation teachers, you'll participate in daily meditations and Ananda Yoga® practices, and receive a very comprehensive teaching manual. Graduates receive a Certificate of Completion and credits toward Level 2 yoga teacher certification (for Ananda Yoga Teacher Training graduates).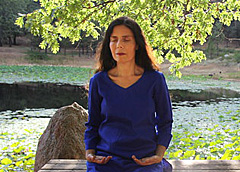 Course director, Nayaswami Diksha, brings more than 20 years of experience in teaching meditation and many related subjects. Please contact us for a program application or fill out our online application. Please register at least 2 days before the start of the program.
This course is open to all and is also part of Ananda's Yoga Therapy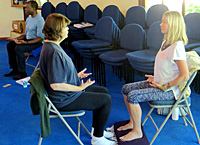 Training. In this Course Syllabus, certain parts apply only to those seeking certification as an Ananda Yoga Therapist. .
Yoga Alliance RYT's and E-RYT's: This course offers up to 46 hours of continuing education credit. Ask your instructor for documentation.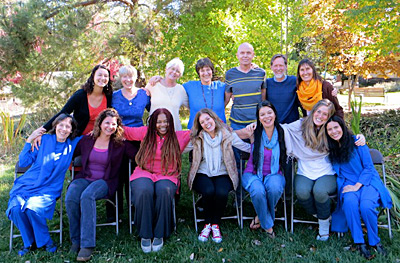 "My meditation teacher training has most definitely been beneficial, not only to me but to hundreds of people who work at UC Davis."
~ Beth A. Cohen, Ph.D.,
Director, Academic & Staff Assistance Program
University of California, Davis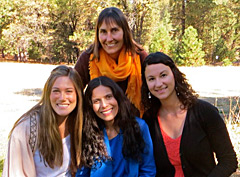 "This is an excellent program designed to help you become a competent and confident meditation teacher. I enjoyed every minute of it, and I'm ready to share this joy with the world."
—Rev. Lisa Hamilton
"This course will change you even if you are an experienced meditator. It will take your practice inward and upward to infinity." —Kim G., Nevada
"Come with no agenda other than to immerse yourself into the program. I'd definitely recommend this program. It will give you a very rich experience on many different levels."—Natalie, Russia
"This training really prepares the new teacher to be able to relate to their students and teach with confidence and ease. The program balances perfectly the heart qualities of meditation with the practical application aspects. This course opened my heart, taught me how to successfully teach meditation, and truly changed my life."
—Hannah Isaacson
"You are the best team of teachers I've experienced. You all, Expanding Light, Ananda, its people - will live in my heart forever!" —Darcy S.
"All of the teachers are EXCELLENT! Ananda trainings are of the highest caliber because the teachers are so knowledgeable, compassionate, and committed."—Amani, Texas
"I was very impressed with how competent and professional the instructors are. They were practical, inspiring, and harmonious with each other, setting perfect examples and guidance as teachers." —Stephanie, Israel
"MTT helped me revitalize my own practice of meditation. I feel enthusiastic and prepared to share meditation with all whom I meet." —Cate, Nevada City, CA
"I cannot actually imagine taking meditation from another place. Ananda has been a spiritual community since Day One. The level of instruction is of the highest quality and the vibration felt at Ananda would be very hard to replace." —Susan K.
More details about your reservation for Ananda Meditation Teacher Training

or e-mail or call us at 1-800-346-5350
Costs (MEDT)
Costs are on a per person basis.
Tent
RV
Standard
Shared
Standard
Private
Deluxe
Shared
Deluxe
Private
$1440
$1770
$2430
$2230
$3140
Prices are all-inclusive and cover accommodations, meals, classes or activities, and course materials.
Ananda Meditation Teacher Training starts the afternoon of the first date listed and ends with lunch on the last date. Please see:
Yoga Alliance RYTs and E-RYTs receive a 10% discount on the total cost for Ananda Meditation Teacher Training. To receive the discount, please tell us when you register: your name as it appears in the Yoga Alliance registry, and your city/state/country.
Nursing CEU Eligible: 46 hours


What is the most insightful advice an Ananda Meditation Teacher has presented you?
Find Out...

Receive monthly news and inspiration.