Go Deep in the Cosmic Vibration
The more you listen to OM,
the more youwill feel yourself
entering into it.
In time you will feel it, and yourself, permeating the entire universe.
All knowledge is contained in that sound. You have only to ask for it,
and it will be given to you.
All power is contained in that sound. You have only to call on it,
and it will be given to you.
You will be able to attract success, true friends from past lives,
all understanding, all knowledge,
and all inspiration.
When you are in that vibration,
you need never fear anything;
nothing and no one
will be able to harm you.
—Swami Kriyananda
The All-pervading AUM
This retreat is designed for those with a deep interest in the all-pervading, omniscient vibration of AUM. You will acquire tools taught by Paramhansa Yogananda for merging into Sacred AUM. Through visualizations, guided activities, devotional AUM meditations, chanting, inspirational stories, and deep yogic teachings, the Cosmic Vibration will come alive for you as never before.
Create Your Own AUM Practice
The weekend will have a dynamic flow of lecture and experiential activities for deep communion with AUM. You'll learn how to make your AUM practice more devotional, expansive, and God-reminding throughout the day. You will also hear how saints from all traditions have found God through His Holy Vibration.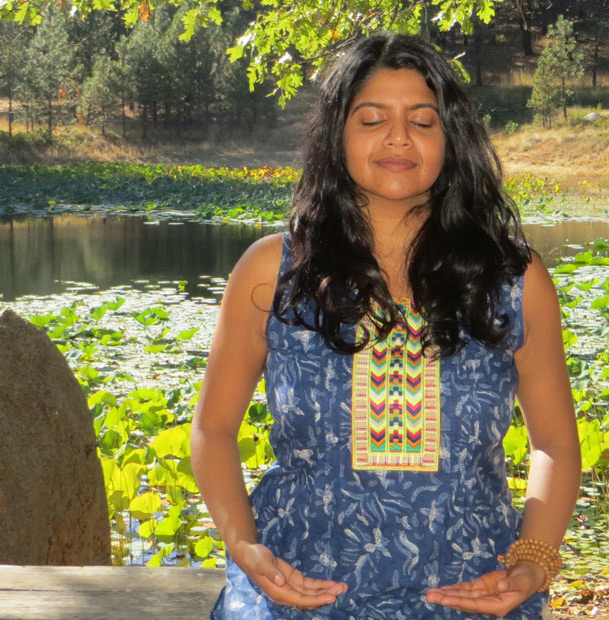 Key Techniques
The Hong Sau technique and Energization Exercises are valuable aids for experiencing AUM. Learn how to go deep into them. For those who have received the Aum technique through Ananda there will be a review.
Learn from Long-time, Dedicated Meditators
Brahmachari Sagar and Saiganesh both have, for many years, inspired and taught hundreds of people with the deeper teachings of Paramhansa Yogananda. Gifted teachers, they will guide you deeper in your spiritual practices.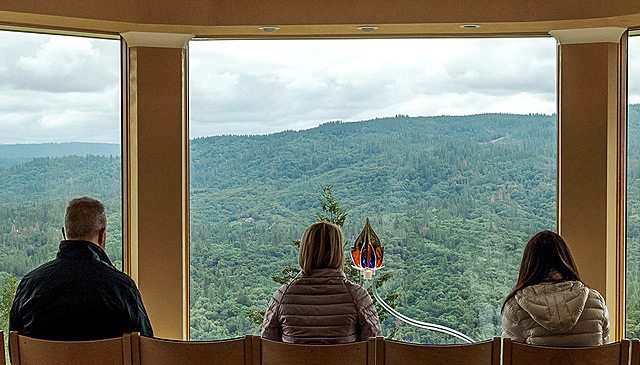 The Healing Balm of Spirit

Your weekend activities will be enhanced by the uplifted atmosphere of The Expanding Light Retreat. Visiting Ananda temples and the Crystal Hermitage Gardens, all steeped in holy vibrations, are highlights that will help you experience deeper meditations, and the rejuvenating power of AUM.
Enjoy delicious vegetarian food
to nourish your body,
The beautiful setting of nature
to quiet your mind,

And the spirit of AUM
to nourish your Soul!


What People have said about Communing with Aum Retreat:

A wonderful program. Both teachers had deep and broad knowledge and understanding of the topics as well as teaching methods. All the various aspects of the program were highly enriching in themselves and together they had a great positive effect that will probably stay with me in the future. This is my second time and my experience was as good or better than the first one. —A.B., Milpitas, CA


I've attended many, many programs at The Expanding Light over 10+ years and found this to be my favorite. The knowledge and personable energy of the leaders was exceptional. It was very experiential, so I am able to apply the use of AUM to my personal and spiritual life. —Andrea L., Sacramento, CA


Despite having some theoretical/intellectual background to spirituality, this retreat truly opened my eyes to the experiential and beautifully devotional aspect of my practice. Never before has meditation touched me and reverberated in my spirit in such a way. —V. B. Milpitas, CA


The retreat was excellent and I am grateful to be here. Sagar and Pranaba were excellent teachers. The classes were well-done and well-paced. Thank you for being here and offering your help. AUM. —Scott S., Walnut Creek, CA
The Expanding Light. never disappoints, and the program was filled with great moments and concepts to digest. —D.H., Chico, CA


Wonderful program. It helped me go deeper into AUM. —Bill S., Santa Rosa, CA


It was a lovely experience and I'm so glad that I took it. It's good to be reminded of things and hear different viewpoints and ways of description. The teachers were very good, informative and full of knowledge. It's a class that would be worth repeating often. —Frequent Guest

No words are in my vocabulary to express how blessed I feel to be in this retreat. The teachers were amazing at sharing the knowledge and helping us to understand the meaning and depth of communing with AUM. Thank you for the class. —A.R.W., Sacramento, CA


It was a wonderful Retreat. Thanks so much! I am AUM, I'm one with Divine consciousness. Great techniques! And, the food was great. —S.S., Chico, CA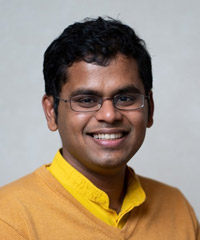 Sagar led Ananda's work in Mumbai for about five years and has served Ananda's work in India and the US as a teacher and counselor to students and as a meditation and stress-relief workshop facilitator for corporates.

Sagar currently serves in Ananda's Online Ministry. He is one of the principal instructors for the Ananda Course in Meditation and has helped create several such online offerings and webinars.
See all programs, articles, and full bio of Brahmachari Sagar.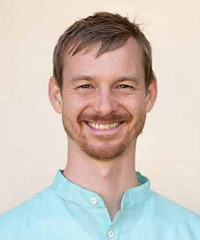 Inspirational teacher and retreat leader
International Director, Sharing Nature Worldwide
Gardener, Crystal Hermitage Gardens at Ananda Village
Sundara (Greg) Traymar is the International Director of Sharing Nature Worldwide and has been personally trained by world renowned author Joseph Bharat Cornell. Sundara is a gifted and inspiring teacher and wins friends wherever he travels. He has spent the last 12 years traveling the world, helping others deepen their love for nature.

or e-mail or call us at 1-800-346-5350
Costs (MED3)
Costs are on a per person basis.
Tent
RV
Standard
Shared
Standard
Private
Deluxe
Shared
Deluxe
Private
$468
$597
$798
$744
$1020
Prices are all-inclusive and cover accommodations, meals, classes or activities, and course materials.
Communing with AUM starts the afternoon of the first date listed and ends with lunch on the last date listed. Check-in is anytime between 1:30 p.m. and 4:30 p.m. at our Front Desk. Your room will be available by 3:00 p.m. Dinner is at 6:30. The first gathering of your group is after dinner.
Please see:
You can add extra personal retreat days before and/or after your program. Check availability and costs for the days and accommodations that you require.
Communing with AUM starts the afternoon of the first date listed. It's ideal to arrive before 4 pm, if you are able to. That way, you can join in the afternoon session of yoga and meditation, which begins at 4:45 pm. Dinner is at 6:30. The first real gathering of your group is at 7:30 pm. If you need to arrive here after 5 pm, that's fine, but it helps us if you let us know at 800-346-5350. We can also put aside a dinner for you if you need to arrive after 7 pm. The program ends with lunch on the last date. Please see our Daily Schedule.
See Transportation and Directions whether you are coming by plane, car, bus or train. Our Frequent Questions page answers many of the questions you might have about How to Go on Retreat.