Go Deep in the Cosmic Vibration
The more you listen to OM,
the more youwill feel yourself
entering into it.
In time you will feel it, and yourself, permeating the entire universe.
All knowledge is contained in that sound. You have only to ask for it,
and it will be given to you.
All power is contained in that sound. You have only to call on it,
and it will be given to you.
You will be able to attract success, true friends from past lives,
all understanding, all knowledge,
and all inspiration.
When you are in that vibration,
you need never fear anything;
nothing and no one
will be able to harm you.
—Swami Kriyananda
The All-pervading AUM
This retreat is designed for those with a deep interest in the all-pervading, omniscient vibration of AUM. You will learn techniques taught by Paramhansa Yogananda for merging into Sacred AUM. Through visualizations, guided activities, devotional AUM meditations, chanting, inspirational stories, and deep yogic teachings, the Cosmic Vibration will come alive for you as never before.
Create Your Own AUM Practice
The weekend will have a dynamic flow of lecture and experiential exercises for deep communion with AUM. You'll learn how to make your AUM practice more devotional, expansive, and God-reminding throughout the day. You will also hear how saints from all traditions have found God through His Holy Vibration. Your days will include instruction, guided AUM meditations in nature, guided practices using the gong, and listening to AUM within yourself.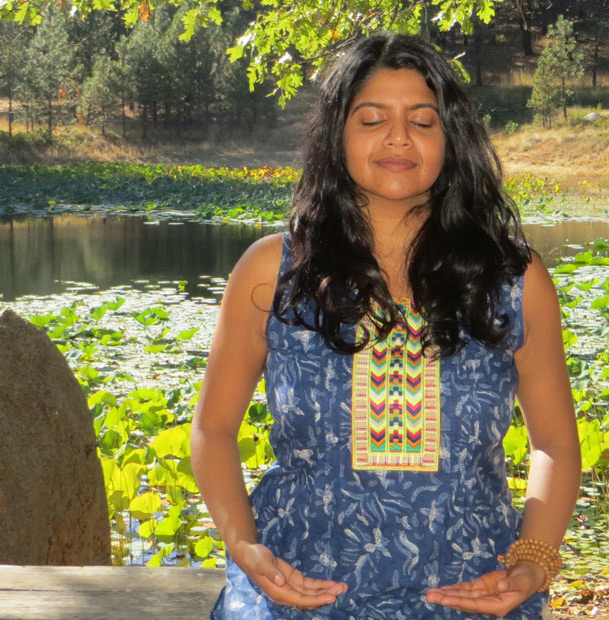 Hong Sau and Energization Exercises
Also included will be an in-depth review of the Hong Sau technique and the Energization Exercises. For disciples of Paramhansa Yogananda, there will be an additional AUM technique class.
Learn from Long-time, Dedicated Meditators
Nayaswami Pranaba and Brahmichari Sagar both have, for many years, inspired and taught hundreds of people with the deeper teachings of Paramhansa Yogananda. Gifted teachers, they will guide you deeper in your spiritual practices.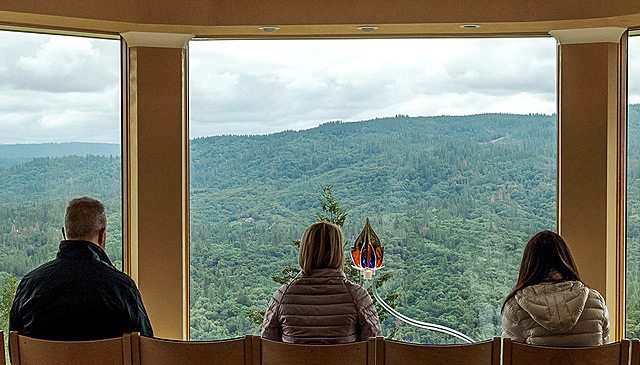 The Healing Balm of Spirit
Your weekend activities will be enhanced by the uplifted atmoshphere of The Expanding Light Retreat, Visiting Ananda temples and Swami Kriyananda's Moksha Mandir, all steeped in holy vibrtaions will help you experience deeper meditaitons and the rejuvneating power of AUM.
Special Evening Event: A Celebration to Krishna
Krishna Janmastami, an annual celebration of the birth of Krishna will be held on Friday of this weekend. An evening of heart-opening chanting and story-telling, interspersed with quiet listening and absorption, will help you draw even more deeply on the sacred vibrations of AUM.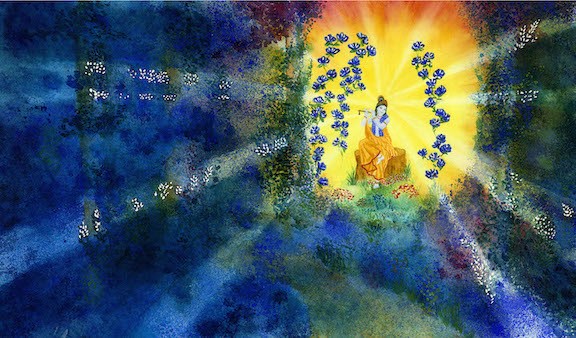 Enjoy delicious vegetarian food to nourish your body,
the beautiful setting of nature to quiet your mind,
and the Spirit of AUM to nourish your Soul!



Retreat flow (Thursday through Sunday)
Thursday
Evening orientation
Friday
Morning meditation (With Yoga postures)
Morning Class 10-12: Aum: The Bridge from Human Consciousness to Divine Consciousness
Afternoon class 2 to 3:30 (Experiential): Tuning into Aum through various practices
Evening Sadhana (4:30 to 6): Review of Hong sau and Energization
Evening after dinner: Special Krishna Janmastami Celebration
Saturday
Morning two track sadhana (One that reviews the Aum technique for those who have received it, another with Hatha Yoga and meditation for the rest)
Morning class: Stories of Aum: Comforter, Friend, Protector
Afternoon: unstructured time: tour, quiet time, journaling, personal counseling
Evening: guided sadhana themed on Aum (with yoga postures)
Evening after dinner: Sharing and closing circle
Sunday
Sadhana, Sunday Service, lunch and go with love
For more information, please send us a Question or Comment:

Receive monthly news and inspiration.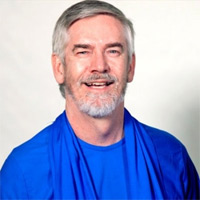 Nayaswami Pranaba has helped to create and direct Ananda centers in America and Italy, managed the Ananda YTT program, directed Ananda Village's membership program and coordinated Ananda's Meditation Groups. He now manages Ananda Sangha Worldwide, Ananda's outreach ministry. An excellent teacher, he is known for his unfailing kindness and gentle approach.
See all programs, articles, and full bio of Nayaswami Pranaba.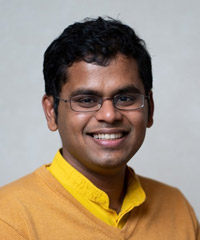 Sagar led Ananda's work in Mumbai for about five years and has served Ananda's work in India and the US as a teacher and counselor to students and as a meditation and stress-relief workshop facilitator for corporates.

Sagar currently serves in Ananda's Online Ministry. He is one of the principal instructors for the Ananda Course in Meditation and has helped create several such online offerings and webinars.
See all programs, articles, and full bio of Brahmachari Sagar.
No dates scheduled for Communing with AUM at this time.
Prices are all-inclusive and cover accommodations, meals, classes or activities, and course materials.
Communing with AUM starts the afternoon of the first date listed and ends with lunch on the last date listed. Check-in is anytime between 1:30 p.m. and 4:30 p.m. at our Front Desk. Your room will be available by 3:00 p.m. Dinner is at 6:30. The first gathering of your group is after dinner.
Please see:
You can add extra personal retreat days before and/or after your program. Check availability and costs for the days and accommodations that you require.
Communing with AUM starts the afternoon of the first date listed. It's ideal to arrive before 4 pm, if you are able to. That way, you can join in the afternoon session of yoga and meditation, which begins at 4:45 pm. Dinner is at 6:30. The first real gathering of your group is at 7:30 pm. If you need to arrive here after 5 pm, that's fine, but it helps us if you let us know at 800-346-5350. We can also put aside a dinner for you if you need to arrive after 7 pm. The program ends with lunch on the last date. Please see our Daily Schedule.
See Transportation and Directions whether you are coming by plane, car, bus or train. Our Frequent Questions page answers many of the questions you might have about How to Go on Retreat.