Testimonials from Past Participants
If you want to know what it's really like, enjoy these comments from those who have joined us before.
A Life-Changing Healing - by Koral Ilgun
Visit A Place Called Ananda to read a blog posting on Kerala
Overall Experience
"This trip is so much more than an exotic vacation in an stunning location. It is a pure rejuvenation of body, mind, and soul. The blend of yoga, meditation, Ayurvedic lessons, with the resort's treatments, climate and food is truly inspiring. I came to the resort with high expectations, and left with each and every one exceeded. An unforgettable experience of quality care and growth."
– Annette, England

"It has been an amazing retreat. I was deeply touched by the spirit of the Indian people. The treatments were very beneficial to me both physically and emotionally. The sadhanas with Gyandev were a great way to start the day, and I learned so much about ayurveda in the classes with Diksha."
– Lauri, Texas
"Bliss. A place to reacquaint with body and soul; to accept, engage, laugh with joy, to know that there are no strangers. To let go of demands and to bath in rejuvenation"
– Mary
"This experience is more than words can say. Being a part of such an enriching and enlightening experience is definitely once in a lifetime event!"
– Gwen Mungure, CA
"If you really care about your well being at both a physical and spiritual level then this experience is not to be missed. You have to do it!"
– Joanne, Australia
"It was an experience of a lifetime! Everything I have learned and experienced will increase my well-being for many years to come. For me, this is just the beginning of a lifelong journey to physical, emotional, and spiritual health."
– Alina, LA
"It is the only way I could imagine coming to India. I felt safe. Everything was well planned. My needs were all met. The texture of India is very complex and we were able to touch many different layers of experience."
– Susan Schlosser, WA
"This experience is a gift to give yourself in this life time—supports your well being and compassion and it will ripple out into the universe with peace and love for all human kind. We are truly blessed."
– Donvieve Udell, Bayside, CA
"It was the best vacation of my life. Focus on spiritual yoga, diet, and massage. Teaching of Ayurveda sealed it all together."
– Mary Matossian, Ukiah, CA
It was an experience of spiritual transcendence. I was humbled by the culture, inspired by the teachers, and healed by the environment. From the bottom of my heart, Diksha and Gyandev, I thank you.
– Theodora Wilner, CA
Diksha and Gyandev were so very gifted at guiding the transition from Western pace and sensibilities to opening to the heart and devotion of what India has to offer. The therapists were healing angles helping me to receive their gifts and enjoy the moments of healing touch.
– Juanita, CA
This retreat lived up to its description. I feel rejuvenated in body, mind and soul through the science and art of ayurveda and yoga. I can't recommend this experience highly enough.
– Narayan, CA
I was able to relax on so many levels. Not just my body but my mind and soul as well.
– Dharmadevi, CA
There aren't enough superlatives to describe this trip!!!!
If you want to have a life-changing experience and the best, most relaxing vacation of your life, go to Kerala with Diksha and Gyandev! I vacation a lot, and have been to many places in the world, and this was without a doubt the best vacation experience I have ever had. I can't say enough good things, so I will end by saying, "I want to go again!"
– Charlene Gier, CA
"It is truly 'indescribable.' I have never felt so nurtured in a more beautiful environment. Every element of the Ayurvedic experience was top quality and the personnel so friendly and caring.
Thank you, thank you, thank you. This has been the experience of a life time that I will never forget. It is a landmark experience for me that has enriched and changed my life forever."
–Dora Anderson, CA
"I had a very unique experience in a beautiful environment. What made it most special were the gracious, caring staff that always were open to helping and addressing my needs. "
– Susan, Benicia, CA
"Perfect combination of vacation and healing. A sentient environment to let the world fall away and surrounded by the gracious, sattvic people of India and those on our trip. Thank you for a fabulous experience. I hope I can come again sometime. "
– Ann, Santa Rosa, CA
"The Kerala experience is just the right amount of rest, relaxation, rejuvenation, and fun. I would encourage anyone to take this retreat experience. It is appropriate for any level of experience, from beginner to advanced. The setting is tropical at it's finest. "
– Suzanne, Nevada City, CA
"It was out of this world. The staff, doctors, therapists, the environment the climate, were all made for healing and rejuvenation. Thank you all for making this a transformative experience. The memories and blessings will stay with me forever. "
– Koral, Nevada City, CA
All in all this was nothing short of fantastic, wonderful, life changing, fun, interesting, etc., etc.… It was the best vacation I have ever had. The Ayurveda/Yoga experience surpassed my expectation. Two-hour massage each day for seven days and the daily practice of Yoga postures brought joy, peace and total relaxation. If you want to deepen your Yoga and meditation practice and be pampered, this trip is for you.
– Lan Gluckman, CA
Thank you, thank you so much. I am so blessed to have been on this retreat. I know I've experienced deep healing on many levels.
I have to say again from my heart of hearts, that I have been so deeply moved mentally, physically and spiritually from our India experience – which in a very large part was due to you both, not only as group leaders but as wonderful human beings. Thank you. With my deepest love and gratitude…
– Sheri Rodgers, CO
There are no superlatives to adequately describe what an amazing experience I had. It was such a pleasure to be taken care of completely. It was so much fun to experience a bit of India with like-minded friends. I highly recommend this to anyone who would like to be rejuvenated deeply on many different levels.
– Cheryl Shaeffer, SD
I loved the resort, I loved the people, I loved India. I loved the whole experience. I added a new dimension to my life.
– Joan Gosling, CA
This trip can be beneficial in many different ways. Physical and spiritual health can be developed for a life-changing experience.
– Daniel Crawford, CA
Treatments
The treatments I received for fibromyalgia have improved my health more than any other treatment I have had. That, along with the herbal medicines that I received, have relieved the fibromyalgia symptoms to the extent that I am pain-free with much more energy than I have had in years. It has been magical.
– Charlene Gier, CA
The Ayurvedic treatments were fabulous. I had no idea that massages like this exist. The advice about diet, medicines and lifestyle has brought significant improvements in my health.
– Mary Widenor, CA
My therapist and helper were so kind and caring each time. The doctors were great and willing to answer my many questions.
– Sheri Rodgers, CO
Wonderful – real pampering.
– Joan Gosling, CA
Very professional group of doctors and therapists.
– Janet Perez, CA
The Retreat Experience
Authentic Ayurveda along with daily yoga and spiritual practice made for a retreat that was uplifting, rejuvenating and truly life changing.
– Sheri Rodgers, CO
I enjoyed my experience with Ananda 100%. The group dynamic was very calm and peaceful. I felt everyone was there for their own personal enhancement rather that just a plain "vacation"; therefore, it was a safe and encouraging feeling to let yourself open up and grow.
– Janet Perez, CA
The campfire and chanting on the beach was another high point for me. It was so nurturing and soothing to have the warmth of the fire and the vibration of the chanting and ocean. Incredible! Loved the group. If I had picked them myself, I couldn't have done better!
– Charlene Gier, CA
A gentle experience to enter into India, and a specially designed diet. A wellness program with yoga and meditation under the coconut trees overlooking the ocean. Fun with day excursions and evening entertainments.
– Mary Joe Bowling, KY
The retreat experience was completely relaxing and in a truly tropical paradise. At the same time I learned many new concepts that will enhance my lifestyle in years to come.
– Joan Gosling, CA
The trip is a unique experience. It will combine good health, food, relaxation and a cultural experience in one trip.
– Daniel Crawford, CA
Facility and Accommodations
Perfection!! What a spectacular location.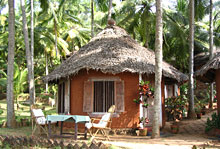 The resort was beautiful, well kept, loved the flower arrangements, rooms nicely appointed with everything that I needed. Loved the entertainment at night. The energy of the resort is the most peaceful and serene I have ever experienced.
– Charlene Gier, CA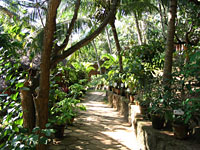 Excellent, very clean, authentic.
– Sheri Rodgers, CO
Truly amazing.
– Janet Perez, CA
Beautiful, and exotic. Very clean.
– Mary Widenor, CA
Set in beautiful surroundings. Lots of facilities such as room service, pool etc. Rooms are neat and tidy.
– Daniel Crawford, CA
Retreat Staff
They are very kind, helpful, and love to talk. The laundry, room service, and housekeeping services exceeded the level of five-star hotels I have stayed in. The people are very caring.
– Mary Widenor, CA
Extraordinarily friendly and helpful.
– Joan Gosling, CA
The best, everyone was extremely polite and helpful.
– Janet Perez, CA
Always helpful and friendly.
– Daniel Crawford, CA
Beautiful, friendly and helpful. The Welcome Ceremony was very special.
– Charlene Gier, CA
The staff at the health resort was so gracious, polite, and accommodating.
– Cheryl Shaeffer, SD
Excursions
A good exposure to life in India outside our little paradise at the Ayurvedic resort.
– Joan Gosling, CA
The two day trips were perfect. I appreciated being able to see the India that lies outside the Ayurvedic resort and the local area. Loved the backwaters trip.
– Charlene Gier, CA
Sadhanas
One of the high points for me was to do morning asanas and meditation out on the grass, shaded by tall coconut trees all around us and the crashing surf of the Arabian Sea right before us. It truly felt like we were in paradise.
– Cheryl Shaeffer, SD
Morning sadhana was AWESOME! Definitely a high point of the trip. What a perfect place to be able to have a morning practice. What a treat to practice with Gyandev for two straight weeks! I can hardly wait to take Ananda Yoga® Teacher Training! I loved the afternoon sadhana on the beach when the local Indian kids joined us.
– Charlene Gier, CA
The morning sadhanas with Gyandev were wonderful. I loved how Gyandev brought the experience of India into meditations.
– Kit Sewell, CA
A beautiful practice. I will incorporate it in my life. Honoring the gift of each day at sunrise and sunset on the lawn filled me with joy to be alive and to give thanks for the privilege to embody spirit.
– Sheri Rodgers, CO
Our yoga teacher, Gyandev, is an expert at formulating on the spot modifications of yoga poses as advisable for individual physical limitations. He includes explanation on how the intentional direction of energy flow in each pose can be coordinated with the yoga poses.
– Mary Widenor, CA.
Centering and restorative, with the added bonus of a spectacular setting.
– Joan Gosling, CA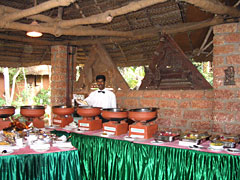 Food
The food was presented in a beautiful manner. We enjoyed outdoor candle-lit dinners with Indian entertainment that demonstrated the many cultural highlights of India.
– Cheryl Shaeffer, SD
Delicious, Indian buffets and fresh tropical fruits. I especially enjoyed the menu selections prepared specifically for certain doshas.
– Kit Sewell, CA
Great variety. I ate all I wanted to and had no indigestion. This is something I have rarely experienced, as I have had chronic indigestion since childhood.
– Mary Widenor, CA
Exceptional! Great variety, fresh, quality ingredients, made with TLC. Very yummy! Best looking waiters I have ever seen, too!
– Charlene Gier, CA
Delicious – bringing an awareness of proper digestion.
– Joan Gosling, CA
Our Group
The group was blessed in how we all worked together.
– Sheri Rodgers
We had a great group – sensitive to the need to support each other.
– Mary Widenor, CA
Classes
Diksha is one of the best teachers I've had. Gyandev was inspirational. … It was so interesting to have the theory of ayurveda explained on a practical, understandable level.
– Cheryl Shaeffer, SD
Excellent. A wealth of information.
– Mary Widenor, CA
Abundant information is provided by Ananda and Somatheeram staff. Classes on Ayurveda, diet, etc., were especially informative.
– Daniel Crawford, CA
Very informative.
– Charlene Gier, CA
Extremely informative and helpful.
– Barbara Guilmette, SD
Ananda Staff
EXCELLENT!!!! Diksha and Gyandev made the trip a complete success.
– Janet Perez, CA
Fantastic, attentive, prepared and flexible.
– Kit Sewell, CA
"The experience in Kerala was both remarkable and restorative -- I am so grateful to have learned of the trip and so delighted that I decided to go. Diksha and Gyandev are wonderful people and getting to know them was a joy; they made the trip so much richer for me and all of us by offering to share their unique being and open hearts, their knowledge of the Indian culture, Diksha's understanding of Ayurveda, and Gyandev's yoga and meditation practice. Every moment was satisfying, rejuvenating, and a new opening. And the group of people who took the journey were the best! We thoroughly enjoyed the experience and each other. I was able to take so much away from this. Thank you again for everything you did that made the trip smooth, seamless, and truly joyful!"
– Joanne Marchetta, CA
Diksha and Gyandev did an outstanding job in preparing us for this India retreat. And for arranging amazing side-trips for us when we were not taking treatments.
– Cheryl Shaeffer, SD
Amazing. Never missed a beat. Diksha never forgot a detail – always making sure everyone is ok. She gave 200% of herself.
Gyandev with his grounding presence was knowledgeable and willing to answer my many questions. His classes were excellent. He was always cheerful, upbeat, and calm. Gyandev and Diksha are the best group leaders for a trip retreat that I have ever been with.
– Sheri Rodgers, CO
Full of love. It was the perfect balance of free time and enough structure that I didn't have to use a brain cell.
– Charlene Gier, CA
Diksha arranged every detail and resolved whatever unexpected problems arose with incredible energy and commitment to the well-being of each individual. The trip was organized and managed excellently.
– Daniel Crawford, CA
Ayurvedic Retreat to India