Spiritual India Add-On Trip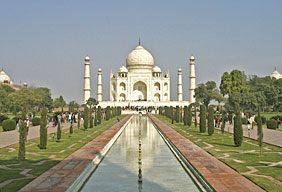 Rishikesh
Haridwar
Delhi
Agra
February 13 - 20, 2019
Hotels, Meals, Transportation
Cost
About Ananda Pilgrimages
Terms and Conditions
Keshava and Daya Taylor

Rishikesh • Haridwar • Delhi • Agra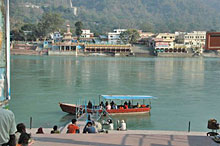 February 2019
commune with the peace and power of the Ganges
experience the history and beauty of Delhi
see the Taj Mahal
After rejuvenation of body and mind in Kerala, you'll be ready to absorb the spiritual wisdom of India. In this second part of our trip, we'll be visiting sacred sites and attuning ourselves to the great depth of the Indian spirit.
Northern India is a land of great contrasts, a multi-layered history, and a millennia-old spiritual tradition emanating from the lofty Himalayas.
Both those with a regular meditation practice and those without will enjoy this trip and each destination.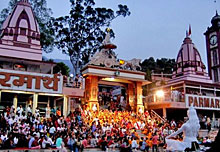 We'll spend most of 4 days in Rishikesh, known as the world capital of yoga, and a delight for the spiritually-minded. Nestled in the foothills of the Himalayas and surrounded by forest, Rishikesh is a beautiful spot divided by the Ganges River; which here is rushing and playful, before it enters the plains. Hundreds of ashrams, large and small, surround Rishikesh. Life is centered around the river, as will be our visit. Our hotel is a 5-minute walk from the Ganges. We'll sit on its banks; and attend an impressive arati worship service at sunset in honor of India's most sacred river. We can meditate in the homes, ashrams, and caves where Self-realized yogis of the past have lived. We'll also visit a present-day spiritual teacher. And there'll be free time to explore your own relationship with this fascinating and powerful place.
Our northern base will be Delhi, India's capital and a historical and spiritual center in its own right. We'll spend 3 nights in Delhi. We also plan a day trip to the city of Agra to visit the Taj Mahal.
Description of Itinerary:
Wednesday, Feb 13
Fly from Trivandrum to Delhi. Arrive in afternoon, rest, welcome and orientation.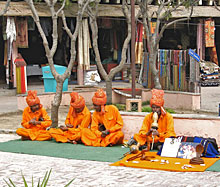 Thursday, Feb 14
We'll leave Delhi early morning for Agra, 3 1/2 hours by bus. There we'll explore the Taj Mahal, India's most famous architectural wonder, known as the most beautiful tomb in the world. We'll return by bus, stopping at a luxury hotel for lunch, arriving Delhi late afternoon.
Friday, Feb 15
After breakfast we'll take a one-hour flight to Dehradun. Transportation will be waiting to take us to Rishikesh, where we'll get settled into our hotel and have lunch together. The first afternoon will be spent orienting ourselves in the Ram Jhula and Swarg Ashram areas of Rishikesh. At sunset we'll participate in the renowned Ganga Arati at Parmarth Ashram.
Saturday - Monday, Feb 16-18
Our days in Rishikesh will offer optional morning stretching and meditation by the river, and meditation and chanting at all of our destinations.
The modern yoga master most associated with Rishikesh was Swami Sivananda, who sent a number of his chief disciples to the West. We'll visit Sivananda's house, preserved just as when he lived there, as well as where his body is, and the temple where the Mahamantra, ("Hare Krishna, Hare Rama") has been chanted non-stop since 1942.
One evening we'll have chanting, discussion and blessing ceremony with Sri Vanamali Devi ("Mataji"), at her idyllic ashram overlooking the Ganges. Her devotion to Krishna, her practical and freely shared wisdom, and powerful vibrations make our visit there a highlight of all our pilgrimages to Rishikesh.
On a quiet stretch of the river above Rishikesh, we'll sit in the spiritually powerful cave said to have been home to Sage Vashishta. Just downstream from this shrine is the cave where Swami Kriyananda spent a month in seclusion. At the river's edge we'll have a purification ceremony, then relax by the water.
We'll also have free time in Rishikesh to spend individual time by the river, and to sightsee, shop in the markets, and explore the forested pathways along the Ganges between the neighborhoods of Ram Jhula and Lakshman Jhula.
Tuesday, Feb 19
After leaving Rishikesh, we'll drive to Haridwar, where we can sit near the ashes of Lahiri Mahasaya, at the ashram of his disciple, Swami Keshabananda. We'll also visit the ashram of Ananda Moyee Ma, whom Yogananda called "Joy-permeated Mother" in Autobiography of a Yogi. There we'll visit her Samadhi Mandir (where her body is), her rooms, and her private ghat on the Ganges. We'll then board an evening train to Delhi.
Wednesday, Feb 20
Mahatma Gandhi (1869-1948) was the Indian politician and spiritual leader who created the non-violent movement which led to India's freedom from Britain. We'll visit the Gandhi memorial, where he spent the last months of his life and where he was killed. There's an inspiring museum and shrine dedicated to him.
Later that day we can visit a local market with beautiful crafted items and textiles.
You will fly home from Delhi the evening of February 20.


Hotels, Meals, Transportation
All hotels, restaurants, and menus have been personally inspected by Ananda.
We'll stay in comfortable but not luxurious hotels. Rooms are clean and Western style, with attached bath. Breakfast and one other meal are provided. These are usually served buffet-style and include a variety of Indian, Western, and Asian dishes.
In Rishikesh we plan to stay 4 nights at Vasundhara Palace, the best hotel in Rishikesh. In Delhi we'll stay 3 nights in a small hotel, just a two-minute walk from Ananda's meditation center. We'll be able to meditate, relax, and have meals at the Ananda center. Keshava and Daya Taylor, the leaders of the center, will be our guides for the week.
Travel within India by plane, air-conditioned train, or private car.
Cost
8-day pilgrimage, (Rishikesh, Haridwar, Delhi, Agra)
Double: $1720 per person; Single: $1995 per person
Price Includes:
Trivandrum-Delhi flight, all ground transportation within itinerary, accommodations, breakfast and one other meal each day, taxes and essential tips, local guides, Ananda tour leaders.
Price Does Not Include:
US-India flight, passport and visa fees, travel insurance should you choose it, lunches and beverages, personal expenses, optional tips, donations. Airport transfers at times other than the group flights are not included.
Note on Roommates:
If you request double occupancy and are travelling alone, we may not be able to match you with a roommate, and you should be prepared to pay for single occupancy.
A deposit of $2000 secures your reservation for both the Ayurveda retreat and the Spiritual India add-on. The above cost will be added to your Ayurveda retreat cost and paid together. You would fly home from Delhi, instead of Trivandrum. Prices quoted are in US dollars. If there are significant fluctuations in the exchange rate, cost of oil, or hotel prices before December 1, the difference in price will be reflected in your final balance due.
Preparation for Pilgrimage
For this trip your passport needs to be valid through the end of September, 2019.
Weather? Do I need immunizations? How to stay healthy while traveling? What to pack? Luggage allowance?
We'll help you through all these questions and more by e-mail, with letters on preparation and by answering any individual questions.
Pilgrims Experience:
About Ananda Pilgrimages...
Ananda Pilgrimages are not so much about sight-seeing and doing, as about being — being in a place of high spiritual vibration and learning to relax and open your heart to receive the blessings. Being together as a group in these holy spots reinforces their power and gives us access to places not available to individual travelers. Having someone else take care of all the travel logistics means the pilgrim can concentrate on being a pilgrim.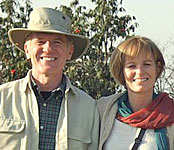 These pilgrimages are led by Keshava and Daya Taylor of Ananda Sangha, India. Since 1986 Ananda has been leading meditative pilgrimages to experience spiritual power points in India. Popular trips include tracing the Ganges river up to Badrinath at 11,000 feet. Other trips follow in the footsteps of Paramhansa Yogananda and his line of gurus as described in Autobiography of a Yogi: Kolkata, Puri and Mahavatar Babaji's cave. Haridwar and Rishikesh are spiritually charged destinations.
We believe travel in India is always a great adventure, but need not be a great hardship. Our trips feature incomparable spiritual destinations and meaningful contact with Indians from many walks of life -- combined with comfortable and affordable accommodations. After a day of traveling in India, it is reassuring to come home to good food and a nice hotel. We seek hotels which are clean, Western style, and comfortable, without being luxurious and having a luxurious price tag to match.
We also seek a happy medium in modes of transportation. A second-class train ride through Indian villages and countryside can be much more fun than waiting in airports for flights. At the same time, if there is an alternative to a long bus ride on busy roads, we'll take it, even if it costs more.
Keshava and Daya live in India and are continually making new Indian friends and new contacts which enrich each of our pilgrimages. Where possible, we invite both Westerners and Indians on our pilgrimages in India, and there results a lovely exchange between the two cultures.
Who Can Come on a Pilgrimage?
Those who would love to explore spiritual India. Group meditations are offered daily for those who are interested. You can thoroughly enjoy this trip whether you are a meditator or not. Our pilgrimages are open to seekers on all spiritual paths.
"Truly life-changing, like no other trip I've ever taken. This pilgrimage surpassed my expectations in terms of blessed fellowship, destinations, accommodations, activities, food -- everything."
— P.H., North Carolina
"India was well beyond my expectation thanks to the spiritual tour of Ananda Sangha India. We visited sacred temples and personal homes of enlightenment. I feel this has changed my life by the spiritual vibration in all these places, but also by the generous spirit of Daya and Keshava, our hosts."
— B.B., Sequim, Washington
TERMS AND CONDITIONS
Ananda Spiritual India Pilgrimage 2019
A deposit of $2000 will secure your reservation for both the Ayurveda retreat and the Spiritual India add-on. The full balance is due and payable not later than December 1, 2018.
Space on the pilgrimage will be filled in the order in which deposits are received. You will receive confirmation of your reserved space. If your deposit is received after all spaces are filled, you will be placed on a waiting list, in the order in which your deposit is received, and notified immediately of this status. If a confirmed participant cancels, the first person on the waiting list will be placed on the confirmed list and guaranteed a place.
The Ayurveda retreat and Rishikesh-Delhi add-on each requires its own cancellation fee. If you need to cancel your pilgrimage reservation before December 1, 2018, all but $200 will be refunded to you (plus Ayurveda retreat cancellation fee). If you need to cancel after December 1, any refunds will be subject to the $200 non-refundable portion of your deposit, the terms and conditions of the airlines and our tour company in India, plus any other charges incurred on your behalf by Ananda Sangha. Refunds may only be made within the terms and conditions of our service providers. If we need to cancel the pilgrimage for any reason, we will refund all payments.
If you request a shared room and do not have a roommate, we'll try to connect you with another single pilgrim. However, we can't guarantee finding a suitable roommate for you. If a roommate can't be found, you'ill need to pay for single occupancy. If you snore, we ask you to room with someone you know well, or pay for single occupancy.
Ananda Sangha of India is acting as your pilgrimage coordinator only, with regard to itinerary, transportation, and accommodations. We will, of course, exercise every possible care for your safety, but we cannot be held responsible for personal injury, property damage, or inconvenience caused by the air carriers or the suppliers of any services being offered on the pilgrimage. We are not responsible for delays, accidents, or changes that occur due to events beyond our control.
Please note: This pilgrimage does not include travel insurance. Travel insurance usually provides coverage for the following events: flight cancellation, flight interruption, flight delay, missed connection, medical expenses, emergency medical transportation, baggage and personal effects loss, and baggage delay. Therefore, you will be personally responsible for any of the previously mentioned occurrences. If you are interested in purchasing travel insurance, please speak to a travel agent.
Keshava and Daya Taylor
Ministers, Hatha and Raja Yoga Teachers, and Directors of Ananda Pilgrimages in India.
"Keshava and Daya held us safely together by being both pro-active and organized. I felt secure at all times. They made it interesting, fun and informative. Whenever I asked for help or had a concern, they were always accommodating, kind and very accessible. They ensured our group was comfortable on each of our excursions within India. They set a great example of positivity, and the pace of the tour was great. I felt uplifted in a stream of spiritual energy."
— B.B., Sequim, Washington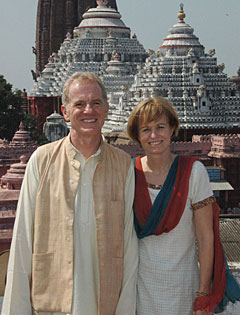 Keshava and Daya Taylor direct and organize all aspects of Ananda Pilgrimages, and are in personal contact with all pilgrims. They've been leading pilgrimages in India since 2005, as well as organizing large events, and teaching meditation classes. Keshava and Daya have lived in India with Swami Kriyananda, in Gurgaon, outside of Delhi, since the founding of Ananda's work in India in 2003.
Originally from Canada, Keshava joined Ananda in 1972, and helped establish Ananda's first spiritual community in California. For seven years he served as Swami Kriyananda's secretary. In 1984, Keshava became a founding member of Ananda's European center in Italy. There, he began his love of leading pilgrimages while guiding groups in the footsteps St. Francis, and on tours of Renaissance cities.
Daya's passion in her early adult years was solo travel in Asia and Europe -- studying in Switzerland, and working in Germany and Japan — only as long as needed in order to keep traveling. Prior to moving to Ananda Village in 1997, she spent ten years developing a successful food manufacturing business in California. At Ananda Village she became a hatha yoga and meditation instructor, and founded Treasures Along the Path -- a subscription talk-of-the month-club which sends out digitally re-mastered archived talks by Swami Kriyananda.
"I can't imagine a better pilgrimage in all my life. Keshava's detailed planning ensured that there were no setbacks, mistakes, and everything was just perfect. I can't wait for the next one." — D.T.
"Thank you again and again for making the experience possible. I am missing the divine friendship I was ensconced in while with you all. I had prayed to our Mother for spiritual friends and she delivered! To you and Daya, and to Ananda Sangha, I am ever grateful! May the bliss of our pilgrimage stay ever fresh in our hearts!" — K.P., Bangalore India
"Daya ensured that our loved ones back home got pictures of us on the tour. My family vicariously experienced my wonderful adventures while I was traveling through India. Your generous sharing was so trip enhancing, especially when I got home I had a whole array of photos to return my energy to India— Thank you always and completely!" — C.M.
Keshava and Daya''s e-mail is: pilgrimage@anandaindia.org
Ayurvedic Retreat to India