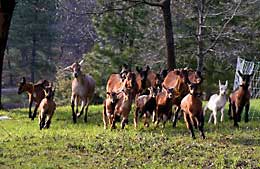 Spiritual Goat Shepherd Training

Yogoata Apprenticeships
Experience the joy of being a part of a spiritual, loving, and humanely operated goat herdshare in the heart of Ananda Village. Imagine walking up a hill with goats and a burro trailing behind you, as you lead them to their daily pastures and woodlands. Yogoata Dairy strives to use the principles of Paramhansa Yogananda, and to create a life for the animals as close to nature as possible.
The work we do is highly physical. Your job may include milking; feeding and herding goats, burro, chickens, and ducks; setting up the portable electric fences; barn cleaning; washing dishes and various other tasks. You'll enjoy seeing mother goats raising their kids, and hens hatching chicks. During certain seasons there will be births and breeding taking place, with a wealth of information learned by hands-on experience.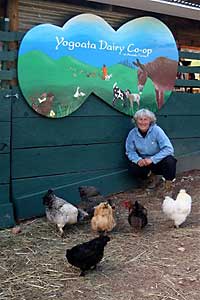 No previous experience is necessary—only a willing attitude to learn and serve in this rewarding atmosphere.

After completing 2 to 4 weeks of the regular Karma Yoga program at The Expanding Light Retreat, your schedule will be arranged so that you can continue to actively participate in the daily yoga postures and meditation sadhanas, classes, and meetings. About 1/3 of your work week will be in service at The Expanding Light Retreat and about 2/3 of your week will be serving at Yogoata Dairy. You will be serving approximately 30 hours per week total. The cost is the same as the regular Karma Yoga program. Partial scholarships are available, contingent upon experience and commitment.
Please fill out the Karma Yoga Application.
Joy and blessings,
Virani Ramsden
for Yogoata Dairy Co-op at Ananda Farms

What aspect of the Karma Yoga Program has influenced your life most deeply?
Find Out...
"The Karma Yoga program has been a profound blessing on my life, imprints of which will nurture my soul till the time of my departure from this world. Feelings of compassion, thoughtfulness, devotion, kindness, and love that were masked by worldly delusions have suddenly resurfaced.
"Healthy and delicious vegetarian meals infused with divine love have done a miracle on my perennial health problems of migraines, heartburn, and fatigue. Yoga postures and meditation have been an immense source of inspiration and joy.
"I came to Ananda absolutely confused and leading a reckless life, typical of many people in present society. Three weeks later, I feel renewed strength and courage, a body in harmony with mind, and a vision for a glorious path. Now I truly understand my purpose in this life."
– Aditya J., San Jose, CA

Receive monthly news and inspiration.