A Program Especially for Ages 18 to 35!
Do you have high ideals?
Are you passionate about helping change the consciousness of this planet?
Are you interested in spiritual community living?
Read on!
Experience Living and Serving in the Heart of Ananda Village
One of the most successful Cooperative Spiritual Communities in the World.
Gather together, those of you who share high ideals. Pool your resources. Buy land out in the country. A simple life will bring you inner freedom. Harmony with nature will bring you a happiness known to few city dwellers. In the company of other truth-seekers it will be easier for you to meditate and think of God — Paramhansa Yogananda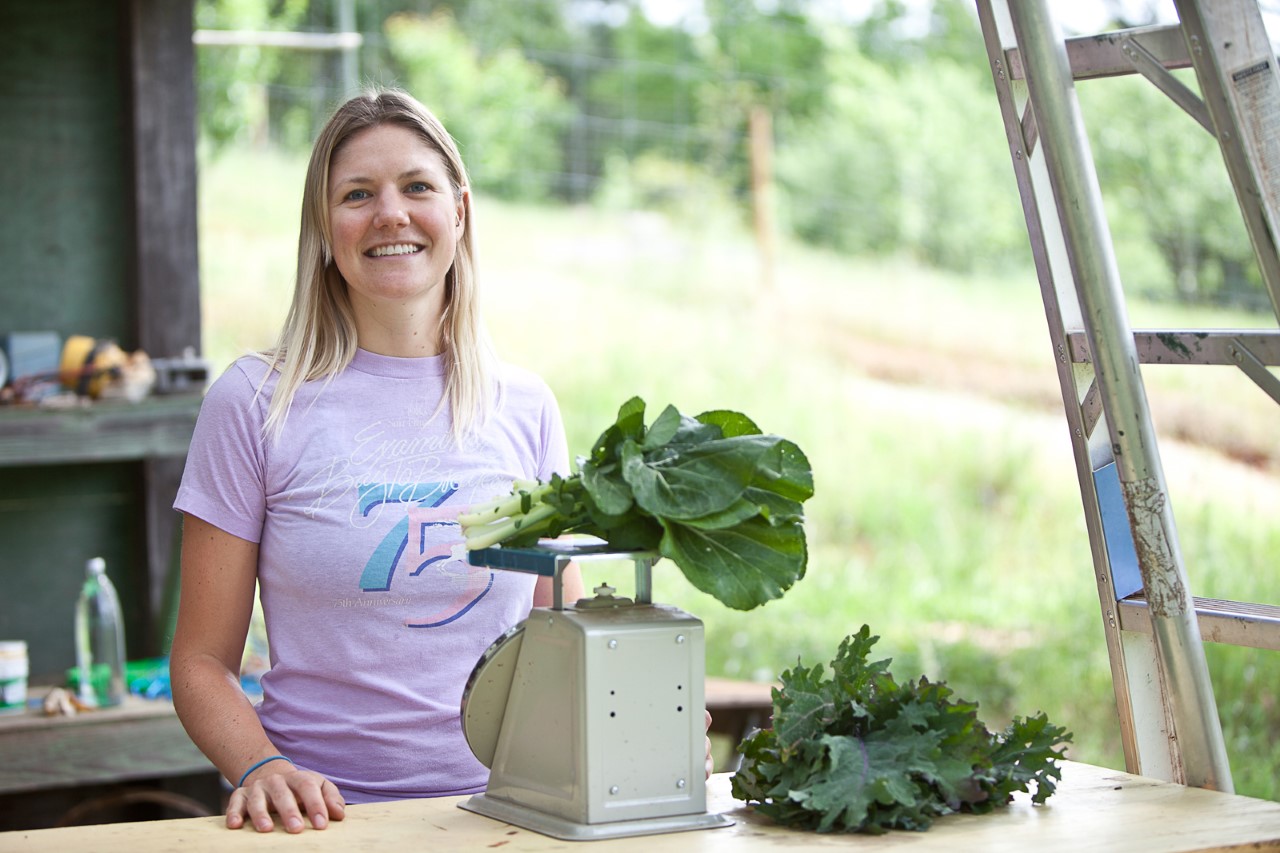 Learn How to Live and Work with Joy!
Participate in service projects, and apply your skills–or learn new ones–in agriculture, community building, serving in the kitchen, and more. Study, practice and serve, surrounded by spiritually supportive friends. Learn Paramhansa Yogananda's effective techniques for expanding your sense of self, such as meditation, Kriya yoga, spiritual Hatha Yoga, and divine friendship.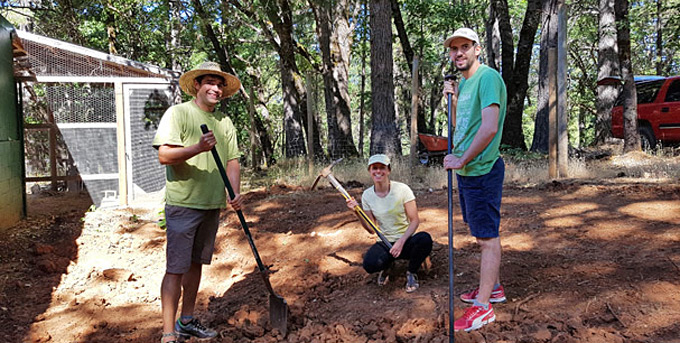 Camping in the beautiful Sierra foothill forest at The Expanding Light Yoga Retreat, you will experience the joys and challenges of cooperative living. Practice daily meditation, learn Ananda Yoga™ postures, take part in service projects, eat delicious prana-filled vegetarian meals, and have fun, relaxing and working together with new-found, like-minded friends. You will feel more connected with yourself and others, as you experience the uplifting influence of Spiritual Community.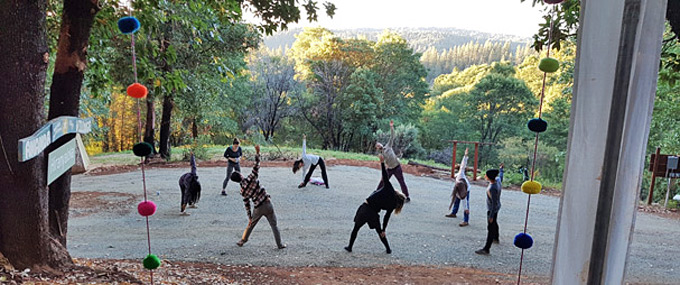 The company you keep is important. If you leave your coat in a room where people are smoking, pretty soon it will smell of smoke. If you leave it outside in the garden, later on, when you bring it indoors, it will carry with it the fragrance of fresh air and flowers. Such is the case with the mind. Your garment of thoughts absorbs the vibrations of those with whom you mix. —Swami Kriyananda
Discover How to Live in the World Without Compromising Your Ideals
The ideal of "Simple Living and High Thinking" has always guided the residents of Ananda Village, who strive to live in harmony with God, each other, and all nature. One of the most powerful ways to strengthen commitment to your own ideals is to associate with people who support them.
…Simplicity of living plus high thinking lead to the greatest happiness! — Paramhansa Yogananda

Develop Ways of Spiritualizing Your Daily Life
Since 1969, Ananda Village has been a "living laboratory" for the integration of Spirit into all aspects of life. Learn firsthand how to creatively apply the practical principles of yoga to each experience that life brings your way. You'll awaken to greater levels of inspiration and fulfillment, and discover a deeper purpose in living.
Join us for 5 Days & 4 Nights of an Adventure in Spirit, Friendship, and Interesting New Endeavors
Some Living with Spirit Highlights:
Spiritual Exploration
Instruction and daily practice in spiritually awakening techniques, including Ananda yoga™ postures, meditation, chanting, prayer, and working with energy.
Time for quiet introspection and self-discovery.
Service Projects
Discover how much more fulfilling, energizing, and fun one's work in the world can be, when seen as service to others.
Hands on learning about sustainable construction; organic gardening & permaculture; cooking scrumptious vegetarian food, wildlife habitat, natural land and trail development.
Community Events
Fun community-wide social and spiritual events such as kirtans (spiritual chanting), Friday evening 'Pizza Nights,' and uplifting Sunday Services.
Creativity & the Healing Arts
Visionary art, inspired music, and more
Exploration of yogic healing arts: powerful healing prayer techniques, the use of affirmations, mantra, and more.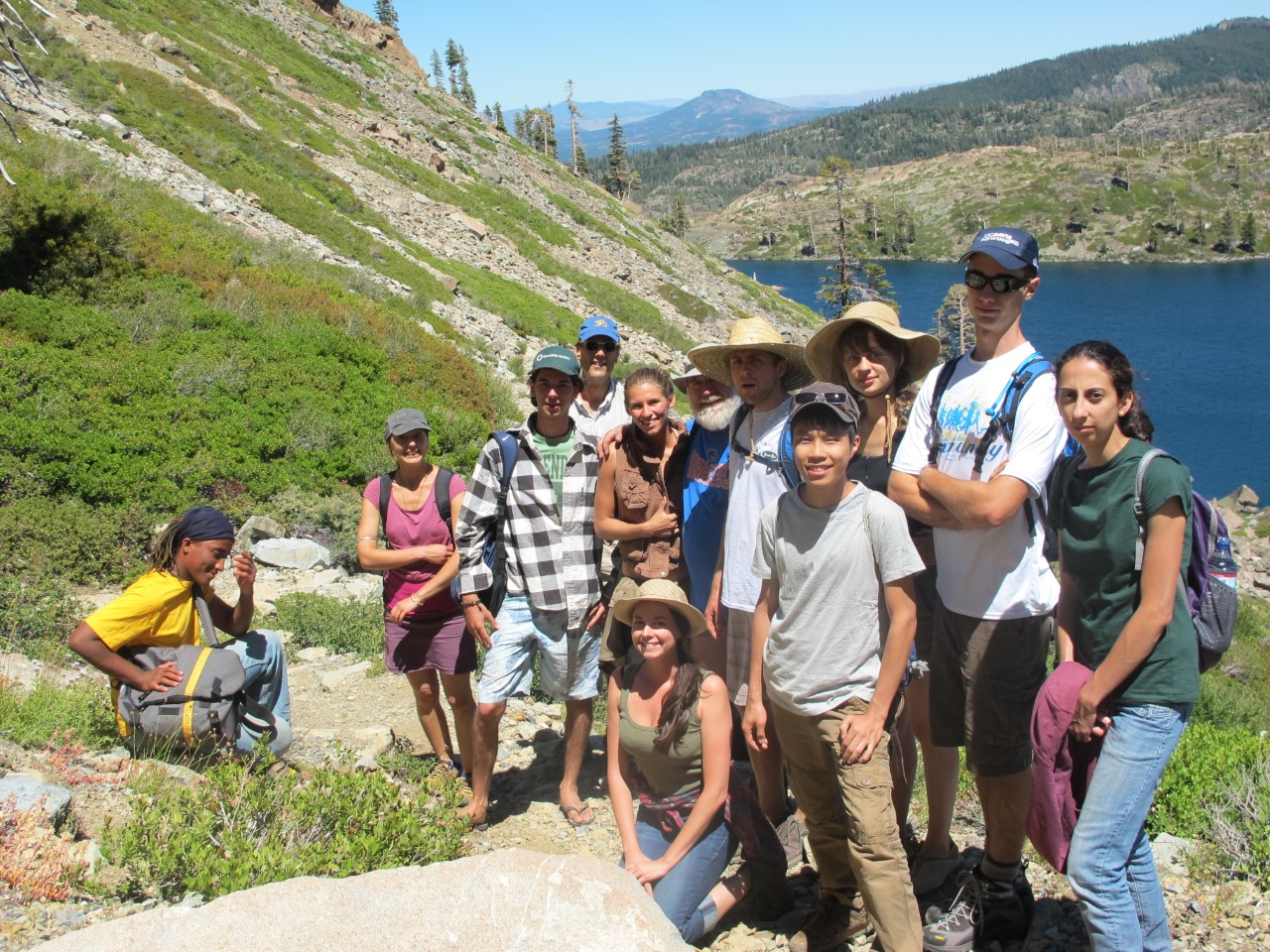 Staff:
Your program leaders, Badri Matlock, Sundara Traymar, Arya Cheung, and Tim Tschanz will support you, along with many others from Ananda Village community.
Outside of the Age Range?
This program is especially geared to 18-35 year olds. That said, we do allow exceptions if you are above or below the age range. Please email Badri@ananda.org to talk about if this program would be a good fit for you.
Testimonial:
This program attracts some of the nicest people you'll ever meet; great people, a great location and a great program...weeks of bliss! It has helped me know there is peace within. — Torren, age 22, Australia
The Living with Spirit Program, at The Expanding Light, is located within the spiritual, cooperative community of Ananda Village. The community is founded on yoga principles taught by Paramhansa Yogananda, and incorporates spiritual practices, fellowship, and devotion into all facets of life. Immersion within this uplifting environment enables you to experience deeper levels of soul awakening.
For nearly 50 years, Ananda Village has exemplified the spiritual ideals of Paramhansa Yogananda's "World Brotherhood Colonies." Under the guidance and blessing of Ananda's founder, Swami Kriyananda (1926-2013), we have developed communities, schools, businesses, music and the arts, and retreat centers throughout the world, where spiritual friendships, meditation, yoga, and selfless service thrive.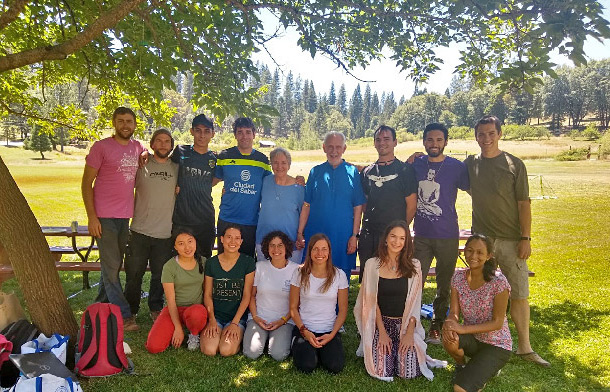 Why is Living in Spiritual Community Meaningful?
"Environment is stronger than willpower." — Paramhansa Yogananda
Next to daily meditation, one of the most important things a spiritual aspirant can do is to seek out spiritual fellowship with like-minded individuals. The Sanskrit word for this is satsang, which translates as "fellowship in truth." The principles of spiritual fellowship are very important because we do not live in isolation in this world.
Whenever two or more people gather together, they exchange magnetic vibrations. Therefore, we need to be mindful of the people with whom we spend our time. They are the most influential aspect of our environment. Paramhansa Yogananda counseled his devotees to "mix with the saints." This further emphasizes the need to surround ourselves with high-minded and devotional souls.

Here at Ananda, we are surrounded by like-minded souls. Some have been at Ananda since 1968, when Swami Kriyananda first purchased land to begin a community. The environment here has been created by decades of meditation and spiritual practices by spiritually minded people, inspiring guests and residents alike. The devotional support and satsang that residents and guests receive in this spiritualized community life is an invaluable blessing for all!
Gradually, the influence of cooperative living must surely become widespread as small groups demonstrate its validity by their attunement, idealistically, with higher potentials of human nature; realistically, with the dictates of natural law; and spiritually, by opening doors onto higher truths. –Swami Kriyananda
Watch the trailer of Finding Happiness - a movie about Ananda.
The movie Finding Happiness is available to stream free with an Amazon Prime membership, or free with ads on Tubi, or can be rented here.
For more information, please send us a Question or Comment:

Receive monthly news and inspiration.
No dates scheduled for Living with Spirit at this time.
Prices are all-inclusive and cover accommodations, meals, classes or activities, and course materials.
Living with Spirit starts the afternoon of the first date listed and ends with lunch on the last date listed. Check-in is anytime between 1:30 p.m. and 4:30 p.m. at our Front Desk. Your room will be available by 3:00 p.m. Dinner is at 6:30. The first gathering of your group is after dinner.
Please see:
You can add extra personal retreat days before and/or after your program. Check availability and costs for the days and accommodations that you require.
Living with Spirit starts the afternoon of the first date listed. It's ideal to arrive before 4 pm, if you are able to. That way, you can join in the afternoon session of yoga and meditation, which begins at 4:45 pm. Dinner is at 6:30. The first real gathering of your group is at 7:30 pm. If you need to arrive here after 5 pm, that's fine, but it helps us if you let us know at 800-346-5350. We can also put aside a dinner for you if you need to arrive after 7 pm. The program ends with lunch on the last date. Please see our Daily Schedule.
See Transportation and Directions whether you are coming by plane, car, bus or train. Our Frequent Questions page answers many of the questions you might have about How to Go on Retreat.