Karma Yoga Internships at Ananda Village

Experience the power and joy of living in spiritual community with daily meditation and meaningful service.
We offer Karma Yoga Internships to those who complete 2 to 4 weeks of our regular Karma Yoga Program at The Expanding Light Retreat and wish to serve in various creative ways in the larger Ananda community. Some of the dynamic, fun, and interesting places Karma Yoga Interns can serve at Ananda Village include, but are not limited to: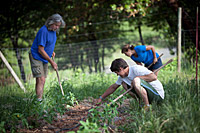 Mooshine Dairy (cows)
Healing Prayer Ministry
Radio Ananda (web-based free Ananda music service)
Ananda Web Services
Ananda Village Sustainable Community Management
Crystal Hermitage grounds & gardens
Special projects such as forestry, building, landscaping, remodeling, painting, and more!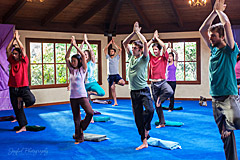 Internships include twice-daily guided practices of yoga and meditation, including Paramhansa Yogananda's unique and powerful Energization Exercises. Enjoy delicious three vegetarian meals a day and beautiful campsites and hiking trails within Ananda Village. Karma Yoga Interns enjoy Tuesday and Thursday inspirational classes on spiritual topics, as well as an optional daily morning class.
As a foundation for ashram life and service, all Karma Yogis serve 4 weeks in the traditional Karma Yoga Program before eligibility to move into a Karma Yoga Internship. As an Intern you serve 6-8 hours a day, 5½ days a week, and become an important member in the day-to-day functions of your area of internship. Interns continue to camp, enjoy meals and sadhanas, and serve 3 shifts per week at The Expanding Light.
The spiritual benefit of living in an ashram setting in a spiritual community is second to none.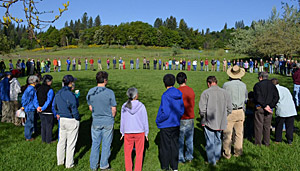 In the Karma Yoga Internship program you will:
Enjoy the company and support of like-minded spiritual seekers
Deepen your spiritual life
Find greater joy in service
Learn or enhance your practices of yoga, meditation, and pranayama
Learn new skills in farming, technology, and building
Explore the path of Kriya Yoga in the tradition of Paramhansa Yogananda
Enjoy music, chanting, and special classes on a range of spiritual topics
General Schedule
Included in your schedule of service, meals, sadhanas, and spiritual classes, Karma Yogis also have time for reading, exploring Ananda's 700 acres of scenic beauty, visiting the magnificent Yuba River or Nevada City, or enjoying a treat at Ananda's little wholefoods store, Master's Market.
Sample Daily Karma Yoga Schedule:
| | |
| --- | --- |
| 6:30 - 8:30 am | Sadhana* in Expanding Light Temple |
| 8:30 - 9:00 am | Breakfast in silence |
| 9:45 - 12 noon | Karma Yoga or Free Time |
| 12:00 - 12:30 | Meditation |
| 12:30 - 1:30 pm | Lunch |
| 1:30 - 4:15 pm | Karma Yoga or Free Time |
| 3:30 - 4:30 pm | Class for Karma Yogis, Tuesdays and Thursdays |
| 4:45 - 6:30 pm | Sadhana* in Expanding Light Temple |
| 6:30 - 7:30 pm | Dinner |
| 7:30 - 10:00 pm | Karma Yoga or Free Time |
*Sadhana: (spiritual practice) is Energization, yoga postures, chanting and meditation, based on the teachings of Paramhansa Yogananda.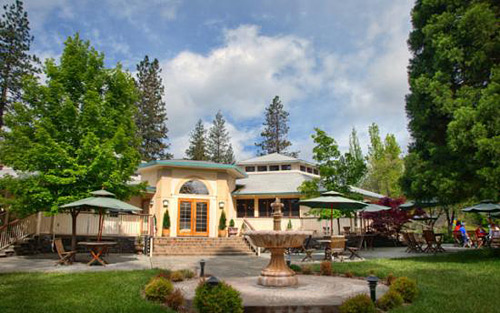 Cost & Details
$500/month (minimum 2-week stay at same cost)
Includes the cost of two books: Lessons in Meditation by Jyotish Novak and The Art and Science of Raja Yoga by Swami Kriyananda, both used as study guides during the program, and yours to keep.)
We request a $100 deposit to make your reservation. (This is included in the $500 program cost.)
Cancellations: If you cancel or reschedule at least 7 days before your scheduled arrival, half of your deposit remains as a credit for one year, and half is forfeited. If you cancel or reschedule with shorter notice, the entire deposit is forfeited.
The Karma Yoga program is not able to accommodate families with children. Families who wish to explore being at Ananda Village are welcome to attend our annual summer Family Camp or to stay at the Ananda Meditation Retreat at selected times.

Please note: eligibility for all internships is contingent upon all Karma Yoga needs being met at The Expanding Light. As our "base of operations," The Expanding Light retreat takes priority of service should the need arise. Thus, we reserve the right to schedule Karma Yoga Interns for service at The Expanding Light as needed.
If you have questions please contact us online or call 800-346-5350 or 530-478-7518 ext. 7090.
Apply for Karma Yoga Program
Have questions? Please don't hesitate to contact us.

Karma Yoga Internships


What aspect of the Karma Yoga Program has influenced your life most deeply?
Find Out...
"The Karma Yoga program has been a profound blessing on my life, imprints of which will nurture my soul till the time of my departure from this world. Feelings of compassion, thoughtfulness, devotion, kindness, and love that were masked by worldly delusions have suddenly resurfaced.
"Healthy and delicious vegetarian meals infused with divine love have done a miracle on my perennial health problems of migraines, heartburn, and fatigue. Yoga postures and meditation have been an immense source of inspiration and joy.
"I came to Ananda absolutely confused and leading a reckless life, typical of many people in present society. Three weeks later, I feel renewed strength and courage, a body in harmony with mind, and a vision for a glorious path. Now I truly understand my purpose in this life."
– Aditya J., San Jose, CA
"I'm so grateful to have the opportunity to join the Karma Yoga family. Not only was this the spiritual adventure I was seeking, but it has been so much more! I am forever changed by the peace, the connection with God, the meditation, the community, and so much more that I will forever carry in my heart." – Jeremy
Subscribe to the Newsletter and receive this FREE 20 page booklet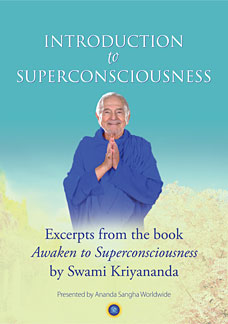 Receive monthly news and inspiration.