Ananda's Karma Yoga Ashram Program
We are now open! Apply today!
How do you bring joy and higher purpose to all things in life?
What does it feel like to be an active member of an intentional spiritual community?
Karma Yoga Program Intro Video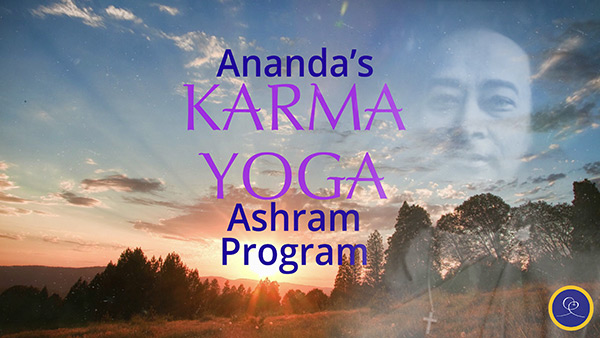 Experience a deeper connection with your Divine Potential through selfless-service in Ananda's Karma Yoga Ashram Program. Our program brings balance between spiritual seeking and daily activities. Serving with like-minded friends within a spiritual environment transforms our lives, bringing joy into everything we do and awakening our soul consciousness.
The Karma Yoga Experience:
"Simple living and high thinking brings the greatest happiness." Paramhansa Yogananda
Deepen your spiritual practice through twice-daily sadhanas, incorporating Ananda Yoga, Energization Exercises, and meditation.
Explore yoga philosophy through our comprehensive and personalized Raja Yoga curriculum.
Participate in daily discussion groups, learning real-life skills to bring peace and harmony into all aspects of our lives.
Discover the joy of living for others through selfless-service.
Learn to live more completely in the present moment.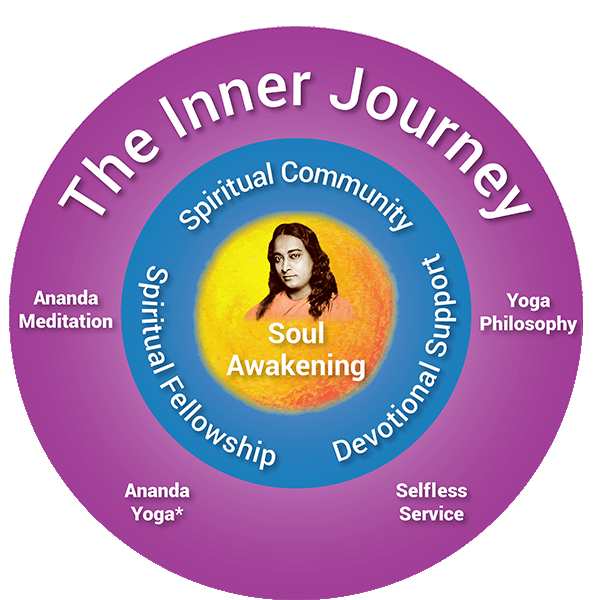 Join us for a two-week to three-month stay!*
Each month in Ananda's Karma Yoga Ashram Program is $800.
*We request that your first stay in Ananda's Karma Yoga Ashram Program is a minimum of two weeks. (Two-week cost $650.)
This includes:

Your room in Seva House.
Three wholesome vegetarian meals per day.
Comprehensive course in yoga philosophy, which includes the books, The Art and Science of Raja Yoga and Lessons in Meditation.
Twice-daily sadhanas. Our sadhanas include Paramhansa Yogananda's Energization Exercises, Ananda Yoga, and Ananda Meditation.
Opportunity for 1-on-1 spiritual guidance and support.
To book your reservation we require a $200 deposit, which is credited toward your stay.
Cancelation Policy:
Please let us know at least a week in advance if you need to reschedule your visit. We appreciate as much advance notice as possible. If you cancel your stay less than a week within your start date, your deposit may be forfeit.
Do you have further questions? Please don't hesitate to contact us!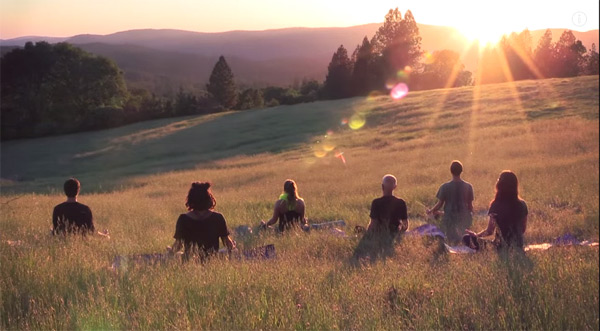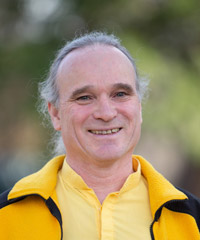 What aspect of the Karma Yoga Program has
influenced your life most deeply?

After almost two months in the Karma Yoga Program I truly learned the joy of service, and made many lifelong friends. No matter how menial the task, every action can be done with devotion and care, and Divine Mother is always with us.
"Ananda's Karma Yoga Ashram Program at Ananda's Expanding Light was one of the most positive, life-changing experiences of my life. I am deeply grateful for the opportunity to be a part of such an inspiring spiritual community-and now family"
– Rachel
"I can't begin to express in words how grateful I am for the past three months with you blessed souls. I am no longer alone, and I know what I am seeking. This is certainly the greatest blessing, and I can't thank you enough."
– Shana
"[Ananda's Karma Yoga Ashram Program] has allowed me to open my heart to all that I meet and everything I do. The people I have met, the teachings I have come to understand, and the love that has grown within me are truly blessings from above"
– Past Karma Yogi
"Working with people who are here to serve God and the collective whole is truly inspirational. It has given me the opportunity to feel the flow of this amazing community. I'm indebted to this place"
– Michelle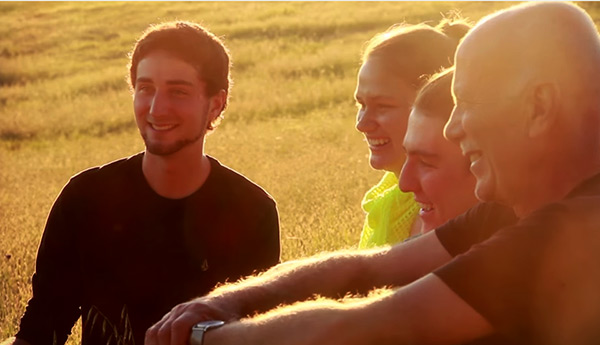 "I came to Ananda's Karma Yoga Ashram Program to deepen my sadhana (spiritual practices) and to spend more time at Ananda Village. I would say the most important thing I learned was how to serve God and my Guru, Paramhansa Yogananda in everything I do. No matter how menial the task, every action can be done with devotion and care, and Divine Mother is always with us."
—Adam
"I began meditating when I was 16 years old and never stopped. The Expanding Light's Karma Yoga Program has been a way for me to deepen my meditation practice. Stillness, meditation and yoga are powerful tools to self-awareness and reflection to develop inner peace. I love being a Karma Yogi!"
—Ann
"Before I came to Ananda, I knew that I wanted to devote my life to God. Being in the Karma Yoga Program helped me to develop a daily practice of meditation, and to realize that all activities when done with an attitude of non-attachment and self-offering become a very important part of sadhana. I feel that the greatest blessing of being in the Karma Yoga program was the opportunity to attune more deeply to Ananda's lineage of great masters, to have fellowship with devotees, and to be able to practice the presence of God through service."
—Steven
"The Karma Yoga Program is rich in positive influences and creates amazing changes for the individual. Being at The Expanding Light for this full program gave me the opportunity to meet and create lasting friendships with truly incredible individuals who restored my faith and love for people. Most importantly the environment of Ananda and the spiritual daily practices they teach encouraged me to focus and build a foundation for my spiritual life."
—Tina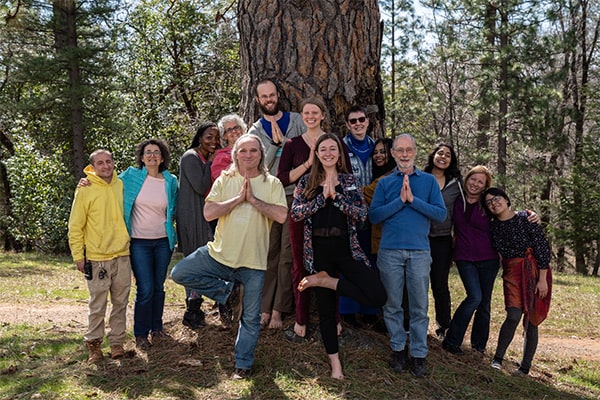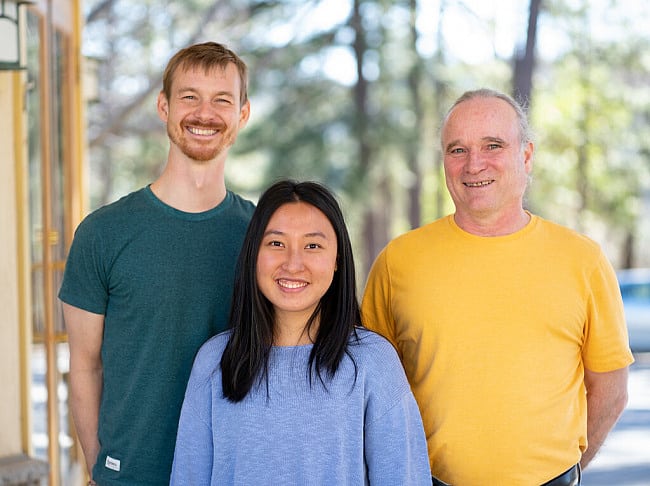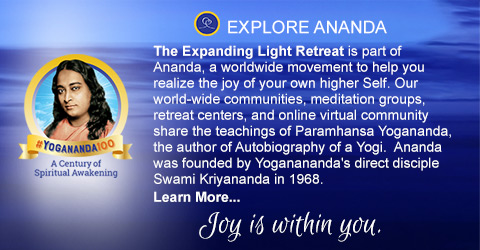 CONNECT
14618 Tyler Foote Rd
Nevada City, California 95959
Toll free 800-346-5350
Outside US 530-478-7518
SUBSCRIBE
Receive uplifting emails with inspirational content and news about our retreat programs, travels, and trainings.