Guest Groups at the Expanding Light Retreat
Let our energy uplift your group!
The Expanding Light Retreat is situated within Ananda Village, Nevada City, California. We are 2 hours from the Sacramento Airport. Our 50-year-old retreat center provides guest groups an extraordinary, spiritual place to bring up to 68 guests. Our vision is to serve like-minded groups who will benefit from our spiritually energized and divinely blessed 700-acre intentional spiritual community. Many types of groups have deepened their own mission and member experience by spending time in our uplifting corner of the larger Ananda Village.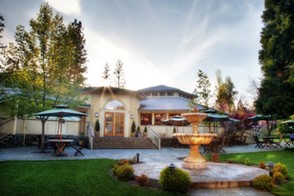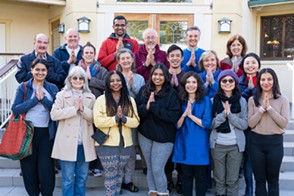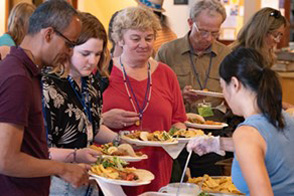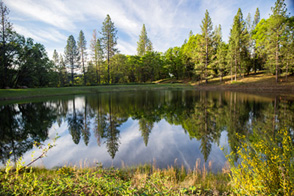 Outstanding features at the Expanding Light Retreat:
Large and inviting dining room serving 3 delicious buffet-style, vegetarian/vegan/GF meals daily
4 large buildings with a variety of accommodations: Private en-suite rooms, shared rooms with shared bath, cabins, tenting
A welcoming Guest Services building with reservations desk, quiet lounge, fun boutique
Pre-arranged use of the state-of the-art Living Wisdom Center at Ananda Village. Ideal for larger group events, conferences, music events.
Use of our inspiring octagonal Teaching Temple ideal for group gatherings, ceremonies, closing circles
Pretty outdoor piazza for dining and congregating with garden views to our Temple of Light
Ample parking including charging stations
WIFI
We are a smoke free environment. We are a drug and alcohol free community. Only guide animals allowed.
No fires, candles or incense allowed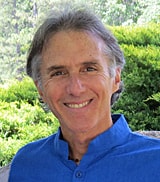 Get ready for an extraordinary group experience!
We invite group leaders to contact us to arrange a complimentary overnight stay at the Expanding Light Retreat hosted by Krishnadas LoCicero, Groups Manager. Enjoy in-depth tours of our two facilities, time to share your vision of your groups' program, and enjoy dining with us. Contact Krishna Das LoCicero at The Expanding Light Retreat.
Group stays include:
Extraordinary group leader support
Top-rated guest services, small boutique, small village market
Affordable pricing
Access to most of our 700 acres including holy shrines
Uplifting meeting rooms/spaces, including our Living Wisdom Center for large events
Delicious vegetarian meals at the Expanding Light Retreat with advanced reservations for the group
Optional attendance at morning yoga and meditation
Explore our peaceful gardens and lakes
Connection with the joyful energy which permeates our community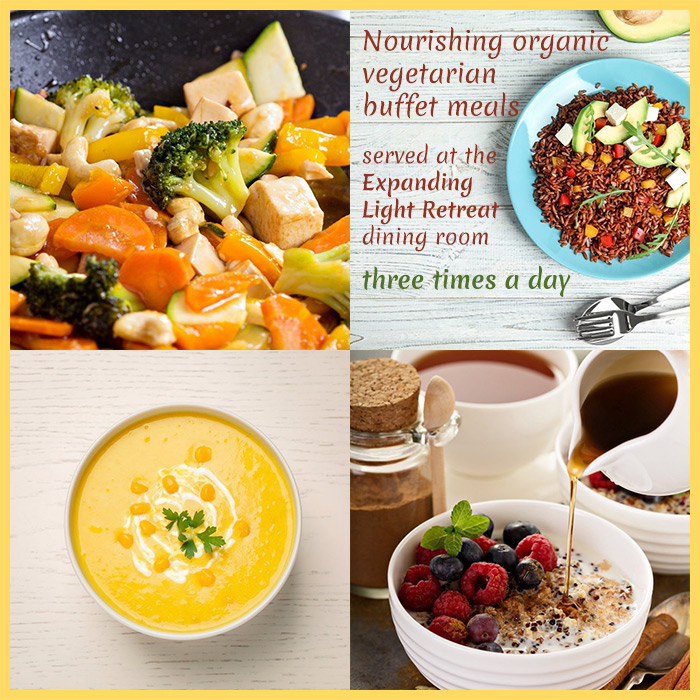 Thank you for your interest in our guest group accommodations and services at the Expanding Light Retreat or Gaia House. Please contact Krishna Das LoCicero Guest Groups Manager, to share about your group event and to get a pricing quote.
Group leaders are invited visit in person to meet with Krishna Das and to stay overnight as our guest at the Expanding Light Retreat.
Accommodations Pricing:
Program leaders and professionals please contact us for any additional information!
Ananda affiliated groups
should also contact us regarding
special discounts
!
Retreat Accommodations
Each guest room includes air conditioning, heating, carpeting, towels, and bedding. Fresh linens and towels are available weekly – no daily maid service. A limited number of queen-sized beds are available. Wi-Fi is available for all guests except those in cabins or tents. (We also have centrally located guest computers.) Limited handicap accessibility.
Harmony House Deluxe Rooms – Private and Shared
Each room has a private entrance, a private bathroom, a desk, air conditioning, a ceiling fan, and a hairdryer. Harmony House is dedicated to expressing Yogananda's expansive approach to religion and his belief in celebrating God through beauty. Simply and elegantly appointed, each room is decorated in the theme of one of the great world religions.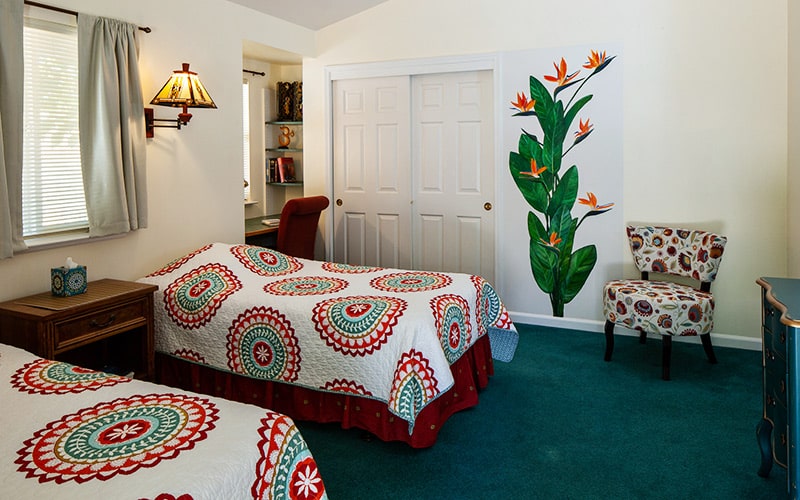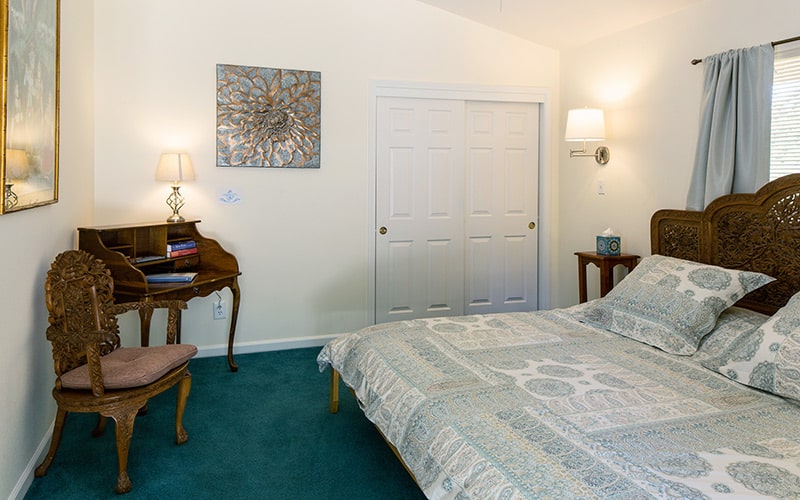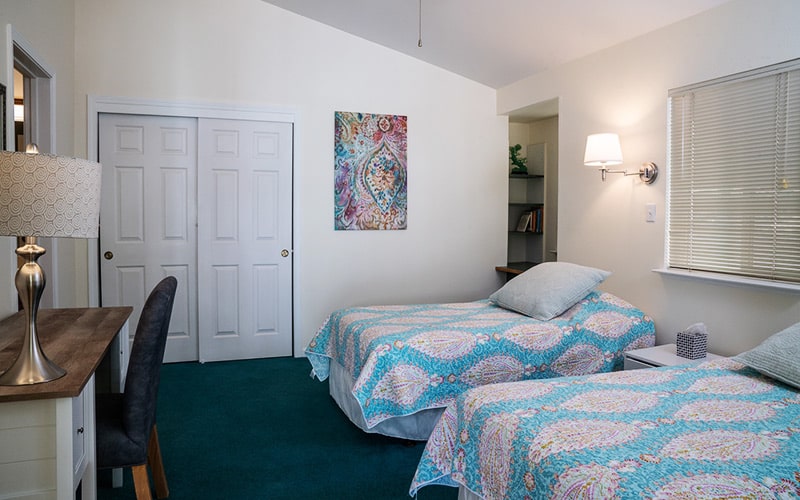 Standard Rooms – Private and Shared
Serenity House
Serenity House is an inn-style house with twelve air-conditioned rooms and four hall bathrooms. Most rooms have twin beds, bedside table, wardrobe, heater and A/C unit. It has a comfortable lounge/classroom equipped with a video player, library of inspirational videos and a small refrigerator for personal items.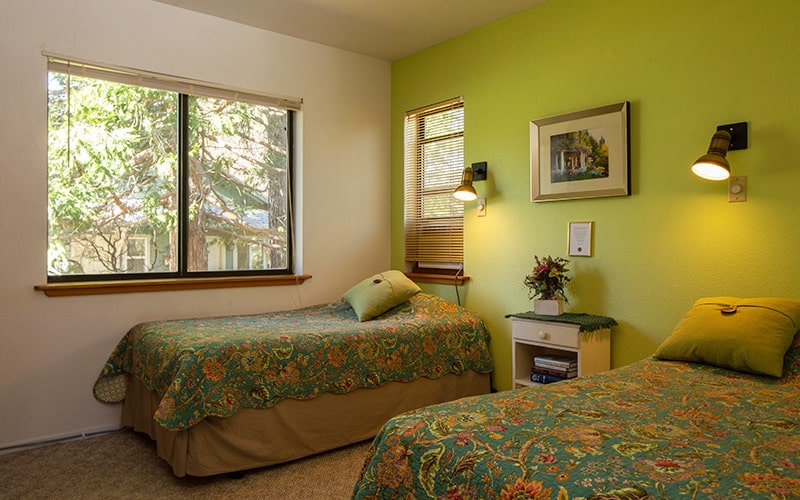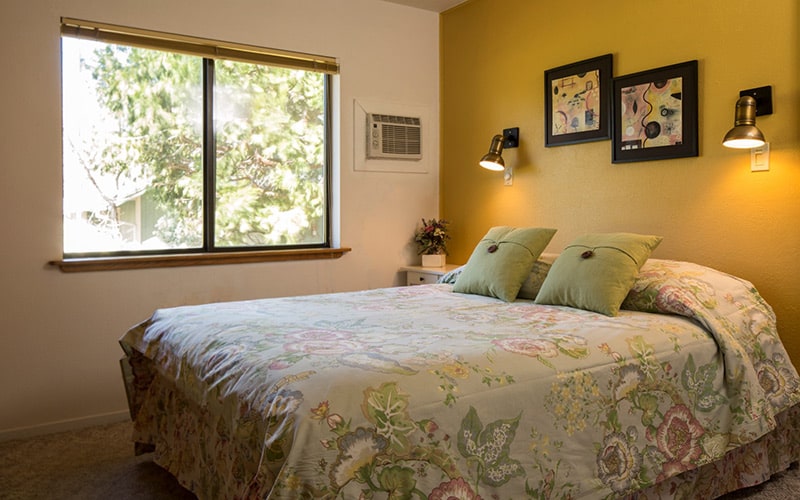 Cabins
Each cabin has one room, which is larger and more private than other standard rooms; cabin occupants share separate men's and women's shower houses about a minute's walk away. All cabins have A/C.
Tents and RVs
We have sites for those with their own Tent or RV.
Tent camping is available on varied campsites. Camping has moved closer to the shower houses and main buildings. The new sites are below the shower houses.
RVs are welcome year-round, but we do not have RV facilities or hookups. Guest Services staff will show you the options for camping or RV stays.
Meals are included for Tenters and RVers. Tent spaces DO NOT include facilities for cooking or picnicking. We are in fire country. No campfires are allowed. Tenters cannot use candles, kerosene lamps, or anything with an open flame.
We live by the woods. Because of animals, food is not allowed in the tenting area. We have a refrigerator on an outside deck behind our kitchen, which is available for use by guests.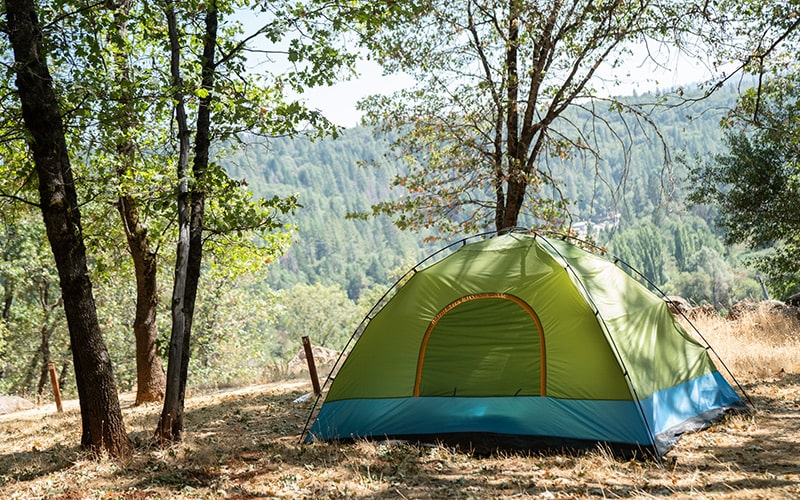 The tent sites are close to the shower houses, and there is an outhouse. Men's and women's bathrooms are available with showers, toilets, and sinks, a minutes' walk from most tent sites. RV sites are a little bit further away, but still close to the main campus.
People choosing to camp in winter conditions are asked to sign a waiver accepting responsibility that will be provided by our Guest Services staff.
About the Shower Houses
For Those Staying Outdoors
All outdoor accommodations have access to separate men's and women's shower houses less than a minute's walk away. Facilities have flush toilets, plenty of hot water, and shower and toilet partitions for your comfort and privacy.
Additional Meeting Spaces at Ananda Village: A modest additional charge may apply for additional meeting spaces.
Ananda Village, the location of Gaia House Retreat, has additional spaces where guests of Gaia House may hold meetings or gatherings, with advance reservation. These spaces allow room for more guests than Gaia House can hold. For example, Gaia House sleeps 12-15 guests. Additional group members can stay at the nearby Expanding Light Retreat, up to a total of 39 guests. Then all group members can meet at any of these locations:
Living Wisdom Center: New sustainable construction. There is a State-of-the Art presentation hall with top-quality acoustics ideal for music presentations, dance, and for recorded talks. Seats up to 140. Various side rooms for smaller break-out sessions. Parking for guests. A 5 minute walk from Gaia House Retreat. No smoking or alcohol allowed at Ananda Village.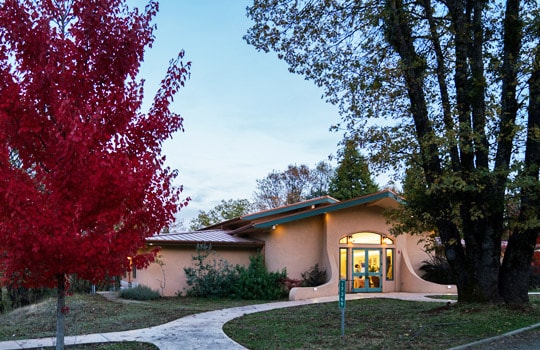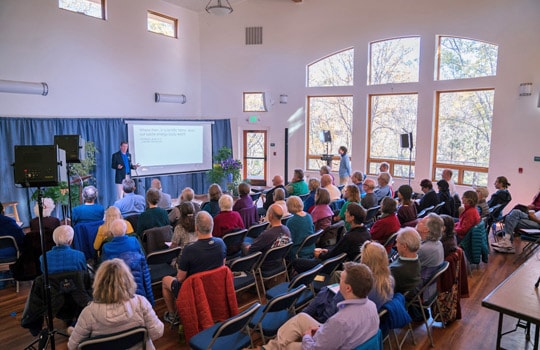 Hansa Temple: Located at Ananda Village, about a 3 minute drive from Gaia House or a pleasant walk. A main temple for Ananda Village. There is an altar with photos of the Kriya Yoga Master's of the Ananda lineage. A very comfortable room for floor or chair seating. A raised dais at front of room allows for nice speaker location. Ample room for projector and screen for presentations. Front entry foyer has plenty of room for coats and shoes - no shoes in Temple. Downstairs has two bathrooms and sink. Can seat 120 comfortably.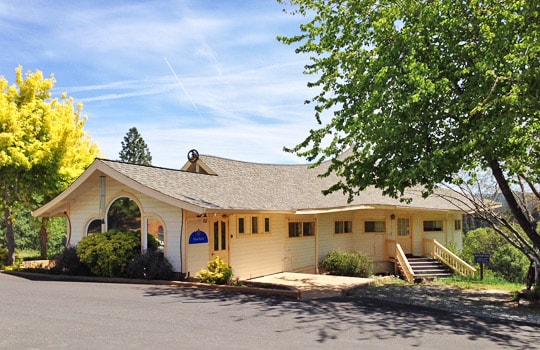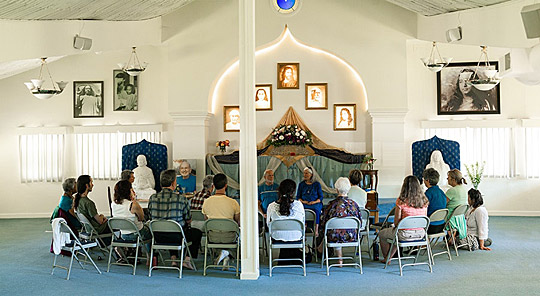 Serenity Lounge: Located in Serenity House, The Expanding Light's larger guest accommodation housing. Room has a sofa, coffee table, chairs, and dining table, with extra folding chairs, blankets & pillows. Sink and tea service. Holds 25 seated.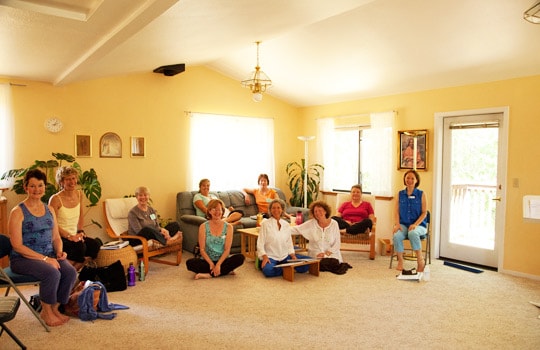 Learn more about our second retreat Gaia House for housing a group up to 17, or in addition to the rental of the Expanding Light Retreat campus if you need more rooms and meeting places.