Gaia House Group Rentals
Gaia House
We welcome your interest in bringing your group to Gaia House Retreat. We have years of experience supporting group leaders and hosting groups both locally and from around the world.
Gaia House is perfect for:
Meditation retreats
Yoga intensives
Creative arts
Healthy cooking trainings
Women's or Men's retreats
Healing workshops
Writing workshops
Church retreats
Green company staff retreats
Educational workshops and seminars
Socially conscious investing workshops
Regional business retreats
Non-profit staff conferences
We are able to fashion a custom program for you if you wish plus additional meeting spaces. Additional pricing may apply contact us.

"To stay at Gaia House is to be held and nurtured by the Great Mother in the physical sense of comfort, spiritual attunement, enlivening of the senses through beauty, and rich nourishment in the form of fresh and delicious food. The Ananda family (staff) have set up this space to anticipate your every need, and are available for you throughout. I have led two spiritual retreats there over the past year, and every person (including me) left feeling deeply nourished, restored, and glowing with a taste of deep ananda (bliss). I am profoundly grateful for the high vibration of love that resounds throughout the walls of Gaia House, the Ananda landscape, and afterwards, in my heart. Namaste."
- Andrea S., RYT, Women's Retreat, First Congregational Church of Auburn
Dedicated to serving our guests and embracing them with the harmonious vibration that is Gaia House..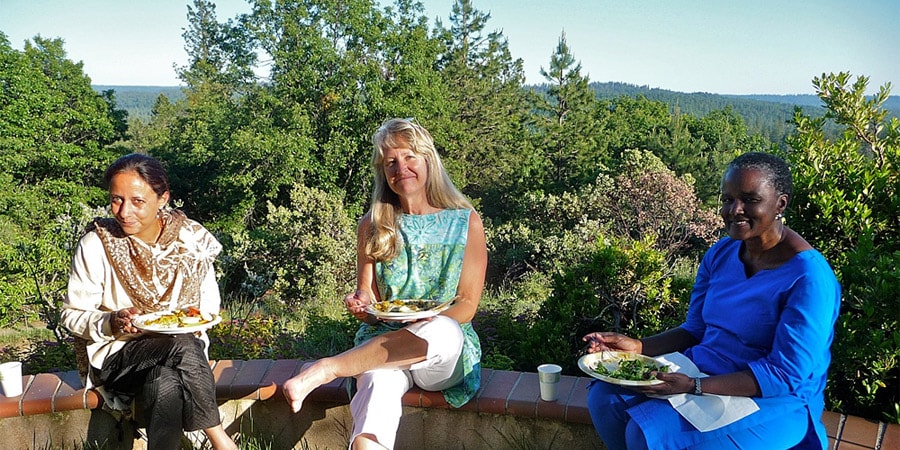 Ananda is a worldwide movement to help you realize the joy of your own higher Self. It is based on the teachings of Paramhansa Yogananda and was founded by his direct disciple Swami Kriyananda in 1968.
Learn More...

CONNECT
14618 Tyler Foote Rd
Nevada City, California 95959
Toll free 800-346-5350
Outside US 530-478-7518
SUBSCRIBE
Receive uplifting emails with inspirational content and news about our retreat programs, travels, and trainings.