30-Day Energization Challenge
Recharge your body battery and sign up below!
If you have already taken the Challenge sign-up again here and choose the Re-energize option in the subscriber preferences.
Here is your opportunity to:
Gain more energy
Improve your concentration
Learn the art of conscious relaxation
Nurture your body—or even heal it
Deepen your meditations
And it's free! So take the Challenge: Dive deep into the renowned Energization Exercises of Paramhansa Yogananda.
If you already know the Energization Exercises, this is your ticket to greater results. And if you're new to them, you'll get all the instruction you need to make this powerful practice a part of your daily life. (It only takes 15 minutes—or less.)
Each day you'll receive an email with:
A brief video clip of one of the exercises, highlighting important points and common errors (see sample below)
A valuable practice tip or inspiring story of impressive results—or both
When you sign up, you will receive an email asking for your email preferences; click on "Energization Challenge" at the bottom of the list. If you already receive The Expanding Light's newsletter, you will receive an email inviting you to change your preferences; add "Energization Challenge."
Here is a sample of one of the daily videos.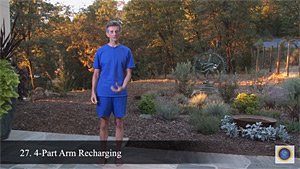 Sign up now*
None of your information will be used outside of Ananda, the parent organization of The Expanding Light.(Privacy Policy)
*If you have already taken the Challenge please click here
and then choose the
"Practice Paramhansa Yogananda's Energization Exercises with concentrated awareness of the flow of cosmic energy which flows through you. Activate your will power to direct that energy to different parts of your body. FEEL that you are made of that cosmic life force".- Swami Kriyananda