Have you thought about how you can plan a vacation so that at the end of it, you feel rested, energized and uplifted? I would like to share some good travel news with you from one of our recent spiritual vacations.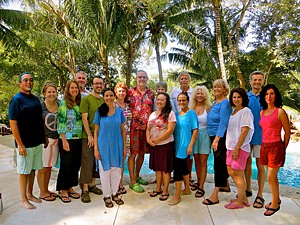 After living at Ananda Village, a spiritual community for more than 20 years and practicing yoga and meditation daily, I like to carry uplifting energy and spirit with me wherever I go.
Whenever we plan our trips, we start by choosing the best place for our stay. For the vacation in Costa Rica, we chose a secluded resort right on the beach of the Pacific Ocean. Our objective was to find a place that was quiet, uplifting, and eco-friendly. It also needed to provide healthy vegetarian food, a place to practice yoga and meditation, and be close to nature.
We found just the right place and on December 1, 2013, Gyandev and I led 15 people on a week-long yoga retreat to Playa Pan de Azucar, Guanacaste in Costa Rica. Some members of our group were familiar with the Ananda community and had visited us there at The Expanding Light Retreat while others were brand new.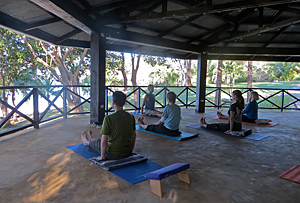 The daily schedule we planned for the Costa Rica retreat gave us a fair amount of free time. We had spiritual practices twice a day that included, Energization Exercises, Yoga Postures and meditation. We offered classes on how to meditate and how to practice yoga postures safely. Additionally, we held some evening classes on the chakras and healing prayers.
The daily spiritual practices helped each of us to remain centered throughout the day. We were able to be harmonious in our interactions with others and present for each moment.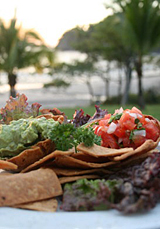 Mealtimes were a highlight. We all sat together and had a chance to connect and enjoy each other's company.
We shared our daily adventures and exchanged ideas and inspirations. Socializing with like- minded people can inspire and uplift the spirit.
The vegetarian meals, cooked by a California chef, were visually beautiful, delicious and satisfying in every way.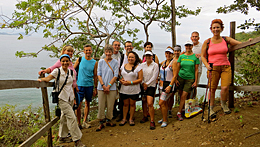 There were many different activities to choose from: hiking, swimming in the ocean or the pool, reading, shopping in town, riding horses, and more!
On the first day of the retreat, we all decided to go on a hike together in a nearby forest. We chose a trail that was not too difficult to navigate but provided a good workout and a spectacular view.
On another day, many of us went together to Monteverde which is one of the most beautiful areas of North Costa Rica with lush, green rolling hills, valleys, and cloud forests.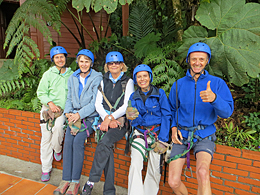 After a scenic ride of about 4 hours, we arrived at the rain forest. Our first adventure was the Zip-line. After we got the harnesses and equipment on, we rode to the area in the forest where the zip-line takes place.
We walked into this beautiful forest that looked to me like a jungle. There was so much entangled greenery, tall trees, bushes, and the sounds of many different birds.
There was the earthy smell of fresh rain and soil – happy to receive the water.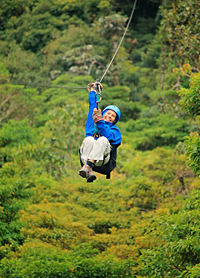 I remembered to thank God while walking along, for so much beauty and for being able to visit this magnificent place.
After we were shown how, we walked up a flight of metal steps to the zip-line platform.
I was a bit anxious, so I prayed deeply to my guru to be with me, to strengthen me and protect all of us. Those who had zip-lined before went first.
I went tandem, with a guide. After the first few rounds I got used to the technique and the rest of the rounds, I was able to do by myself. I totally enjoyed the ride, the fresh air, the cloud mist, and the sounds of many birds. We all enjoyed it and had a wonderful time. Then we went off to watch the beautiful butterflies.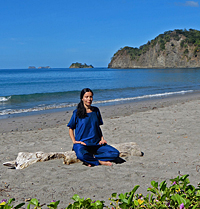 Later on, we ate a delicious vegetarian lunch at a very pleasant and serene restaurant. After we ate and rested a bit, we went with our guide to watch the hummingbirds and walk on the hanging bridges.
After a day full of wonderful adventure, we returned to our resort and had a lovely late evening dinner.
The vacation was a very nice, relaxing time spent in good company.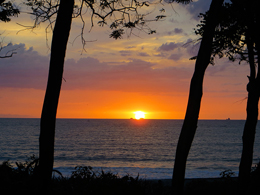 Beautiful daily sunsetsThis retreat was ideal. We were away from the crowds and away from loud noise and music. The simple, uplifting vibrations of Costa Rica were great.
Costa Rica is a beautiful country with vibrant colors, beautiful nature and kind loving people. There is an expression in Costa Rica – Pura Vida, which means pure life or enjoy life!