Monthly Archives:
December 2019
A friend recently shared an inspiring story of how he overcame his difficulties with insomnia through the practice of Ananda Yoga. Matthew attended our most recent session of Ananda Yoga Teacher Training at The Expanding Light Retreat. He openly … Continue reading →
Based on the teachings of Paramhansa Yogananda. Jesus Christ is one of the gurus on the Ananda path of Self-Realization. Paramhansa Yogananda stated that in the divine plan, Jesus Christ was responsible for the evolution of the West, and Babaji, … Continue reading →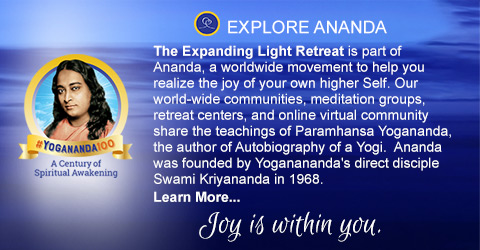 CONNECT
14618 Tyler Foote Rd
Nevada City, California 95959
Toll free 800-346-5350
Outside US 530-478-7518
SUBSCRIBE
Receive uplifting emails with inspirational content and news about our retreat programs, travels, and trainings.