The Ananda Line of Gurus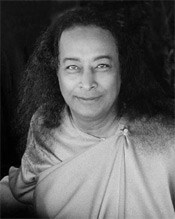 Yogananda was the first great master of yoga to make his home in the West, coming to the U.S. from India in 1920 and living here until his passing. He taught the timeless essence of spirituality, emphasizing the need for a direct inner experience of God, which he called "Self-realization." For this, he brought to the West a powerful tool: Kriya Yoga meditation. He also emphasized how yoga offers practical solutions to all the challenges of modern life. His Autobiography of a Yogi is one of the spiritual classics of modern times. Yogananda was trained for his worldwide work by his guru, Sri Yukteswar.
Swami Sri Yukteswar (1855-1936)

Like Yogananda, Yukteswar belonged to India's ancient Swami Order of monastics. In his earlier adult life Sri Yukteswar was married and had a daughter, but after his wife passed he became a swami. Yogananda called him a gyanavatar, which means "incarnation of wisdom," for that was Sri Yukteswar's hallmark. He in turn was a disciple of Lahiri Mahasaya.

Lahiri Mahasaya (1828-1895)

"Lahiri" was his surname; his disciples added "Mahasaya," which means "great-minded one." It was he who made the ancient science of Kriya Yoga available, not just to those who had renounced the world, but to all sincerely seeking souls. He was not a swami but an accountant, married with two sons, and his entire life showed that one can live "in the world" yet with complete dedication to the highest spiritual ideals. He was a disciple of Babaji.





Babaji

His birth name and date are unknown, but Babaji's ("revered father") influence is felt throughout the world, for he reintroduced the ancient science of Kriya Yoga, which had been lost due to "priestly secrecy and man's indifference," as Yogananda put it. He is the first in Ananda's direct lineage of guru's, and it was he who sent Yogananda to the West. Yogananda said that Babaji was a reincarnation of the great prophet Krishna; for this reason, we often say "Babaji-Krishna" when naming our line of gurus.





Jesus Christ

Why is Jesus on Ananda's altars? Yogananda said that it was Jesus who asked Babaji to send a teacher to the West, saying: "They do good works in the West, but they neglect the essence of what I taught them: communion with God." Yogananda was that teacher, and his mission to the West included showing the essential oneness of original Christianity as taught by Jesus, and original yoga as taught by Krishna. For these reasons, it is both fitting and natural that Jesus is on Ananda altars.