Yoga for Neurological Health

For those with MS, Parkinson's, or Other Neurological Disorders
5-day weekend
There are no dates currently scheduled.
The ancient science of yoga is being used increasingly in modern times as a therapeutic tool to enhance wellness for those suffering from many different health conditions, including neurological disorders. Ananda Yoga offers a practice particularly well suited for this kind of application. It takes a dynamic and yet relaxation-based approach that balances and strengthens the nervous system through awareness of the connection between body and mind.
In 2008, 28 people with Multiple Sclerosis were taught an Ananda Yoga routine as part of a research project. They began with pre-testing and a 5-day Ananda Yoga program at The Expanding Light Yoga and Meditation Retreat. After 16 weeks of home practice, follow up testing showed significant improvements in balance, functional strength, respiratory vigor, decreased anxiety, depression and increased sense of clear cognition and overall well being.
The Expanding Light is now offering a 3-day retreat, Yoga for Neurological Health, October 18 – 21, 2009 and May 13 – 16, 2010 for people living with Parkinson's, MS, mild stroke or other neurological diseases who are able to walk on uneven terrain.
Participants will learn simple yet powerful techniques:
Energization Exercises draw vitality to all parts of the body, as well as training neuromuscular coordination.
Classical yoga poses done with conscious breathing and positive affirmations create physical strength, flexibility and engage the healing aspects of the parasympathetic nervous system.
Meditation retrains the brain to create more efficient pathways to the pre-frontal lobes, where we experience our most inspired, creative thinking and elevated level of consciousness.
Ananda Yoga practice guides us to an energetic, calm center within where we discover our innate wisdom leading us on the journey to healing of body, mind and spirit.
Sharing relaxed time with instructors and fellow participants with similar experiences and interests can provide the basis for lasting support and inspiration.
Research shows that going on retreat for a significant period of time to learn new skills, creates a transformative experience that really jumpstarts the ability to incorporate new habits into daily life. Brown, R. Considerations in Designing and Applying Yoga Interventions for Clinical Research, Conference workshop. Proceedings of the Third IAYT Symposium on Yoga Therapy and Research; 2009 Mar 3; Los Angeles, California, United States. [videocassette]. San Diego (CA): Backcountry Productions; 2009.
Read the following article for more information on how going on retreat can be helpful for the person dealing with neurological disorders:
This 3-day retreat at The Expanding Light (90 minutes Northeast of Sacramento) is a wonderful opportunity for anyone wanting to incorporate a therapeutic yoga routine into his or her life.
Testimonials from participants in the Ananda Yoga MS study:
"I feel that the Ananda routine has strengthened and toned my body as well as my mind and made me feel better and happier. After doing the routine, I feel like I have accomplished something and feel peaceful and have more energy."
– WS Massachusetts
"During the 4 months practice of the yoga routine I found myself feeling that a great fog was lifting from my head. I have seen a valuable positive change in my mental outlook and intend to continue to incorporate the Energization, yoga, relaxation and meditation in my daily life."
– CS-M Half Moon Bay, CA
"I came to Expanding Light feeling completely defeated and drained with my MS being such a heavy burden to carry. I left feeling incredibly uplifted, full of hope."
– JP Chico, CA
"I would recommend this for anyone wanting a different and very positive approach to improving life after a diagnosis of a neurological disorder."
– SA, Rocklin CA
"I learned a lot from this retreat especially the lectures and the yoga, affirmations. I was able to rest from my work at home and at work. I sure will share my experience with my other friends and co-workers. I'm most impressed with the staff and teachers I met. They're all helpful nice and friendly."
– DD, Sacramento, CA
"This program went beyond my expectations. Well organized, well staffed with 'pros'."
– TS, Mill Valley, CA

Prices are all-inclusive and cover accommodations, meals, classes or activities, and course materials. You can add extra personal retreat days before and/or after your program. Check availability and costs for the days and accommodations that you require.
Yoga for Neurological Health starts the afternoon of the first date listed. It's ideal to arrive before 4 pm, if you are able to. That way, you can join in the afternoon session of yoga and meditation, which begins at 4:45 pm. Dinner is at 6:30. The first real gathering of your group is at 7:30 pm. If you need to arrive here after 5 pm, that's fine, but it helps us if you let us know at 800-346-5350. We can also put aside a dinner for you if you need to arrive after 7 pm. The program ends with lunch on the last date. Please see our Daily Schedule.
See Transportation and Directions whether you are coming by plane, car, bus or train. Our Frequent Questions page answers many of the questions you might have about How to Go on Retreat.

Receive monthly news, inspiration, Radiant Health tips & recipes, and stay up-to-date.
Come a Day Early
Relax, Take a Walk,
Get a Massage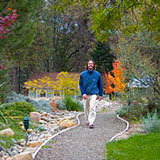 Stay an Extra Day, Relax,
Absorb Your Experience