Relax and Renew Retreat

2-day weekend
There are no dates currently scheduled.
In one short weekend, you can accomplish a lot!:
Release physical tension and stress, and lose mental tension along with it
Learn yoga to help you get a sounder night's sleep
Learn and practice a highly effective technique of meditation
Your weekend with instructor Cheryll Barsic will include: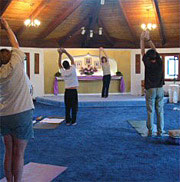 An Ananda Yoga® class Saturday morning, emphasizing postures to relax the body and mind, and using mental affirmations to keep the mind dynamically focused.
Instruction in Yogananda's Hong-Sau Technique of Concentration
A free afternoon Saturday for a long walk or a healing massage (not included in your price) at Ananda's Center for Radiant Health.
A guided evening yoga session focused on preparing you for a restful night's sleep.
The opportunity to join The Expanding Light's twice-daily practice of Energization Exercises, yoga postures, and meditation, as well as Ananda's Sunday morning Purification Ceremony and Sunday Service.
With the scientific approach to relaxation that is the highlight of Yoga, two short days will leave you feeling dynamically relaxed and rejuvenated.
Cheryll Barsic moved to Ananda from Texas, where she taught yoga for 10 years and operated her own yoga studio. She has always been well loved as a yoga instructor because her own personal enthusiasm and love for yoga shines through her instruction. Cheryll is a certified Ananda Yoga instructor. She exemplifies the benefits of yoga in her own life through her youthful, joyful spirit, and unfailing kindness to all.
Prices are all-inclusive and cover accommodations, meals, classes or activities, and course materials.
Relax and Renew Retreat starts the afternoon of the first date listed. It's ideal to arrive before 4 pm, if you are able to. That way, you can join in the afternoon session of yoga and meditation, which begins at 4:45 pm. Dinner is at 6:30. The first real gathering of your group is at 7:30 pm. If you need to arrive here after 5 pm, that's fine, but it helps us if you let us know at 800-346-5350. We can also put aside a dinner for you if you need to arrive after 7 pm. The program ends with lunch on the last date. Please see our Daily Schedule.
See Transportation and Directions whether you are coming by plane, car, bus or train. Our Frequent Questions page answers many of the questions you might have about How to Go on Retreat.

Receive monthly news, inspiration, radiant health tips and recipes, and stay up-to-date.
Come a Day Early
Relax, Take a Walk,
Get a Massage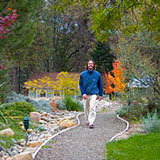 Stay an Extra Day, Relax,
Absorb Your Experience