Learn Ananda Yoga Retreat

2 days
There are no dates currently scheduled.
Are you looking for more than "just a yoga class"—an integrated approach that gives you yoga's spiritual benefits as well as its physical and mental benefits: relaxation, vitality, inner peace, and so much more?
That's Ananda Yoga. It's a powerful yet gentle practice that anyone can practice because our expert teachers will show you how to adapt it for your particular needs.
You'll start from a foundation of safe practice, learning to do the yoga postures in a way that works for your body, with the correct alignment that will enable you to draw the most benefits from each pose.
You'll then move into some unique—and uniquely powerful—aspects of Ananda Yoga, such as learning how to:
Increase your level of energy at will
Focus the power of your mind
Improve your mental clarity
Heighten your sense of well being
Meditate, to experience the deepest effects of your practice
After Ananda Yoga practice, you'll feel clear-minded, uplifted, full of energy, and yet deeply relaxed—at peace with yourself and the world around you.
Your instructor for the weekend is Melody Hansen.
Prices are all-inclusive and cover accommodations, meals, classes or activities, and course materials.
Learn Ananda Yoga Retreat starts the afternoon of the first date listed. It's ideal to arrive before 4 pm, if you are able to. That way, you can join in the afternoon session of yoga and meditation, which begins at 4:45 pm. Dinner is at 6:30. The first real gathering of your group is at 7:30 pm. If you need to arrive here after 5 pm, that's fine, but it helps us if you let us know at 800-346-5350. We can also put aside a dinner for you if you need to arrive after 7 pm. The program ends with lunch on the last date. Please see our Daily Schedule.
See Transportation and Directions whether you are coming by plane, car, bus or train. Our Frequent Questions page answers many of the questions you might have about How to Go on Retreat.

Receive monthly news, inspiration, radiant health tips and recipes, and stay up-to-date.
Come a Day Early
Relax, Take a Walk,
Get a Massage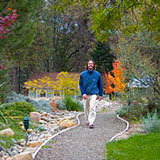 Stay an Extra Day, Relax,
Absorb Your Experience