The Deeper Practice of Yoga

Bridge to Ananda Yoga, Part I
4 days
There are no dates currently scheduled.
Take your yoga practice to the next level as you discover the secrets of raising your consciousness through the subtle yet powerful tools of Ananda Yoga. It's a joyful and transformative return to the original, exalted purpose of yoga: spiritual growth.
This special program is taught by the Ananda Yoga Teacher Training faculty, who will show you how to:
Work directly with prana (life force) to lift your consciousness
Increase the power of your mind for a more rewarding practice
Get more out of your asana practice through certain alignment tips
Experience yoga as a "work-in," not just a workout, through Ananda Yoga's unique—and uniquely powerful—techniques
Use asana practice to deepen your meditation practice—and vice versa
This retreat is for anyone who already has a solid hatha yoga practice. (If that's not you, then the Learn Ananda Yoga program is more appropriate for you.) You don't have to be super-flexible, but you do need to know what you're doing in asana practice—and perhaps be willing to do it a bit differently. The retreat includes instruction in, and practice of, a classical yoga meditation technique.
This 4-day weekend is also one way to complete Part 1 of Bridge to Ananda Yoga, the program of study for Registered Yoga Teachers who wish to enter Ananda's Level 2 (500-hour) Yoga Teacher Training track. If you plan to take this course as the first part of your Bridge to Ananda course, please contact us for an application.
Prices are all-inclusive and cover accommodations, meals, classes or activities, and course materials.
The Deeper Practice of Yoga starts the afternoon of the first date listed. It's ideal to arrive before 4 pm, if you are able to. That way, you can join in the afternoon session of yoga and meditation, which begins at 4:45 pm. Dinner is at 6:30. The first real gathering of your group is at 7:30 pm. If you need to arrive here after 5 pm, that's fine, but it helps us if you let us know at 800-346-5350. We can also put aside a dinner for you if you need to arrive after 7 pm. The program ends with lunch on the last date. Please see our Daily Schedule.
See Transportation and Directions whether you are coming by plane, car, bus or train. Our Frequent Questions page answers many of the questions you might have about How to Go on Retreat.

Receive monthly news, inspiration, radiant health tips and recipes, and stay up-to-date.
Come a Day Early
Relax, Take a Walk,
Get a Massage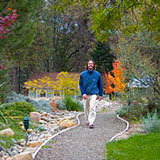 Stay an Extra Day, Relax,
Absorb Your Experience