The Chakras: Inner Guide to Self-Realization

2-day weekend
*Pick up & drop off at Sacramento Airport. Click on link next to date to get full details.
The seven internal energy centers – the chakras – store your karma and distribute life-force through the body. The free flow of this energy through the chakras brings healing on all levels. This weekend you'll learn more about what the chakras do, and you'll be guided through experiences of them on progressively deeper levels. You'll experience how to:
Locate and un-block your chakras
Increase the flow of life-force in your astral body
Use visualization, affirmation, color and sound, music, breathing, and hatha yoga to help you attune more deeply to these astral energies
Use your core energies for healing of body and mind
Your course instructor is Savitri Simpson, author of the book Chakras for Starters and the CD of the same name. Savitri is one of Ananda's finest and most experienced teachers.
You will also receive a copy of her 60-page Chakras Workbook, especially compiled to enhance this course.
Prices are all-inclusive and cover accommodations, meals, classes or activities, and course materials.
The Chakras: Inner Guide to Self-Realization starts the afternoon of the first date listed. It's ideal to arrive before 4 pm, if you are able to. That way, you can join in the afternoon session of yoga and meditation, which begins at 4:45 pm. Dinner is at 6:30. The first real gathering of your group is at 7:30 pm. If you need to arrive here after 5 pm, that's fine, but it helps us if you let us know at 800-346-5350. We can also put aside a dinner for you if you need to arrive after 7 pm. The program ends with lunch on the last date. Please see our Daily Schedule.
See Transportation and Directions whether you are coming by plane, car, bus or train. Our Frequent Questions page answers many of the questions you might have about How to Go on Retreat.

or e-mail or call us at 1-800-346-5350
Costs (HECH)
Tent /
RV
Standard
Shared
Standard
Private
Deluxe
Shared
Deluxe
Private
$238
$298
$418
$378
$538

Receive monthly news, inspiration, radiant health tips and recipes, and stay up-to-date.
Come a Day Early
Relax, Take a Walk,
Get a Massage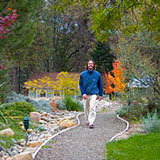 Stay an Extra Day, Relax,
Absorb Your Experience