Scholarships/Financial Aid
Through scholarships, we are striving to make it possible for more and more people to experience The Expanding Light. These funds are limited, so if you are able to pay, please do not request aid so it can go to someone with a greater need.
We offer a limited number of partial scholarships for lower income individuals to attend Ananda's Holistic Health Retreat, Yoga Teacher Training, and Meditation Teacher Training. Normally these are for 10 or 20% off, but we will consider scholarships up to a maximum of 30% off of the regular price. (Special consideration is given to those from foreign countries with unfavorable exchange rates.) We must receive your application at least 30 days before your program begins. Please call 800-346-5350 or 530-478-7518 for an application.
Reservations
About Us
Weather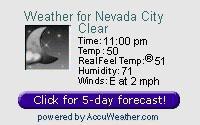 The Expanding Light is located at about 2500-foot elevation—we're in the foothills, not the mountains. We normally get a little snow each winter, but the winters are not severe. Though temperatures occasionally dip below 32 degrees, we also get many very beautiful days during the winter. In January it's common to have what we call mid-winter spring, with temperatures in the 60s. We can't promise there won't be snow when you visit, but it's very rare for snow to cause travel problems.