Walking with William the Conqueror

Experience Yogananda's Past Life in France
7 days
There are no dates currently scheduled.
Are you inspired by Paramhansa Yogananda and his Autobiography of a Yogi? Did you know that there are shrines in Europe where Yogananda's blessings can be felt? And those of his great guru, Sri Yukteswar?
Yogananda told his disciples that, in a former incarnation, he had been William the Conqueror. He also said that Sri Yukteswar had incarnated as William's spiritual advisor, Lanfranc.
This fascinating tour will be led by two people who have deeply studied, lectured, and written on this topic – Catherine Kairavi and Richard Salva.
Richard, author of Walking with William of Normandy shares his motivation for leading this special pilgrimage, which is directly based on the experiences shared in his book:
"When I heard that Yogananda had been William the Conqueror, I was fascinated. My wife and I traveled to Normandy to visit places made famous by William and Lanfranc. We were overwhelmed by the powerful blessings we experienced there. The pilgrimage was so meaningful to us that we repeated it two years later. I would like to share those blessings with you."
Catherine spent many years researching and writing the major work Two Souls, Four Lives. Catherine's book explores the past-life connections between two of the greatest men of their era — William the Conqueror and his son, Henry I of England— and the great spiritual master Paramhansa Yogananda and his close disciple, Swami Kriyananda.
Catherine brings a great depth of understanding about the lives of William and Henry, including their lives in Normandy, and a powerful ability to communicate it.
This fascinating tour features both the spiritual and the historic. You will be able to spend quiet time in the holy places where William prayed and meditated — and be guided in your understanding of what really happened by those who have deeply studied the topic.
Here is a great opportunity to combine perhaps a long-awaited trip to France with a life-transforming experience of pilgrimage. In addition to the holy sites blessed by Yogananda and Sri Yukteswar, you will also visit sacred places from the lives of St. Therese of Lisieux and Joan of Arc (2012 marks the 600th anniversary of her birth).
Here is an early and tentative schedule for the pilgrimage:
City Base: Caen
Day 1
Sunday, June 17
Evening orientation. Lecture: "Welcome to William's Normandy!" Itineraries distributed and discussed.
Day 2
Monday, June 18
Morning: William's Castle
Afternoon: St. Stephen's Church and Monastery (William's crypt; where Lanfranc was Abbott; visit the location of William's crypt)
Day 3
Tuesday, June 19
Morning: Train to Bayeux (Cathedral and Tapestry)
Afternoon: Lesser-known William sites in Caen [OR]
Trinity Abbey and Convent [OR]
Revisit William's Castle and/or St. Stephen's
Day 4
Wednesday, June 20
Mid-morning: Depart by bus to Dives-sur-Mer
Visit site of William's army encampment
Visit Dives church, where William and his men attended mass
Return late afternoon.
Day 5
Thursday, June 21
Mid-morning: Travel by bus to Falaise
Visit Falaise Castle (where William was born); take audio tour
Visit Falaise church (built or finished by Henry I)
Arrive in Lisieux, late afternoon
Late afternoon/evening: Optional visits to St. Therese shrines (family home; convent, with Therese's crypt; cathedral)
City Base: Lisieux
Day 6
Friday, June 22
Early morning: Visit to St. Therese shrines
Late morning: Travel by bus to Bec Abbey (Where Lanfranc was prior)
Late afternoon: Arrive in Rouen
Evening: Optional walk around Old Town (Medieval) Rouen

City Base: Rouen
Day 7
Saturday, June 23
Morning: Visit Rouen Cathedral
Afternoon: Visit Joan or Arc shrines (site of her passing; St. Joan's Church)
Evening: Optional dinner at Vieux Marche (Old Market)

Day 8
Sunday, June 24
Morning: Mass at St. Gervase church (where William died)
Early Afternoon: Optional walk to former sites of William's castle
Late afternoon/early evening: Train for Gare St. Lazare, Paris
Pricing
$2099 per person for shared bedrooms in each of the 3 cities for a total of 7 nights, or $2699 for private bedrooms.
These prices could increase slightly as we finalize details.
Included:
Ongoing lectures by pilgrimage guides to deepen your knowledge and appreciation of each sacred site; along with guide availability throughout the pilgrimage to answer your questions, or help you with any difficulty
Hotel accommodations in the pilgrimage cities of Caen, Lisieux, and Rouen
Roundtrip bus transportation from Caen to Dives-sur-Mer
Transportation from Caen to Bayeux; from Caen to Falaise; from Falaise to Lisieux; from Lisieux to Bec Abbey; from Bec Abbey to Rouen
Not Included:
Airfare and transportation to and from our meeting points in Caen and Rouen (please contact us for details on how to travel there)
Meals and other personal expenses
Travel insurance (which we strongly recommend)
Cancellation Policy
If you cancel by March 15, 2012, your payment will be refunded in full.
If you cancel by April 15, 2012, your payment will be refunded minus a $200 cancellation fee.
If you cancel by May 15, 2012, your payment will be refunded minus a $300 cancellation fee.
Additional information will be posted here, however the interest in this program is so strong we didn't want to wait any longer.
For more information, please send us a Question or Comment:
International Retreats and Pilgrimages
Walking with William of Normandy
by Richard Salva
Two Souls, Four Lives
by Catherine Kairavi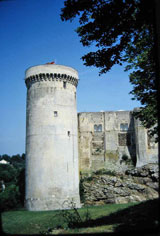 Falaise Castle where William was born