In the Footsteps of the Masters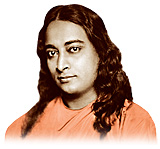 A Pilgrimage to India
Dates
Oct 16 – Oct 19, 2014 (extended trip to Ananda Pune)
News: This year's pilgrimage will include the ancient, holy city of Varanasi & expedition to Babaji's Cave with an add-on trip to Ananda Pune!
The Transforming Power of Pilgrimage
The blessings of pilgrimage, and the power of being in places blessed by saints, will change you and deepen you in ways you never would have thought possible.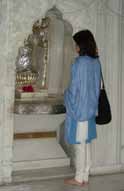 The effects of pilgrimage last a lifetime, the memories of sweet experiences making God's presence an ever deepening living reality within.
Here are a few of the many places you will experience
Calcutta: Yogananda's boyhood home, the home of his childhood friend, Tulsi Bose, both filled with saints' relics; Kali temple at Dakshineswar.
Serampore: Sri Yukteswar's Ashram.
Puri: Meditate in Sri Yukteswar's Mandir where his body is; visit other holy sites.
Mahavatar Babaji's Cave: Lahiri met Babaji here; see other ashrams and stunning Himalayan views.
Delhi: Visit Ananda's Ashram in Gurgaon, ancient temples and Gandhi memorial.
Pune: Stay in Ananda's newest developing community.
Varanasi: World's oldest surviving city. Holy spots of Lahiri Mahasaya, Babaji, Buddha, Ananda Moyi Ma, Trailanga Swami and more; Ganges River - sunrise boat rides; sunset arati; ancient market place
Agra: Taj Mahal.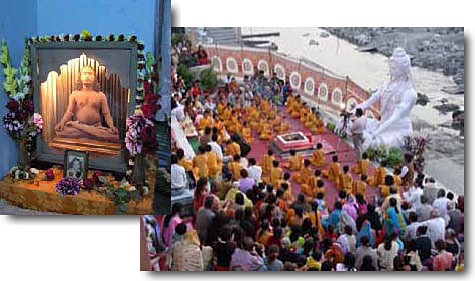 For over 20 years Ananda has led group pilgrimages to meditate at places of spiritual power in India. This pilgrimage is led by experienced pilgrimage leaders, Nayaswamis Krishnadas & Mantradevi, of Ananda Village, Calif., and Tyagis Keshava & Daya, of Ananda Sangha, India.
Pilgrimage to India
Led by Krishnadas & Mantradevi and
Tyagis Keshava & Daya