Personal Growth - Spiritual Growth, Holistic Health, Karma Yoga
Spiritual Growth
We are each on a journey of Self-discovery. Meditation, yoga, and the yogic path give us the tools we need to feel more at peace, self-integrated, and in control of our bodies, minds, and emotions. Within us we discover the inherent wisdom and joy of our own souls. Spiritual growth means living inspired.
Choose from dozens of programs under 4 program areas:
Holistic Health
We usually think: "When I am well, I have energy." But the truth is, the more energy we have, the more health we have. Yogic teachings show us how to draw more energy into the body, to eliminate the blocks to the free flow of energy within the body, and to create a lifestyle that promotes greater energy.
Your visit to The Expanding Light will include delicious vegetarian meals made of whole, organically grown foods, the opportunity for walks in nature's beauty, and the option of massage or other energy treatments (at additional cost).
Every course we offer on meditation or yoga will help you enjoy more vibrant health, but these are a few programs that can be especially helpful for you.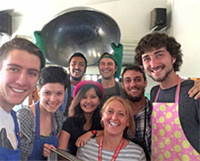 Ananda's Karma Yoga Ashram Program

Spiritualize Your Daily Life. Service is Joy
Karma Yoga is working with the thought that it is God within us, serving God within all.
Learn to spiritualize your daily life in an ashram environment, with a community of like-minded individuals practicing meditation and living a spiritual life. Our karma yoga ashram program is held at Ananda's spiritual retreat, The Expanding Light, nestled among 700 acres of the Sierra Nevada Foothills of northern California.
Videos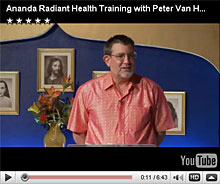 Prefrontal lobes: centers of higher brain function
The direct effects of meditation on prefrontal lobes
Changing brain chemistry through meditation
Please see our videos on Meditation and Yoga
Articles
| | |
| --- | --- |
| | "In a deeper sense the word chakra describes the whirlpools or vortices of energy located along the central axis of our bodies, in the 'deep' or astral spine." |
| | "If there is a single quality that society needs today, it is integrity. The worlds of business, of entertainment, of our culture in general, are crippled by a lack of morality." |
| | "Everyone occasionally feels a need for inner rejuvenation.… going on retreat can be a perfect solution." |
| | "A vegetarian diet can actually provide us with much more variety in tastes and textures than the typical meat-based fare…. a vegetarian repast may be composed of a number of dishes combining legumes, grains, vegetables, nuts, fruits and seasonings." |
| | "Recipes of the month from The Expanding Light" |
| | "Though raised in this devout, joyful tradition, in my teenage years I found myself questioning the existence of God and the purpose of life..." |



Receive monthly news, inspiration, Radiant Health tips & recipes, and stay up-to-date.