Group Retreats
Beautiful things happen
for groups who share an Expanding Light workshop
You will ~
Develop greater harmony and happiness within the group
Enjoy a new level of personal interaction
Share a relaxing, beautiful, uplifting environment
Learn together — leaving you with an extremely positive shared experience and language
Be able to encourage each other when you return home
Discover how to bring a more harmonious energy into your place of work or service
Stimulate creative brainstorming for improving your own work or service setting
Look at our calendar of activities to choose a weekend or weeklong program for your group to join. Almost any program will work for you, but excellent ones to consider are:
Depending on the number of people you bring, you will receive a discount from 5% to 20% for each person — when your group joins an Expanding Light program.
| | |
| --- | --- |
| 6 to 9 people | 5% off |
| 10 - 15 people | 10% off |
| 16 - 20 people | 15% off |
| 21 + people | 20% off |
The above discounts are available only for programs (other than Personal Retreat) that appear on our Calendar and that haven't already been discounted in some way.
An additional 5% discount will be extended if your group comes during the months of September, October, November, January, or February.
If your group would like to use our facilities but not take one of our programs, please call for prices and discounts.

Or, bring your group to The Expanding Light to…
Enjoy Personal Retreat
Run your own event
Have us fashion a program just for you
Every stay at The Expanding Light includes:
Comfortable and beautiful setting and accommodations
Delicious and hearty vegetarian meals
Two sessions of guided yoga postures and meditation daily, for those interested
The option of a variety of massage treatments
800 acres of forest and meadowland to explore
"Conducting retreats at The Expanding Light has been an exceptional experience: The serviceful staff, beautiful environment, and powerful energy of the retreat center make it the perfect place to hold my ongoing retreats. All my participants love it there!"
– Vina, Sacramento, CA
Group Retreats are ideal for:
| | | |
| --- | --- | --- |
| • yoga classes | • family reunion | • like-minded friends |
| • church groups | • book clubs | • women's groups |
| • meditation groups | • cooking groups | • caregivers' support network |
| • teachers association | • non-profit staff | • parenting network |
| • co-workers' groups | • quilting or knitting | • or start a new group! |
For help in choosing a program for your group and reserving spaces, contact Krishna Das at 800-346-5350 ext 7091.

During my stay at The Expanding Light, I was blessed to enjoy the delicious food they lovingly prepared for us day after day. The food was so good, AND good for me! I soon began to happily anticipate mealtime to see what delicious fare the divine kitchen staff had prepared for me next! I fell in love with the wonderful vegetarian dishes immediately, and soon discovered that my previous haphazard vegetarian ways would be transformed into a full-fledged vegetarian way of consuming upon my return home. With the Global Kitchen cookbook in hand (chock-full of the recipes they use in the Expanding Light Kitchen) I was ready to introduce my family to the delicious food I was so blessed to enjoy. I've tried a new recipe each night and my family loves it!! Now I get to share this wholesome, delicious food with the ones I love, and enjoy reliving the wonderful memories that surrounded each meal. :) Thank you Expanding Light Kitchen Staff!
Another choice for your Group Retreat
Rent a beautiful, family-style home that sleeps 12, in Ananda Village: Gaia House Retreat

Contact Krishna Das at
800-346-5350 ext 7091
to choose a program
or reserve a space.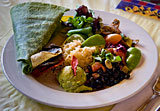 Three delicious and satisfying vegetarian buffet meals are included with the cost of your stay

During your stay, enjoy healing services at
The Center for
Radiant Health
(at additional charge)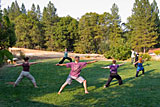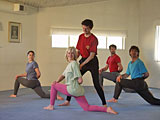 Two guided sessions of Energization Exercises, Yoga Postures, and Meditation are included each day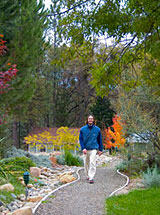 Enjoy long walks on our
beautiful 800 acres
of forest and meadowland
"All of us just loved and truly enjoyed our stay at Ananda! We learned so much about Yoga and Meditation, our first goal of the visit, and felt so comforted and taken care of by the atmosphere and great teachers at the retreat center. We felt especially fortunate to have Maitri as our weekend guide; she was so gentle, informative, and caring and customized the retreat for our needs. Those of us who attended the Sunday Service were filled with love and joy. Thank you! We'll be back soon."
— P.W., Lake Almanor, CA
The Expanding Light Retreat • 14618 Tyler Foote Rd, Nevada City, California 95959 • 800-346-5350 or 530-478-7518 © 2013