Ananda Holistic Health Retreat

Achieving Glowing Health and Vitality
Nursing CEU Eligible: 15 hours

Give yourself a gift: Time for self-discovery during this relaxed immersion in healthy living.
How would you answer the following questions?:
Are you giving your body what it needs for optimal health?
Do you have the energy and enthusiasm you need to make your life work?
Can you choose to be happy on a daily basis?
Do you have a way to experience deeper meaning in life and feed your spirit?
Take the Holistic Health Self-Assessment Quiz
to help you evaluate your needs and guide you towards optimal health.
Ananda's Holistic Health Retreat will help you say YES to all of these questions and give you supportive experiences in how to: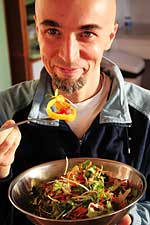 Increase your health and wellness
Manage stress and increase your inner peace and calmness
Practice yoga postures in a safe and meaningful way
Meditate daily to strengthen your mind and your ability to maintain tranquility
Transform unwanted habits
Create a healthy diet that works with your own needs
Exercise regularly and love it!
Find more balance in your life
Your Retreat includes: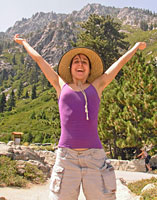 Daily guided practices of Energization Exercises, yoga postures, and meditation
Daily vigorous affirmation walks
Guided yoga techniques for greater energy
Instruction in a meditation technique that will work wonders for you, even if you've never had luck with meditation before!
Teachers and coaches who have been practicing these techniques for decades
A comprehensive reference manual for radiant health
3 delicious and healthy vegetarian meals daily
Menus and recipes for healthy meals to take home with you
The option of individual coaching/counseling to help you create a plan for healthy changes in your lifestyle
Join us for a rejuvenating and educational week that will change your life for the better!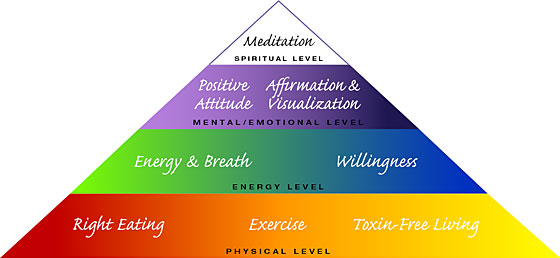 The Radiant Health Pyramid
This program brings Paramhansa Yogananda's teachings together in a unified way and trains you in techniques that will help you get to the core of who you really are. It will awaken within you your own inner strength and innate healing energy.
"This program is one of the highlights of my life!" —Marilyn H., Illinois
"Having just returned from my Holistic Retreat experience, I am elated and feel so much love from my time spent with you alll. The course was so well put together and the delivery of such profound wisdom was done in a way that someone like myself could soak in it for days. I absolutely love and adore my teachers. Thank you so much!" —Leslie T, Texas
"I am so impressed with the time and effort that went into making the Holistic Health Retreats one of the most beautiful experiences of my lifetime. You, our teachers, are exceptional. Both with clarity and walking the walk. I loved every one of you. And I thank you from my heart for all the love you gave us....How thoughtful was your assigning a spiritual counselor for each to talk to. And not only while at the retreat, but if we needed to call when we returned home. These are details that made this retreat more that I expected....The vegetarian meals were marvelous. I want that cook in my kitchen. Every dish was prepared with love and presented to reinforce healthy eating. I haven't eaten that much for many years—and I still lost a few pounds....Wow. I had two days driving home and a lot of time to reflect on what we covered and what we experienced. I loved every minute and, as you know, did not want to leave your environment. The biggest thing I came away with was the fact that we all have our own path to the same destination. I felt an affirmation that I was ME and I was following my path. We are all a part of God and only need to tune into our Higher Self."
—Sharon M., Washington

Next Steps:
Ananda Holistic Health Retreat
Please know we cannot accommodate people with chronic or acute physical or mental diseases that seriously limit function. Please phone us at 800-346-5350 if you have questions about the program's suitability for you.

Prices are all-inclusive and cover accommodations, meals, classes or activities, and course materials.
Call 1-800-346-5350 or e-mail us.
Costs (LRH)
Tent /
RV
Standard
Shared
Standard
Private
Deluxe
Shared
Deluxe
Private
$635
$785
$1110
$1010
$1435
Ananda Holistic Health Retreat starts the afternoon of the first date listed and ends with lunch on the last date. Please see:

Pick up & drop off at Sacramento Airport. Click links for details.
"What an amazing spiritual journey we have been on. It seems like much more than five days as I feel I have grown more as a person/soul than at any other point in my life. Thanks ."
—J.E., B.C., Canada
" If you do not know how to change habits and become an aware and healthy person, come to this program."
—Sandra, Germany
" The Expanding Light's Radiant Health program changed my life. It helped me find my center, strength, and joy again. With the tools I received, I know I will be able to keep myself in the radiant joy I leave here with. "
—J.R., California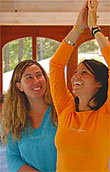 "There are thousands of 'one-size fits all' plans for improving health out there, but unless a plan is designed to fit an individual's life, as this one is, it won't take."
—Dave, California