Meditation - Advanced Practices
"The best program I have ever taken… I have a feeling it was a life-changing experience."
"The spirit soars here. If you have ever wondered what it would feel like to fly, come try your wings here..."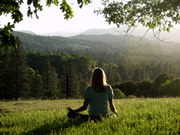 True meditation is a way to commune with the divine within yourself. In order to touch this deep, inward place, it's invaluable to learn in a calm and focused environment.
Over the past 40 years, thousands of people have meditated here, creating a uniquely peaceful atmosphere. We offer you the practical, in-depth approach to meditation brought to the West by Paramhansa Yogananda. These techniques can take you beyond relaxation to a profound connection with your own higher Self.
5 Minutes of Serenity Experience inner peace with this inspiring meditation movie.
Meditation Advanced Practices Courses Scheduled:
2016

January
Friday, Jan 15 – Sunday, Jan 17

Take Your Meditation to the Next Level
Bathe in the Gift of Inner Peace

Deepening your inner experience of meditation will open doors to inner freedom. If your meditation practice needs recharging or restarting, this weekend's program will re-inspire you.
Nayaswami Mukti
Advanced Practices

Receive monthly news, inspiration, Radiant Health tips & recipes, and stay up-to-date.
Come a Day Early
Relax, Take a Walk,
Get a Massage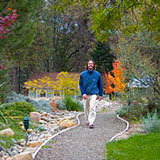 Stay an Extra Day, Relax,
Absorb Your Experience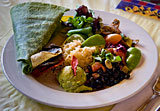 Three delicious and satisfying
vegetarian buffet meals are included
with the cost of your stay