Details on Your Retreat
You will have the opportunity to deeply and profoundly relax your body, mind, and soul in many enjoyable ways.
More on the Resort
"… the ideal location for our yoga and meditation resort."
Set in beautiful surroundings. Lots of facilities such as room service, pool, etc. Rooms are neat and tidy. – Daniel Crawford, CA
The Ayurvedic resort is a perfect facility for this experience. Located directly on the Arabian Sea, it has a calm, sweet, rejuvenating atmosphere – vastly different from tourist destinations. The staff are extremely well trained and very serviceful. The doctors and therapists have extensive experience.
Although the resort is frequented primarily by Westerners, the atmosphere remains thoroughly Keralan. Its spacious grounds include many cottages and Keralan houses. Its Ayurvedic clinic includes therapy rooms, doctors, and massage therapists.
The ocean water is warm and clean, though occasionally there are strong currents that make it not ideal for swimming.
Lifeguards are on duty from 7:00 A.M. until 6:00 P.M. every day.
In addition to the clinic and restaurant, other services include an internet cafe, an Ayurvedic drugstore, a gift store, a clothing store with tailors, a swimming pool, and a yoga hall.
A Typical Day
All activities are optional, and you can choose from a pleasantly full, yet relaxed, schedule of activities.
Your day will begin with two hours of guided sadhana ("spiritual practices") on the lush lawn beneath coconut palm trees, enjoying the soft ocean breezes as you look out upon the Arabian Sea. You'll start with guided Energization Exercises (developed by Yogananda to recharge all body cells with vitality), followed by Ananda Yoga asanas (yoga postures), chanting, and guided meditation. Often these sessions will be designed specifically to incorporate the certain principles of Ayurveda.
After sadhana, you'll walk up the steps through the lush foliage for a delicious breakfast in the open-air restaurant. The buffet includes fresh juices, a variety of local tropical fruits, herbal teas, coffee, and delicious, Ayurvedically-prepared dishes.
On some days, at about 10:00 am, you'll gather either on the lawn under the coconut palms or in the yoga hall for an Ayurveda class with Diksha. You will learn the basic principles of Ayurveda, and begin to understand how to work with your bodily energies. Diksha will also give you helpful advice on how to get the most benefit from the treatments and the retreat.
After lunch, you will consult with the doctors before enjoying your Ayurvedic treatment. (For some people, the consultation and treatment will precede lunch. And some people will choose not to eat lunch at all, either because that helps them better absorb their treatments, or because breakfast and dinner make for plenty of food.) The rest of the afternoon is spent consciously relaxing amid the palm trees to fully absorb the effects of the treatment. Later on you can take a walk along the beach and enjoy the sunset.
Then comes a marvelous Ayurvedic buffet dinner. Often, your day will culminate with delightful entertainment, such as traditional Indian dance or music.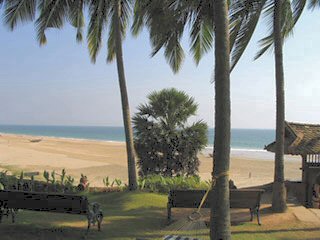 Ayurvedic Treatments
"Ayurveda is a complete approach to the art of living…"
The treatments I received for fibromyalgia have improved my health more than any other treatment I have had. That, along with the herbal medicines that I received, have relieved the fibromyalgia symptoms to the extent that I am pain-free with much more energy than I have had in years. It has been magical. – Charlene Gier, CA
The Ayurvedic treatments were fabulous. I had no idea that massages like this exist. The advice about diet, medicines and lifestyle has brought significant improvements in my health. – Mary Widenor, CA
Ayurveda teaches you how to establish a harmonious and balanced life. It includes dietary and other lifestyle guidelines, as well as the use of herbal preparations and therapeutic massage with medicinal oils. Many of the herbs used in the oils are grown on the Somatheeram property, and many of the oils and medicines are prepared in the resort's own laboratory.
Two kinds of treatments are available during your stay: Rejuvenation Therapy and Purification Therapy. Rejuvenation Therapy is exactly that: soothing, healing massage and other treatments intended to nurture your bodily tissues and restore your natural vibrancy. Ayurvedic massage is quite unlike other forms of massage, employing specially medicated oils; it can be as deep or as gentle as you like. Women treat women, and men treat men. Purification Therapy does all this and more, offering special cleansing treatments to remove bodily toxins that can impair wellness and harmony.
Your personalized therapy program will be determined via consultation with the Ayurvedic doctors, If you wish, you may purchase additional treatments beyond the seven treatments that are included in the package price. (Note: Purification Therapy might require two or three additional treatments.)
The Ayurvedic clinic is under the direction of Doctor Raman, professor of Ayurvedic medicine, Sanskrit scholar, and an Ayurvedic practitioner for more than 40 years. His staff of doctors are all university graduates with a B.A.M.S. degree (Doctor of Ayurvedic Medicine). The massage therapists are highly skilled; they often come from generations of Ayurvedic therapists and are thoroughly trained at the clinic's massage school. The therapy rooms are charming Keralan-style: quiet and calm, with a thatched roof of coconut fronds.
My therapist and helper were so kind and caring each time. The doctors were great and willing to answer my many questions. – Sheri Rodgers, CO
Meals
"The food preparation is one of the most remarkable things about Somatheeram."
The food is one of the most remarkable things about the resort. In a word, it's fantastic. The fruits, vegetables, and other ingredients are fresh and of high quality. Each dish is expertly prepared using the principles of Ayurveda. Keralan cooking is extraordinarily tasty – often made with fresh coconut and coconut milk – and the cooks take special care not to make the dishes too spicy for Westerners. There is a variety of fresh juices, including coconut, pineapple, papaya, watermelon, apple, and orange, plus a wide variety of tropical fruits native to Kerala, including over 30 varieties of banana.
At the buffet tables, each dish is labeled so that you will know whether it is appropriate for your Ayurvedic constitution. There are always numerous dishes that are fine for everyone, since they are balanced for all three doshas. In addition, you can special-order dishes that have been recommended for you by your doctor to enhance the therapeutic effects of your treatments. Your retreat package includes two vegetarian buffet meals each day (breakfast and dinner) plus any special orders during those meals; you can purchase lunch and snacks at very reasonable prices.
Great variety. I ate all I wanted to and had no indigestion. This is something I have rarely experienced, as I have had chronic indigestion since childhood. – Mary Widenor, CA
Yoga and Meditation
Traditionally, Ayurvedic healing has gone hand-in-hand with the practice of yoga and meditation, which complete the wellness equation by bringing the spiritual dimension into play. During the retreat, you will practice Ananda Yoga®, a gentle style that can be adapted for all body types. Ananda Yoga particularly emphasizes awareness of inner energies and using them to cultivate soul awareness.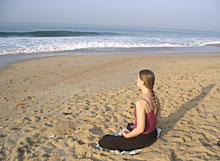 Your Ananda Yoga® practice in Kerala will include instruction in how to approach yoga from an Ayurvedic viewpoint, to help balance and heal your body type. As you quiet your mind and enter your blissful internal paradise, you will discover an eternal wellspring of joy, peace, and healing energy.
"As you quiet and focus the mind, you discover a wellspring of joy, peace, and healing energy available within yourself."
If you are new to meditation and yoga, you can receive basic instruction in these classical techniques for self-transformation. Gyandev and Diksha will also be available to help experienced meditators go deeper into their practice.
A beautiful practice. I will incorporate it in my life. Honoring the gift of each day at sunrise and sunset on the lawn filled me with joy to be alive and to give thanks for the privilege to embody Spirit.

–

Sheri Rodgers, CO
Enjoy Cultural Entertainment
Keralan art, music and dance have been highly developed for millennia. Two or three evenings each week will offer performances on the outdoor stage next to the restaurant. These will include classical Indian music and dance – including Bharatanatyam, the beautiful and renowned form of Indian temple dancing. You'll also experience a unique Keralan tradition called Katha Kali, which is a theatrical representation of Indian mythology, in which the performers wear elaborate costumes and masks and tell stories through dance, music, and mime.
Excursions
Five excursions are planned during your retreat. One of them is a day-long "backwaters boat trip" in a traditional Keralan houseboat. Kerala is famous for its canals and lakes, which interconnect most of the region. You'll enjoy your peaceful ride past lush vegetation and simple villages, culminating in a small village renowned for its boat-building crafts.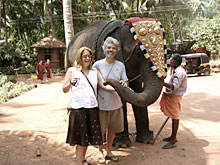 Another half-day excursion will take you to an Ayurvedic village where fabrics are woven and dyed with natural medicinal plants. We will also visit a Krishna Temple, a Hindu temple, and be a part of the traditional puja ceremony.
The other planned excursions include:
A trip to the famous Kovalam Beach, which is a great place to shop for local handicrafts.
The herbal center where medicinal oils and natural medicines are prepared.
Shiva temple, a 10-minute walk from the resort.
An upscale Indian department store, with beautiful clothing and craft items.
The day trips were perfect. I appreciated being able to see the India that lies outside Somatheeram and the local area.
– Charlene Gier, CA
A good exposure to life in India outside our little paradise at the resort. – Joan Gosling, CA
Weather and Clothing
"Kerala has the most temperate climate in India…"
Kerala has the most temperate climate in India. In February, daytime high temperatures range between 82 and 90 degrees Fahrenheit. Evenings are mild, with the average temperature between 78 – 82 degrees. The humidity ranges from 40% to 55%. The ocean breeze is always pleasant and refreshing. All in all, it's an ideal climate for Ayurvedic healing.
You will want to bring beach clothes, comfortable, light clothes for yoga and meditation, a sun hat, sunglasses, and sunscreen. For the evenings a light shawl usually suffices. Local shops sell Indian and beachwear, and there are also tailors at the resort and nearby who can make custom clothes for you at very low cost.
Ayurvedic Retreat to India
Or call 800-346-5350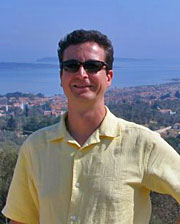 A Life-Changing Healing - by Koral Ilgun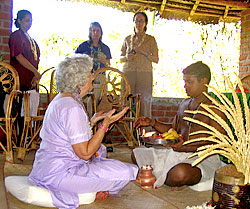 Visit A Place Called Ananda to read a blog posting on Kerala