Karma Yoga Program

An opportunity to study, serve and grow at Ananda's Spiritual Retreat
Spiritualize your life with a two-week to three-month stay in an ashram environment, nestled among the Sierra Nevada Foothills of Northern California. This program is designed to balance body, mind, and soul, through the study and practice of Raja Yoga – much more than yoga postures — using tools of yoga philosophy and meditation to transform your consciousness as you live and serve with others.
We follow and share a nonsectarian approach to yoga inspired by Paramhansa Yogananda and Swami Kriyananda.
While at The Expanding Light you can participate in daily yoga classes, meditations, and an extensive study of Raja Yoga designed specifically for participants of the Karma Yoga Program. We also invite you to attend the community's Sunday Service and other weekly events. This special program is rich in opportunities for joyful learning and spiritual growth.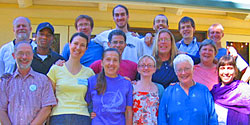 The Ananda Institute of Cooperative Living offers work programs at Ananda Village in organic farming, permaculture, and goat shepherding. Please visit our Ananda Institute of Cooperative Living webpage.
Gain the confidence and tools necessary to build a strong spiritual practice, and learn how to bring inspiration into all aspects of daily living.
Develop a discipline of meditation and yoga practice.
Deepen your meditation through daily practice of the Hong-Sau technique and Energization Exercises, as originally taught by Paramhansa Yogananda.
Explore the steps to Kriya Yoga.
Learn the principles of Karma Yoga, the key to selfless service.
Learn about cooperation in a community setting, and attend the Ananda Community's Sunday Service and other events.
Participate in philosophy and Ananda Yoga® classes by teachers with many years of experience living a spiritual life.
Serve and grow with a dynamic group of like-minded people of all ages from around the world.
Develop a relationship with God through chanting, prayer, and the offering of healing prayers to others.
Learn to Maintain Your Practice amidst the Activity of Daily Life
As a Karma Yogi you serve 6 hours a day, 5 1/2 days a week and become an important part in the day-to-day functions of The Expanding Light Retreat. Service includes kitchen and dining room cleanup, dishwashing, housekeeping, and other projects to help us serve our guests at the Retreat while giving you the opportunity to maintain your spiritual practice in the activity of daily life. Your service could also include preparing food in the kitchen and some gardening.
Participants in our Karma Yoga program have the opportunity to contribute to the positive energy at the Retreat. The Karma Yoga schedule allows you to attend most of the sadhanas (morning and afternoon periods of guided Energization Exercises, yoga postures, and meditation).
Here is an example of the daily Karma Yoga schedule.
| | |
| --- | --- |
| 6:30 - 8:30 am | Daily Sadhana* in EL Temple |
| 8:30 - 9:00 am | Breakfast in silence |
| 9:10am | Inspirational discussion and scheduling meeting |
| 9:45 - 12 noon | Karma Yoga** or Free Time*** |
| 12:00 - 12:30 | Meditation |
| 12:30 - 1:30 pm | Lunch |
| 1:30 - 4:15 pm | Karma Yoga or Free Time*** |
| 3:30 - 4:30 pm | Class for Karma Yogis, Tuesdays and Thursdays |
| 4:45 - 6:30 pm | Sadhana in EL Temple. Monday-Sunday |
| 6:30 - 7:30 pm | Dinner |
| 7:30 - 10:00 pm | Karma Yoga or Free Time*** |
*Sadhana: is Energization, yoga postures, chanting and meditation, based on the teachings of Paramhansa Yogananda.
**Karma Yoga: is working with the thought that it is God within us, serving God within all.
***Karma Yogis generally serve one or two of the karma yoga times every day (11 shifts per week), and have time free for other activities, such as reading, exploring the property's 700 acres of scenic beauty, visiting the historic Yuba River or Nevada City, or enjoying some great treats at "downtown" Ananda's little wholefoods store - Master's Market.
Cost
The Karma Yoga Program fee is $500 for a two week to one month stay. (This fee includes the cost of Lessons in Meditation by Jyotish Novak and The Art and Science of Raja Yoga by Swami Kriyananda, both used as study guides during the program, and yours to keep.) Additional time in the program – up to three months – is possible upon approval at an additional $500 per month.
We request a $100 deposit to make your reservation. (This is included in the $500 program cost.)
Cancellations: If you cancel or reschedule at least 7 days before your scheduled arrival, half of your deposit remains as a credit for one year and half is forfeited. If you cancel or reschedule with shorter notice, the entire deposit is forfeited.

"The Karma Yoga Program has been a pivotal point in my life. Working with people who are here to serve God and the collective whole is truly inspirational. It has given me the opportunity to feel the flow of this amazing community. I'm indebted to this place."
– Michelle M., Eugene, OR
The Karma Yoga program is not able to accommodate families with children. Families who wish to explore being at Ananda Village are welcome to attend our annual summer Family Camp or to stay at the Ananda Meditation Retreat at selected times.
If you have questions please contact us online or call 800-346-5350 or 530-478-7518 ext. 7090.
Apply for Karma Yoga Program
Have questions? Please don't hesitate to contact us.

Karma Yoga


What aspect of the Karma Yoga Program has influenced your life most deeply?
Find Out...
"The Karma Yoga program has been a profound blessing on my life, imprints of which will nurture my soul till the time of my departure from this world. Feelings of compassion, thoughtfulness, devotion, kindness, and love that were masked by worldly delusions have suddenly resurfaced.
"Healthy and delicious vegetarian meals infused with divine love have done a miracle on my perennial health problems of migraines, heartburn, and fatigue. Yoga postures and meditation have been an immense source of inspiration and joy.
"I came to Ananda absolutely confused and leading a reckless life, typical of many people in present society. Three weeks later, I feel renewed strength and courage, a body in harmony with mind, and a vision for a glorious path. Now I truly understand my purpose in this life."
– Aditya J., San Jose, CA
"I'm so grateful to have the opportunity to join the Karma Yoga family. Not only was this the spiritual adventure I was seeking, but it has been so much more! I am forever changed by the peace, the connection with God, the meditation, the community, and so much more that I will forever carry in my heart." – Jeremy

Receive monthly news, inspiration, Radiant Health tips & recipes, and stay up-to-date.