Healing with Divine Energy

Energy Healing Techniques
3-day weekend
There are no dates currently scheduled.
Nursing CEU Eligible: 10 hours

Based on the Teachings of Paramhansa Yogananda
You can learn to serve as a channel for healing yourself and others. Yogananda brought ancient yogic techniques that teach us how to use the life force in and around us to help others and ourselves body, mind, and spirit. You'll learn how to share both hands-on healing and healing at a distance. You'll explore:
Effective yogic healing and prayer methods of Yogananda
Techniques for increasing your energy and vitality
Affirmations for changing self-limiting attitudes
Sound and music to adjust physical, mental, and spiritual imbalances that lead to disease.
Program leader Mary Kretzmann has many years of experience as a spiritual healer and as Director of the Ananda Healing Prayer Ministry, which has been proven to be highly effective by an independent study. Included in the price of the course is Mary's book Divine Will Healing, and two CDs created by Mary: "Healing Affirmations in AUM" and "Thou Art with Me: Psalm 23 in the Spine.
Prices are all-inclusive and cover accommodations, meals, classes or activities, and course materials. You can add extra personal retreat days before and/or after your program. Check availability and costs for the days and accommodations that you require.
Healing with Divine Energy starts the afternoon of the first date listed. It's ideal to arrive before 4 pm, if you are able to. That way, you can join in the afternoon session of yoga and meditation, which begins at 4:45 pm. Dinner is at 6:30. The first real gathering of your group is at 7:30 pm. If you need to arrive here after 5 pm, that's fine, but it helps us if you let us know at 800-346-5350. We can also put aside a dinner for you if you need to arrive after 7 pm. The program ends with lunch on the last date. Please see our Daily Schedule.
See Transportation and Directions whether you are coming by plane, car, bus or train. Our Frequent Questions page answers many of the questions you might have about How to Go on Retreat.

Receive monthly news, inspiration, Radiant Health tips & recipes, and stay up-to-date.
Come a Day Early
Relax, Take a Walk,
Get a Massage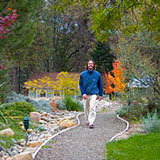 Stay an Extra Day, Relax,
Absorb Your Experience