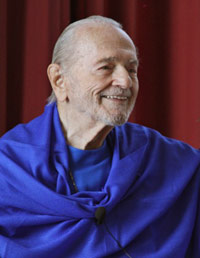 Swami Kriyananda
(J. Donald Walters)
On Sunday, April 21, 2013 Swami Kriyananda, the founder of Ananda and The Expanding Light Retreat, left his body, to soar freely in the Divine Light, as he had been wishing for a long time. His passing was peaceful, and now he is with his beloved Guru, Paramhansa Yogananda, whom he has served with devotion all his life.
Swamiji passed away in Assisi, Italy at the Ananda community. His passing has been memorialized in Ananda communities around the world. He will be missed by countless thousands, and yet we feel his spirit and love with us always.
During Swamiji's final weeks he had begun to withdraw from outward activities and enter more deeply within. He was preparing to embark on a period of seclusion in India after completing an anticipated visit to the United States. His Easter message to the community this year expresses his wish to return to his home in God:
". . . Nothing in this world attracts me any more. . . . I want only to merge in God. The only lingering thought is that I would like to bring all of you with me! . . . I want only your freedom in God."
Swami Kriyananda (J. Donald Walters) was an internationally known author, lecturer, and composer. Widely recognized as one of the world's foremost authorities on meditation and yoga, he has taught these principles and techniques to hundreds of thousands of students around the world.
In 1948, at the age of twenty-two, he became a disciple of Paramhansa Yogananda. Yogananda saw in Swami Kriyananda the strong desire to help others. In part for this reason, Yogananda personally trained him to guide other disciples. This training, and Kriyananda's own natural skill, would allow him to help many souls. At Yogananda's request, Kriyananda has devoted his life to lecturing and writing, helping others to experience the living presence of God within.
Inspired by Yogananda's dream of establishing spiritual communities, he founded in 1968 the first of what are now eight Ananda communities worldwide. They provide a supportive environment of "simple living and high thinking" where over 1,000 full-time residents live, work, and worship together.
Swami Kriyananda created The Expanding Light to provide a place where the public could come to share in the love, peace, and wisdom Ananda has to offer.
An advocate of simple living and high thinking, his books and teachings focus on spiritualizing nearly every field of human endeavor include business life, leadership, education, the arts, community, and science. He has written over 130 books, including extensive commentaries on the Bible and the Bhagavad Gita, both based on the teachings of Paramhansa Yogananda. Through Crystal Clarity Publishers, his works have sold over 3 million copies worldwide and been translated into over 25 languages.
Excerpts from Swami Kriyananda's books
"The larger an ocean wave, the more it obscures – for a person riding it – the ocean's underlying calmness. The larger the wave, moreover, the deeper its offsetting trough. The more people distance themselves from their soul-center within by seeking fulfillment in outer excitement and sense-stimulation, the more their emotional highs are followed, necessarily, by emotional lows of sorrow and depression. The greater a victory, the greater also, sooner or later, the defeat. The greater the fame, the greater the opposition from others. The greater the success, the greater – perhaps in some other area of life – the degree of failure." – From The Hindu Way of Awakening - Crystal Clarity Publishers